Mary has always been a central figure in Christianity. She's always been key, right from that moment early in Luke's Gospel when she's told: "Blessed are you amongst women". The interesting thing for modern scholars is that she's being reassessed because we've become much more sensitive to female characters in the biblical story and because female characters in the biblical story are often quieter than the men. In a contemporary world, we want to reimagine Christian origins and involve women much more. And one of the most important women in that story is Mary, of course, and that's why it's worth freshly hearing her voice.
One of the reasons that Mary has maintained her popularity is that there were all the makings in the biblical text for a fascinating story, and yet with much of the detail missing. Often when details are missing, the tradition will do its part in trying to fill in those details and imagine those details to make that person's life a little bit fuller and understand a bit more about them.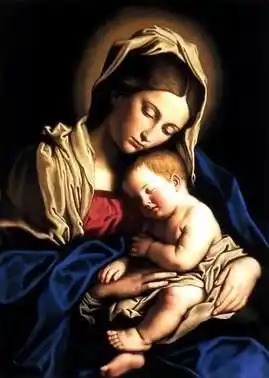 Reflecting on stained glass images of Mary in a Norfolk church, Sister Wendy Beckett thinks that Mary's popularity in the Middle Ages was due to her depiction as a caring mother.
One of the roles that Mary fulfils is the mother that we see in early Christianity; she's the role model for mothers. She also plays an important role throughout Christian history in providing us with a female that's right at the heart of events. Christianity, after all, can be a fairly male-dominated affair. The Holy Trinity always sounds to contemporary feminists rather male-dominated; there's a Father, a Son and there's a Holy Spirit, and the characters in the New Testament are all male. But here we have somebody who we can interact with as a female in the Christian tradition
Content created and supplied by: Faruqmdg (via Opera News )