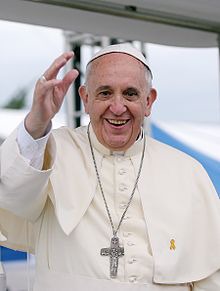 Just few days after the inauguration of the president of the United States, Joe Biden, concerned citizens has expressed their anger over the order issued by the president.
The president ordered the representatives of the country in other countries of the world to diplomatically push for the adoption of gay marriage in their host countries.
Legalization of gay marriage can be traced back to the days of Barrack Obama who passed it into law.
Despite the outburst of so many people, the order has not yet been recanted or withdrawn.
The Pope of the Roman Catholic who is seen as the world head of churches i.e Christians is in favour of this order.
Pope Francis has publicly spoken in favour of gay marriage in many occasions.
At a point, he even declared that same sex practicioners deserves a family.
He also stated that gays should be seen and treated by Christians as brothers and sisters.
In an interview, he was asked whether a gay can be a priest, this is what he said, "If someone is gay and he searches for the Lord and has good will, who am I to judge?"
In a video that went viral, the Pope could be seen encouraging the union between guys by saying they should be accepted into holy union.
This implies that they can be legally wedded in the church and accepted as part of Christiandom.
This is contrary to the instructions in the Bible warning all to stay away from homosexuality.
The Bible called it an abominable and unnatural affair which should not be encouraged.
This can be seen in Romans 1:24 "Wherefore God also gave them up to uncleanness through the lusts of their own hearts, to dishonour their own bodies between themselves: 
25 Who changed the truth of God into a lie, and worshipped and served the creature more than the Creator, who is blessed for ever. Amen. 
26 For this cause God gave them up unto vile affections: for even their women did change the natural use into that which is against nature: 
27 And likewise also the men, leaving the natural use of the woman, burned in their lust one toward another; men with men working that which is unseemly, and receiving in themselves that recompence of their error which was meet. 
28 And even as they did not like to retain God in their knowledge, God gave them over to a reprobate mind, to do those things which are not convenient;"(KJV).
This was what the people of Sodom and Gomorrah were practicing for which God destroyed them with fire and brimestone.
Genesis 19:4 "Before the guests went to bed, the men of Sodom surrounded the house. All the men of the city, both young and old, were there.
5 "They called out to Lot and asked, "Where are the men who came to stay with you tonight? Bring them out to us!" The men of Sodom wanted to have sex with them."(GNB).
The people of Sodom and Gomorrah were totally annihiliated because if this.
2 Peter 2:6 "And turning the cities of Sodom and Gomorrha into ashes condemned them with an overthrow, making them an ensample unto those that after should live ungodly;"(KJV).
Let us be careful to avoid what happened to Sodom and Gomorrah.
What is your thought on this matter.
Content created and supplied by: Pinnaclenews (via Opera News )