We are on a *Train* going to *Heaven*, we are on a journey of *faith*, and when our lives in earth is over, we will answer to God.
    We are on a *Train* of Glory, we on a journey of *Joy*, and when our lives on earth is over, we answer to God. 
Hear for only *Holiness*, *Righteousness* and *Truth* will, can and shall earn you a place and seat on the Train and shall keep you on the Train.
*Holiness*: Leviticus 11:45: For I am the LORD that bringeth you up out of the land of Egypt, to be your God: ye shall therefore be *holy*, for I am holy.
Romans 12:1: I beseech you therefore, brethren, by the mercies of God, that ye present your bodies a living sacrifice, *holy*, acceptable unto God, which is your reasonable service.
*Righteousness*: Matthew 6:33:But seek ye first the, kingdom of God, and his *righteousness*; and all these things shall be added unto you.
Romans 10:10a: For with the heart man believeth unto, righteousness;
*Truth*: John 4:23: But the hour cometh, and now is, when the true worshippers shall worship the Father in spirit and in truth: for the Father seeketh such to worship him.
John 4:24:God is a Spirit: and they that worship him must worship him in spirit and in truth.
Ephesians 5:9-10:(For the fruit of the Spirit is in all goodness and righteousness and *truth*; Proving what is acceptable unto the Lord.
 Therefore be Holy, be Righteous And be truthful just as and for our Lord Jesus Christ is holy, righteous and forever truthful. Hallelujah.
  But remember just as holy, righteous and truth will keep you on the train 
only Sin can, will and shall make you lose your place, seat and be casted out of the train. 
So in order not to be casted out of the train of going to heaven, do away, and run away from all forms and appearances of sin.
Run, Pls Run, Run Away, Run Away,
Flee For Your Life, for sin will never run away from you it is you that will run away from it and also sin brings only destruction and death.
And if you yet to be on the *Train going to Heaven*, and you want and desire, you can join as well, for there is always a place and seat for whosoever that chooses and desire to be on the Train.
All you have to do is confess yr sins, ask for forgiveness of sins, make a pact not to sin again then accept and believe in Jesus Christ as your lord and personal Savior.
Romans 10:8-10: but what saith it? The word is nigh thee, even in thy mouth, and in thy heart: that is, the word of faith, which we preach;
That if thou shalt confess with thy mouth the Lord Jesus, and shalt believe in thine heart that God hath raised him from the dead, thou shalt be saved.
For with the heart man believeth unto righteousness; and with the mouth confession is made unto salvation.
The Lord loves you and He is ever ready nd willing to accept you no matter what you have do or become or who you are just come to Him. Jesus says to you today in Revelation 3:20 Behold, I stand at the door, and knock: if any man hear my voice, and open the door, I will come in to him, and will sup with him, and he with me.
Hear the word of the Lord In 
Revelation 22:11-13, 16-17, 20-21: 
He that is unjust, let him be unjust still: and he which is filthy, let him be filthy still: and he that is righteous, let him be righteous still: and he that is holy, let him be holy still.
And, behold, I come quickly; and my reward is with me, to give every man according as his work shall be.
I am Alpha and Omega, the beginning and the end, the first and the last.
I Jesus have sent mine angel to testify unto you these things in the churches. I am the root and the offspring of David, and the bright and morning star.
And the Spirit and the bride say, Come. And let him that heareth say, Come. And let him that is athirst come. And whosoever will, let him take the water of life freely.
He which testifieth these things saith, Surely I come quickly. Amen. Even so, come, Lord Jesus.
The grace of our Lord Jesus Christ be with you all. Amen.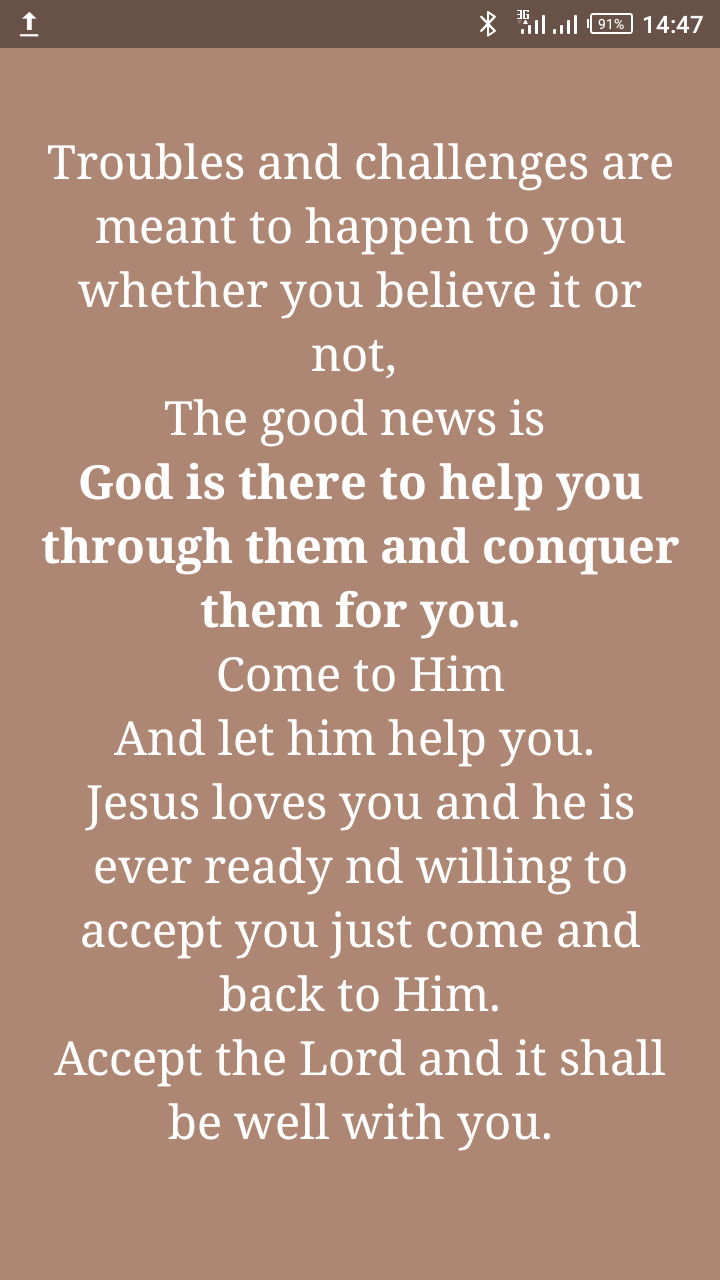 Content created and supplied by: Tridroid (via Opera News )
Opera News is a free to use platform and the views and opinions expressed herein are solely those of the author and do not represent, reflect or express the views of Opera News. Any/all written content and images displayed are provided by the blogger/author, appear herein as submitted by the blogger/author and are unedited by Opera News. Opera News does not consent to nor does it condone the posting of any content that violates the rights (including the copyrights) of any third party, nor content that may malign, inter alia, any religion, ethnic group, organization, gender, company, or individual. Opera News furthermore does not condone the use of our platform for the purposes encouraging/endorsing hate speech, violation of human rights and/or utterances of a defamatory nature. If the content contained herein violates any of your rights, including those of copyright, and/or violates any the above mentioned factors, you are requested to immediately notify us using via the following email address operanews-external(at)opera.com and/or report the article using the available reporting functionality built into our Platform See More