People are very busy, don't burden them with mere activities.
Many full time church leaders do not understand the time constraints of the working saint and their family.

Many homes are two income homes where families seldom have time for one another. 

God and church should be at the center of our lives, however church leadership needs to realize that people need a break once in a while as well. 

We live in a different world than we did 30 years ago and the family unit is suffering as a result. 

It would be a good exercise for church leadership to see how they can cut the church calendar 20% by removing unproductive activities. 

Often a meeting can be held shortly after church rather than have people set aside another evening of the week to attend.
Church activities should have a purpose.
Just because you did it last year is not a good reason to do it this year. 

Kill the sacred cow! 

Does the event promote evangelism? 

Will souls be won as a result of it? 

Will the body be strengthened because of this event? 

If not, consider something that will or give them a break by deleting that event and moving on to the next one.
Don't have a meeting just to have a meeting.
If you have no clear direction for the meeting or there is not immediate need for one, don't have it. 

Wait until you have the agenda thoroughly thought and planned out and then announce a meeting. 

Accomplish something at every meeting and your people will feel like coming to the meeting was worth their sacrifice of time.
What will be the outcome of the meeting?
Know ahead of time what you want to see as the desired outcome of the meeting and work towards it. 

Have a theme. 

Announce at the beginning of the meeting why they are there. 

Let them know what your goal for the meeting is and it will become their goal as well.
Keep it short and to the point.
Remember people have families and many other responsibilities. 

They have sacrificed to be at that meeting. 

Don't waste their valuable time with a bunch of rambling. 

Get the meeting started at the appointed time and stay on track and to the point. 

Set a time limit for the meeting and announce when it will end. 

Do Not Keep People Over Even One Minute Past The Appointed Time. 

They might tell you it's ok, but they will remember that you kept them over when they are considering coming to the next meeting. (Leaders wonder why people don't come to or arrive late to meetings.)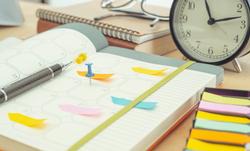 Content created and supplied by: Osamezu (via Opera News )