Mars will move from slow and steady Taurus into quicksilver Gemini on March 3. Until April 23, your energy will be changeable but also extremely motivated to communicate and learn. You'll be able to think quickly on your feet and "walk your talk," so use this energy to accomplish mental tasks that would otherwise exhaust you.
On March 13, a stunning New Moon in gentle Pisces is filled with romantic energy. Venus and Neptune will embrace in the most lyrical way on the same day, allowing this lunation to have the most auspicious potential with any imaginative pursuit or romantic endeavors. If there is something going on in your love life that you dreamed of having, this could be when that dream comes true!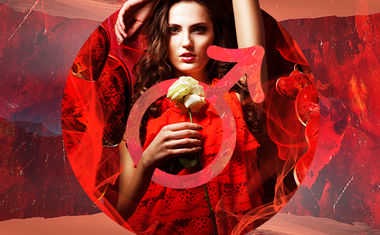 Reference image
Venus leaves dreamy Pisces for spitfire Aries on March 21 and you'll be ready to take matters of the heart into your own hands. The month ends with a Full Moon in Libra on March 28 that brings relationship needs out into the open. Expect a turning point in either a business or personal connection.
Aries dates: March 21 - April 19
Assertive Mars enters your communication sector on March 3 and remains here through April 23. This is your prime time to make headway on any communications-related endeavor you have your sights set on. The same also holds true for marketing and sales projects. Use your words wisely because everyone is listening to you now!
A gentle Pisces New Moon coupled with a Venus-Neptune link in your hidden 12th house on March 13 suggests you might be quite busy at work behind the scenes developing a creative pursuit that could make you serious money. This is the kind of pursuit you would only dare to dream about. Keep dreaming, Aries -- it seems to be working.
Your love life is on fire once Venus moves into your sign on March 21. You will be irresistible on March 26 when the Sun and Venus embrace each other in your sign. If you're single, you could easily attract someone your way. If you're already in a committed relationship, then you can anticipate a turning point in this love connection at the Libra Full Moon on March 28.
Key themes for Aries: chattiness, fast talking, mental stimulation, dream project, secret money, sexy love, partnership
Taurus Monthly Horoscope
Taurus dates: April 20 - May 20
With assertive Mars moving into your 2nd House of Personal Finances on March 3, your priority will be on making money. You'll have a "beast mode" quality about you for the next several weeks that will make you a force to be reckoned with when it comes to your earning potential. In fact, a Full Moon in Libra on March 28 could bring a change in work. You won't continue a job that isn't paying you what you're worth.
In other news, if there is someone you've been crushing on who has you in the friend zone, all of that might change after March 13. A Pisces New Moon in your friendship sector, along with a sublime Venus-Neptune conjunction, may very well turn this person into the love of a lifetime. A deep soulmate connection is apparent between you, and you may quickly realize you are about to start something very special together.
However, you may both decide to keep it all under wraps for a bit. With Venus moving into your private 12th house on March 21, the very best of your love life will happen behind closed doors. No public announcements or relationship status updates just yet. Be patient -- it will come.
Key themes for Taurus: money, financial opportunity, expenses, job ending, secret love, romantic friendship, dreamy romance, new friends
Gemini Monthly Horoscope
Gemini dates: May 21 - June 20
Get ready to move mountains, crush your goals, and reach amazing milestones this month, Gemini. Assertive Mars enters your sign on March 3, and you'll have exceptional stamina to pursue whatever it is you desire most in life until April 23. Nothing can stop you now!
In fact, if a new career pursuit is on your list of go-getting activities, you'll be happy to know that the New Moon on March 13 lands at the top of your chart and fully supports professional opportunities. Start that business, reach for a promotion, or take a new direction in your career, because this will be the time for it.
When it comes to your love life, a gorgeous Full Moon in Libra on March 28 lands in your romance sector. This could be the moment when you and the person you're dating realize you're madly in love with each other. If you're in a committed relationship, there might be baby news on the way.
Key themes for Gemini: ambition, drive, success, award, honor, deep love, babies, children
Cancer Monthly Horoscope
Cancer dates: June 21 - July 22
It's time for respite, Cancer. Your energy needs a cosmic reset, and there is nothing like Mars moving into your reclusive 12th house to help you get the dose of calm your frayed nerves require. From March 3 until April 23, it is absolutely necessary to pay attention to the signals your body gives you. If you're tired, rest. If you're anxious, unwind. Self-care is the name of the game in March as far as you're concerned.
Venus moves to the top of your chart on March 21, giving you a major boost professionally. Expect significant praise from your boss or another VIP connected to your industry on March 26 when the Sun and Venus join forces.
The Libra Full Moon on March 28 lands in your home and family sector and may bring some domestic turbulence between you and your partner. It might also be emotional news about your partner's family. Work through it as best you can.
Key themes for Cancer: hibernation, rest, recuperation, healing, honor, award, promotions, family drama
Leo Monthly Horoscope
Leo dates: July 23 - August 22
You might have made a lot of career progress since the start of 2021, and now it's time to focus more on your social life. From March 3-April 23, Mars will move through your social 11th house, motivating you to pay more attention to your connections with friends and groups. Ambitious networking will also help you get ahead with whatever goals you have set for yourself these days, so go ahead and circulate!
A Pisces New Moon and a sweet Venus-Neptune conjunction both land in your 8th House of Joint Resources on March 13. As a result, you could find out about a significant investment or other financial opportunity. It'll seem like a dream come true ... and it very well could be.
Your mind and emotional focus turn to love and partnership at the Libra Full Moon on March 28. This lunar event falls in your communication sector and will bring a final decision about your relationship. Don't stress -- it looks positive.
Key themes for Leo: parties, socializing, networking, organizations, group activities, financial boost, relationship decision, love message
Virgo Monthly Horoscope
Virgo dates: August 23 - September 22
Your career is about to enjoy a major rush. On March 3, ambitious Mars will move to the very top of your chart and remains there through April 23. Mars is all about crushing your goals and there is truly nothing stopping you from achieving success now. So, if you've been wanting to apply for a promotion or pursue a different path in your career, this is the time to do it!
Financial changes are possible at the Libra Full Moon on March 28. It seems like an adjustment of how you earn your money more than it is a loss of money. This would be fitting for any changes coming your way professionally, so don't stress.
When it comes to your love life, there might be wedding bells ringing in your ears. A Pisces New Moon and a romantic Venus-Neptune conjunction in your partnership sector on March 13 are about a fresh start in a relationship that will truly feel like a fairy tale. You might become engaged or marry. If this is the case, this union will be truly blessed. I's also possible that a current commitment you have will take a turn towards something that reaches your highest relationship ideals. Beautiful!
Key themes for Virgo: professional advancement, career milestone, entrepreneurship, ambition, love, happiness, romantic bliss, marriage
Libra Monthly Horoscope
Libra dates: September 23 - October 22
You might finally be ready to sign up for that new adult education class, license, or certification program; It could also be that you're ready to go back to school to pursue an advanced degree. The motivation you'll suddenly have to chase knowledge will be downright contagious after March 3 thanks to Mars moving into your 9th House of the Higher Mind. This is also a great time to move forward in spiritual pursuits if you've been curious about studying a new religion or philosophy.
If you're looking to make a job change -- more of a lateral move than promotion -- there's a great deal of support at the New Moon in Pisces on March 13. Update your resume and schedule interviews after this time. You might even find your dream job.
If you're dating someone, then it's possible your relationship will become exclusive after March 21 when love planet Venus moves into your partnership sector. If you're already in a commitment, then you and your sweetie will enjoy an ultra-harmonious phase together through April 14.
Key themes for Libra: intellectual pursuits, academics, mentorship, job change, freelance work, love, marriage, business partnership
Scorpio Monthly Horoscope
Scorpio dates: October 23 - November 21
You might feel saddled with extraordinary expenses thanks to aggravating Mars moving into your 8th House of Shared Resources on March 3. Until April 23, you might need to find a way to stop the bleeding if there is a financial hemorrhage happening in your world. You'll be so annoyed at whatever this is, you won't stop until you've found a solution.
Fortunately, a solution might be closer than you think. Venus moves into your work sector after March 21, helping you generate extra income from freelance assignments or a second job. Consider your options.
Your love life has spectacular prospects, especially if you're single. A Pisces New Moon and a gorgeous Venus-Neptune conjunction land in the same area of your chart on March 13. This is all about making a brand-new soulmate connection with someone who speaks to you on an emotional and spiritual level. Explore it! If you're already in a relationship, then this energy might manifest in a different way. Baby news could very well be on the horizon.
Key themes for Scorpio: financial drain, extra work, happy job, romance, dating, true love, creativity, children
Sagittarius Monthly Horoscope
Sagittarius dates: November 22 - December 21
Your life seems to revolve around love and relationship matters this month. Mars enters your partnership sector on March 3 and remains here through April 23. If you're in a relationship, then it's possible you and your mate are in for more arguments than usual. You might be fighting about sex or something that makes you competitive with each other. It's possible you both want to win so much that you forget you're supposed to be a team. Be aware.
If you're completely single, there is also news -- BIG news! Love planet Venus moves into your romance sector on March 21 and remains here through April 14. Additionally, the Sun and Venus connect beautifully on March 26, shining a light on love in the most spectacular way. As long as you're open to love, it is sure to find you.
In other news, you could also have a blissful new development in your home and family life. A Pisces New Moon and a stunning Venus-Neptune conjunction both land in your 4th House of Domesticity on March 13, and this could bring a most fortunate occurrence that affects everyone in your clan. What a blessing!
Key themes for Sagittarius: marital discord, couples counseling, arguments, conflict, new love, dating, pleasure, happy home
Capricorn Monthly Horoscope
Capricorn dates: December 22 - January 19
If you're starting to feel like you're buried in work, there's good news. Although your workload might not change much, your ability to keep up with it certainly will. Mars enters your work sector on March 3, helping to rev you up in terms of your output. The stamina you'll have to meet even the tightest deadline will be incredible through April 23. It'll feel like you have a giant second wind, so use it well!
In other news, a gorgeous message about matters of the heart is likely to occur on March 13 due to a stunning New Moon and a beautiful Venus-Neptune conjunction landing in your communication sector. This could be anything from a love note or poem to the person of your dreams confessing they are madly in love with you. How sweet!
Home and family matters become quite harmonious after March 21 thanks to Venus moving into the domestic area of your chart. Last but not least, the month ends with a Full Moon in Libra at the top of your chart on March 28. You'll be in the spotlight for professional matters.
Key themes for Capricorn: hectic work, busy bee, love note, romantic message, romantic conversation, family joy, career transition, professional honor
Aquarius Monthly Horoscope
Aquarius dates: January 20 - February 18
Get ready to bring sexy back into your world, Aquarius! Passionate Mars enters your romance sector for the first time in two years on March 3. He'll be moving through this part of your chart until April 23, helping you prioritize the pursuit of pleasure in every way you can. If you've had a dry spell in the love and sex department, you can look forward to a welcome change. If you're in a relationship and thinking about trying for a baby, this will be an extra fertile time.
In other news, a blessed financial event is possible at the New Moon in Pisces on March 13. Lighting up your earned income sector, and accompanied by a superb Venus-Neptune conjunction, you can anticipate great success if you monetize any of your creative or spiritual talents. This can also be a time when you finally realize your financial success in life is directly related to the faith you have in your own abilities. That faith will be unshakeable now.
Key themes for Aquarius: sex, passion, fun, dating, flirtation, cash infusion, financial dream, financial blessing
Pisces Monthly Horoscope
Pisces dates: February 19 - March 20
Your home and family life are about to become a source of great activity -- and possibly frustration. Mars enters this area of your chart March 3, and you might find yourself engulfed in domestic conflict that appears to come out of nowhere until April 23. Do what you can to stay away from the flames and not get caught in the middle of any drama. Tell your relatives that when it comes to this situation, you're completely neutral ... and then hope for the best. On a positive note, this is a great time to start a home construction project, big or small.
The New Moon in your sign on March 13 also hosts a stunning Venus-Neptune conjunction. This is pure romantic bliss for you in every way possible! If you're in a relationship, then you will feel incredibly loved and cherished by your mate. If you're single, then you can easily attract someone by choosing to "be" love. You're vibrating so high with this energy that you might also be prompted to do something extremely charitable to help someone in need. Amazing!
Key themes for Pisces: selflessness, unconditional love, pure love, soulmate, family tension, renovation, family fighting, defending family
Content created and supplied by: AdekunleG (via Opera News )
Opera News is a free to use platform and the views and opinions expressed herein are solely those of the author and do not represent, reflect or express the views of Opera News. Any/all written content and images displayed are provided by the blogger/author, appear herein as submitted by the blogger/author and are unedited by Opera News. Opera News does not consent to nor does it condone the posting of any content that violates the rights (including the copyrights) of any third party, nor content that may malign, inter alia, any religion, ethnic group, organization, gender, company, or individual. Opera News furthermore does not condone the use of our platform for the purposes encouraging/endorsing hate speech, violation of human rights and/or utterances of a defamatory nature. If the content contained herein violates any of your rights, including those of copyright, and/or violates any the above mentioned factors, you are requested to immediately notify us using via the following email address operanews-external(at)opera.com and/or report the article using the available reporting functionality built into our Platform See More