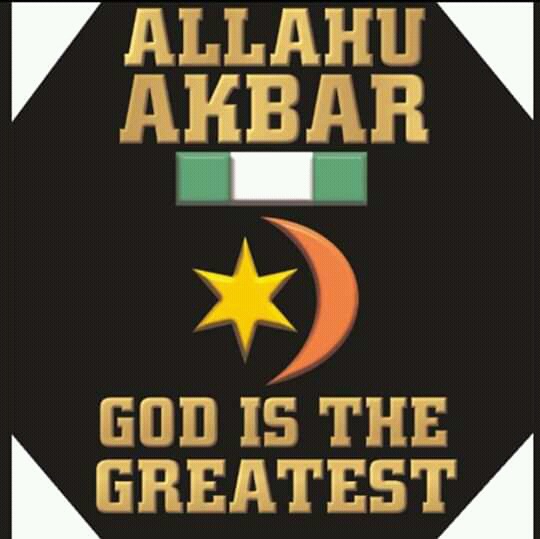 It might surprise you to hear that both Muslims and Christians came from the same source.
I want you to patiently read through this expository to enable you have a clearer understanding about this topic.
The Bible made us to understand that both have the same ancestral origin.
According to the Bible, Abraham, whom the Quran refered to as Ibrahim could not bear a child through his wife, Sarah till old age.
Genesis 16:1 "Now Sarai Abram's wife bare him no children: and she had an handmaid, an Egyptian, whose name was Hagar."(KJV).
This made his wife who has naturally passed the period of child birth to hand over her handmaid named Hagai to her husband so that through her, there will be continuity of Abraham's lineage.
Genesis 16:3 "And Sarai Abram's wife took Hagar her maid the Egyptian, after Abram had dwelt ten years in the land of Canaan, and gave her to her husband Abram to be his wife."(KJV).
Nature smiled on Hagai as she concieved and gave birth to a son whom Abraham named Ishmael.
Genesis 16:4 And he went in unto Hagar, and she conceived: and when she saw that she had conceived... "(KJV).
The Bible recorded that Hagai was sent away by Sarah but an angel of the Lord brought her back to Abraham.
Genesis 16:10-11 "And the angel of the LORD said unto her, I will multiply thy seed exceedingly, that it shall not be numbered for multitude. 
Genesis 21:20 "And God was with the lad; and he grew, and dwelt in the wilderness, and became an archer..."(KJV).
"And the angel of the LORD said unto her, Behold, thou art with child, and shalt bear a son, and shalt call his name Ishmael; because the LORD hath heard thy affliction."(KJV).
One day, Abraham received a divine visitation from God who made merry in Abraham's house after which he promised him a son from his first wife, Sarah.
Genesis 18:1 "And the LORD appeared unto him in the plains of Mamre: and he sat in the tent door in the heat of the day;..."(KJV).
One year after the visitation, Sarah gave birth to a son who was named Isaac or Ishaku according to the Holy Quran.
Genesis 21:2 "For Sarah conceived, and bare Abraham a son in his old age, at the set time of which God had spoken to him..."(KJV).
Note, Ishmael was circumcised by Abraham after he entered into a convenant with God.
Genesis 17:23 "And Abraham took Ishmael his son, and all that were born in his house, and all that were bought with his money, every male among the men of Abraham's house; and circumcised the flesh of their foreskin in the selfsame day, as God had said unto him."(KJV).
He was sixteen years old when Isaac was born.
Abraham told God to remember Ishmael and bless him because he is his son and God said he was already in his program.
Genesis 17:18 "And Abraham said unto God, O that Ishmael might live before thee!"(KJV).
Now here is God's reply to the request of father Abraham;
Genesis 17:20 "And as for Ishmael, I have heard thee: Behold, I have blessed him, and will make him fruitful, and will multiply him exceedingly; twelve princes shall he beget, and I will make him a great nation."(KJV).
Even though Ishmael was sent away by Abraham, he remains the first son of Abraham.
Genesis 25:12 "Now these are the generations of Ishmael, Abraham's son, whom Hagar the Egyptian, Sarah's handmaid, bare unto Abraham:..."(KJV).
When Abraham eventually died at an old age, Ishmael came back to Canaan and with his hal brother Isaac, buried him.
Genesis 25:9 "And his sons Isaac and Ishmael buried him in the cave of Machpelah, in the field of Ephron the son of Zohar the Hittite, which is before Mamre;"(KJV).
Ishmael is the proginator of the Moslem faith while Isaac is the proginator of the Christian faith.
Seeing both of them are descendants of Abraham, why the quarrels and fightings against each other?
The answer is very clear, those benefiting from these clashes do not want to expose this truth to their members.
The picture above was acquired from the Bride of Christ Ministry Worldwide.
Drop your comment or opinion on the comment section.
Remember to like, share and follow for more interesting write-ups.
Content created and supplied by: Pinnaclenews (via Opera News )