The Solar Eclipse in Aquarius on February 15, 2018, marks a fresh opportunity for freedom. Breaking away from restrictive alliances and environments won't only become possible ... it will feel necessary. This New Moon is conjunct mental Mercury, making it easy to plan an effective exit strategy.
Unlike standard New Moons, which have an influence of four weeks, Solar Eclipses have an impact on the following six months. Therefore, to take full advantage of this remarkable event, it would be wise to think big.
Aquarius is the sign of the visionary, so imagining your best life would be a great use of this inspirational energy. Instead of yearning to write a book, tell yourself it is already written. Create a book cover for it and put it on an existing volume of the desired size. Place this book on your desk or work space. The sight of your "finished project" will inspire you to go to the page and fill in the blanks. Soon, your dream project will manifest itself in the physical world, perhaps by the next Solar Eclipse on July 12, 2018.
It doesn't really matter what goal you envision during this Solar Eclipse, provided it resonates with you on a deep level. Learn what special gifts this eclipse holds for your sign by reading your horoscope below...
Aries Horoscope (March 21 - April 19)
Your social life could undergo a dramatic improvement because of the Solar Eclipse. Instead of being surrounded by nay-sayers, you'll begin attracting fellow adventurers. These newcomers will appreciate your pioneer spirit. Rather than scoffing at your latest idea, they'll offer ways to put it into practice. If you're asked to work with a group, don't feel pressured to fit in with the crowd. Instead, put your unique abilities on display. You will be given an important task that only you can perform well. Don't be surprised if you're named MVP at the end of this assignment. Thanks to the Solar Eclipse, your offbeat qualities that were once liabilities will now become assets. 
Taurus Horoscope (April 20 - May 20)
The Solar Eclipse brings a fantastic career opportunity to your door. Taking the helm of a think tank will be especially rewarding. Members of your team may generate ideas for exciting products and services; it will be your responsibility to turn these dreams into realities. Feel free to break away from restrictive rules that dictate work should be performed in a certain way. By forging a new path, you'll give workers permission to revolutionize the way they think, behave, and interact. Have you always wanted to start your own business? This is the best time of the entire year to do so. Instead of modeling your enterprise on another model, offer something unique. 
Gemini Horoscope (May 21 - June 20)
A breathtaking opportunity to expand your horizons is calling your name. Whether you want to get an advanced degree, travel the world, or broadcast your ideas, the Solar Eclipse can deliver this dream on a silver platter. Dismiss the idea you are merely a jack-of-all-trades and embrace the concept of mastery. Gaining and sharing expert knowledge will cause your self-esteem to soar. It will also change the way people look at you. Instead of dismissing you as a restless person who will never settle down, you'll gain the reputation for being an accomplished expert. Picture yourself with an impressive title that's emblazoned on an office door, business cards, and book covers. 
Cancer Horoscope (June 21 - July 22)
A chance to break free from debt and cultivate financial security is this Solar Eclipse's gift to you. If you're drowning in bills, it's time to take control of the situation. Contact a nonprofit organization dedicated to helping people in your situation. With its help, you can consolidate your bills and maybe even eliminate the interest rate. Don't be afraid to learn the exact amount that you owe and then create a game plan for paying it off. If you're doing well financially, you can use the power of this eclipse to deepen your enjoyment of sensual pleasures. Rather than hoarding money, give yourself permission to enjoy it. 
Leo Horoscope (July 23 - Aug. 22)
A partnership that allows you to fully express yourself could be this Solar Eclipse's gift to you. If you're already in a serious relationship, give careful thought to things you have sacrificed for this alliance. Talk with your partner about how this choice affected you. Announce your plan to resume the activities and pursuits you abandoned. There's a good chance your other half will support this decision. Are you single? You could meet your soulmate in a book club, political organization, or classroom. The object of your affection will be unlike anyone you've dated in the past. They'll admire your warm personality and you'll respect their logical detachment. Together, you're like fire and ice. 
Virgo Horoscope (Aug. 23 - Sept. 22)
An unusual job opportunity could arrive thanks to this stimulating Solar Eclipse. If you've been looking for work, be open to accepting a job in an unfamiliar field. You've always been a quick study and will easily master the required knowledge. Do you already have a position? Becoming a free agent could be a more satisfying arrangement for you. You've always worked more quickly and efficiently than your peers. Getting paid for what you produce in your own time will work to your advantage. Instead of being shackled to an office, you'll be free to travel, study, and write whenever you want. Release yourself from the constraints of a conventional lifestyle. 
Libra Horoscope (Sept. 23 - Oct. 22)
This Solar Eclipse could trigger a creative breakthrough. Instead of playing with an intriguing idea for a book, song, or design, you'll feel compelled to develop it. Take this opportunity to scale back your work and family responsibilities for the sake of art. Putting an inventive spin on traditional forms will be especially exciting. Don't be surprised if your work attracts a cult following. Although your style may not resonate with most people, it will strike a chord with discerning people who yearn for something fresh and new. If you play your cards right, you could get paid for going on a publicity tour. Seeing the world on an expense account will be fun.
Scorpio Horoscope (Oct. 23 - Nov. 21)
Breaking free of family restrictions is a distinct possibility with this Solar Eclipse. Instead of carrying out meaningless traditions, you'll build a lifestyle that makes sense for you. Whether this means moving into your own place, relocating abroad, or living out of a recreational vehicle is immaterial. The important thing is to create a home that fills you with excitement and pleasure. Certain relatives may turn up their noses at your surroundings. Don't let that bother you. Just because they prefer conventional surroundings doesn't mean you should embrace them. If you want to live in a tree house, that's your business. Are you happy with your current abode? An unusual relative or roommate could join your household.  
Sagittarius Horoscope (Nov. 22 - Dec. 21)
Adopting a different outlook is the best way to reap the benefits of this Solar Eclipse. Learn as much as you can about the power of positive thinking. By abandoning thoughts of anger, shame, and resentment, you'll attract the things you desire. Have you been struggling with money? Stop telling yourself you are poor and give thanks for the many blessings you often ignore. Are you looking for love? Instead of critiquing your body at every opportunity, regularly compliment yourself on your best features. Have you given up hope about traveling the world? Make a vision board that displays pictures of your dream destination and set a departure date.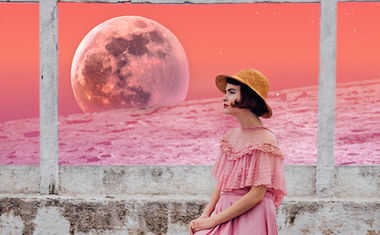 Reference image
Capricorn Horoscope (Dec. 22 - Jan. 19)
An unusual moneymaking opportunity may fall in your lap because of this Solar Eclipse. Stop insisting that the only way to earn a decent living is through the corporate world. You can make a fortune with your creative talent, if you only give yourself permission to do so. If your current job feels oppressive, hand in your resignation. Take a position that is less demanding or sell your handiwork on an artisanal web portal. If you've always wanted to write a book, now is the time to begin. You'll be able to get a nice advance from a publisher who appreciates your distinctive style. Alternatively, you could launch a podcast about your favorite subject. Advertisers will beat a path to your door.  
Aquarius Horoscope (Jan. 20 - Feb. 18)
This Solar Eclipse will be especially powerful for you, Aquarius, since it falls in your sign. Take this opportunity to picture yourself in a role you have always desired. Whether you want to be part of a couple, start a family, preside over a business, or achieve fame in your desired field is immaterial. The important thing is to liberate yourself from self-limiting attitudes. Instead of insisting the dating market is terrible, be assured your soulmate is waiting for your arrival. Rather than lamenting over limited job prospects, create the position you desire. If you catch yourself wondering whether an audition is worth your time, treat this experience as your first day of work.  
Pisces Horoscope (Feb. 19 - March 20)
Get ready for a spiritual breakthrough. This Solar Eclipse invites you to adopt a totally different attitude toward your sacred self. Rather than adhering to beliefs that were imposed on you as a child, build your own philosophy of life. Conducting rituals that honor the earth, sky, and water can be especially uplifting for a mystical sign like you. Get into the habit of honoring each New and Full Moon with a ceremony of some kind. Above all, abandon all thoughts of fear and shame. The sooner you craft a belief system that is centered on self-love and acceptance, the faster you will transcend the mundane problems that have dogged you since childhood.
Content created and supplied by: AdekunleG (via Opera News )
Opera News is a free to use platform and the views and opinions expressed herein are solely those of the author and do not represent, reflect or express the views of Opera News. Any/all written content and images displayed are provided by the blogger/author, appear herein as submitted by the blogger/author and are unedited by Opera News. Opera News does not consent to nor does it condone the posting of any content that violates the rights (including the copyrights) of any third party, nor content that may malign, inter alia, any religion, ethnic group, organization, gender, company, or individual. Opera News furthermore does not condone the use of our platform for the purposes encouraging/endorsing hate speech, violation of human rights and/or utterances of a defamatory nature. If the content contained herein violates any of your rights, including those of copyright, and/or violates any the above mentioned factors, you are requested to immediately notify us using via the following email address operanews-external(at)opera.com and/or report the article using the available reporting functionality built into our Platform See More