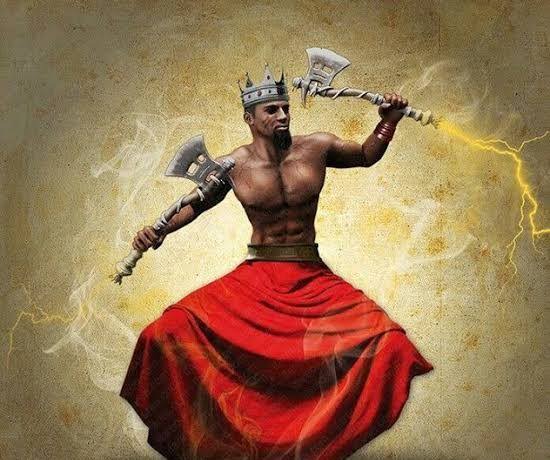 Let me trigger your curiosity a bit as I tell you about one of the most powerful gods, Sango, a god considered to be one of the most powerful, and the 3rd Alaafin of the Oyo Kingdom.
Just like Thor, the Greek god of thunder, and Amadioha, the Igbo god of thunder, Sango is also a god of thunder who is fearfully respected by those who reverence him.
Genealogically, Sango is a Royal ancestor of the Yoruba people and one of the Orishas, he was the third Alaafin of the Oyo Kingdom, he ruled for seven years. During his reign of seven years, he was always fighting to the extent he destroyed his palace with lightning.
Many of Sango's attributes include lightning, thunder, justice, Dance, and virility. He is also known for his powerful ax just like Thor.
Sango is worship in Nigeria, Benin, and Latin America. He is venerated in these religions, Yoruba Religion, Dahomey Mythology, Vodun, Santeria, Candomble, Haitian Vodou, Louisiana Voodoo, and Folks Catholicism. His day is the fifth day of the week.
He is known by different names in places he is worshipped, check around you and rethink, you might have heard, Sango strike this or that from someone, that's to show you how powerful Sango is. Due to how powerful he is, he is always called upon whenever there is a coronation of an Oba in Yoruba land.
Please like, share, and comment, do follow me for more updates and stories like this, thank you.
Content created and supplied by: IgboGreatest123 (via Opera News )