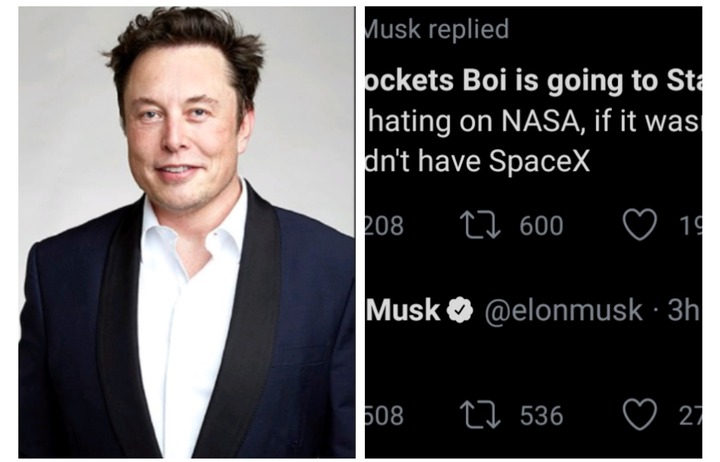 National Aeronautics and Space Administration (NASA) is a United State government agency that is responsible for science and technology related to air and space. The agency was established in 1958.
NASA started investing in private space companies in 2006 and SpaceX is one of the first companies to receive money from NASA.
The agency has invested more than $3 billion in SpaceX.
NASA invested in private space companies with the hope that they could provide cargo and crew transportation to the international space.
People have been showing hatred towards the US government agency for no vivid reason and a Twitter user has asked people to stop hating on NASA that if it wasn't for the agency, they wouldn't be SpaceX.
Elon Musk has replied the tweet claiming the statement is true. See tweet below;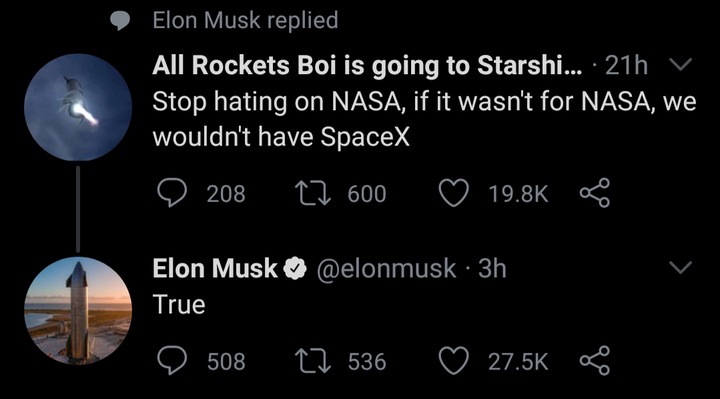 Elon Musk has agreed that if it wasn't for NASA, his company SpaceX wouldn't be here today.
I just hope with this reply, people will stop hating on the agency.
Share this article to as many as possible to make them stop hating on the agency, because the agency is really playing a big role to help private space companies grow and to develop its crew dragon capsule as part of it commercial crew program.
Don't forget to hit the like button and follow for more interesting article!
Content created and supplied by: Mozandy (via Opera News )