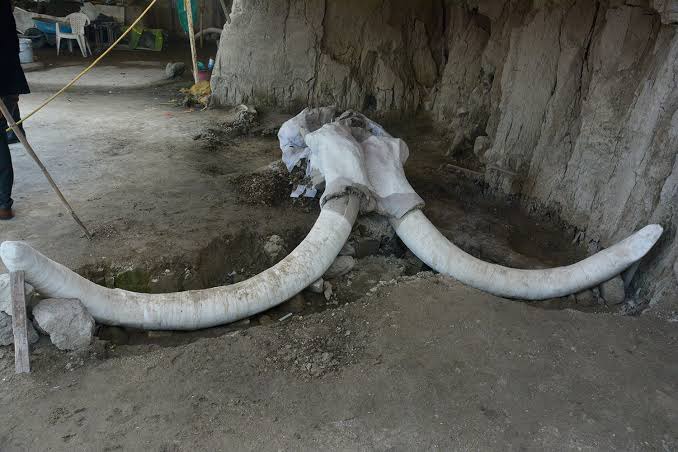 One can outrightly say that the earth has experienced quite a lot of changes or modifications which are tagged to evolutionary impact. Since the inception of time and the existence of man on earth; sociological research and deep scientific discovery and findings have acclaimed that the earth has experienced a drastic evolutionary change, which includes the biotic and abiotic components. These evolutionary changes can be attributed to some relative factors which include; climatic environmental conditions, cultural/mating preferences, populational immigration, genetic mutation and others.
As regarding this topic, we shall be looking at some earthy creatures that were created by God but are no more in existence today. Archeological findings have discovered and found fossil and skeletal remains of these creatures which is a clue that they once roamed the surface of the earth. Below are photos of them.
1.    Dragon.
The evidence of the existence of dragon has been propounded by many Greek and medieval philosophers and writers. The existence of dragons can also be traced to biblical accounts from the book of Revelations, and other Greek myths and mythological records.
2.    Dinosaur.
Dinosaur is claimed to be a gigantic reptile-like creature that has small propelled hands and large legs and foots. The carnivorous creature was research to have existed in the earth for about 245 million years ago. Paleontologist have discovered evidence of their existence in sediments from all continents, which includes Antarctica and have found evidence like bones, eggs, nests and footprints.
3.    Woolly Mammoth.
The woolly mammoth was a large mammal that was estimated to have disappeared from the earth over 10,000 years ago. The woolly mammoth is believed to be closely related to the modern-day elephant. Its ancestors migrated out of Africa about 3.5 million years ago.
4.    Brachiosaurus.
Brachiosaurus is an herbivores gigantic creature that looks like an elephant with protruded long neck. The animal was reported to have lived in North America during the late Jurassic age which was about 154 -153 million years ago. 
Content created and supplied by: OsPrince (via Opera News )