Marriage is like a coin with two sides. Sometimes, it gives us joy and laughter, and other times it gives us tears and pains. In marriage, one can't always predict what the next seconds hold for one because it is a place of pleasant and unpleasant surprises.
Due to the unpredictable nature of humans, one can't always get what one wants from the partner. More often than not, one's expectations are cut short in one way or the other. However, in order to avoid depression and pains, it is advisable for one to cut down one's expectations. In fact, the higher the expectations, the higher the pains that will follow when those desires are not met.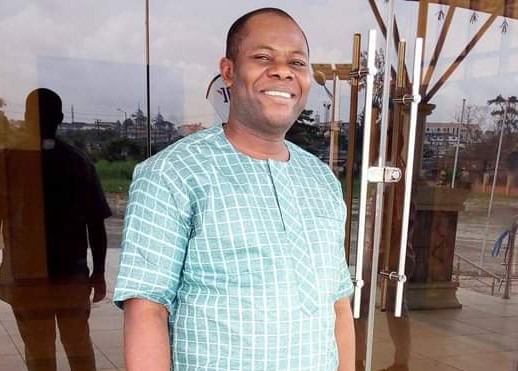 Sometimes, women can be funny when it comes to how they relate with their husbands in the midst of people. Inasmuch there are women who use their discretion to discern what should or should not be done or said to their husbands in public, there are others who don't apply wisdom.
Chuks Chibuzor Chielozie is a married man who had a dose of embarrassment and humiliation from his wife in the presence of his friends. According to what he posted in a Facebook group named, "Married and slaying", he is the type that is always assisting his wife in the kitchen.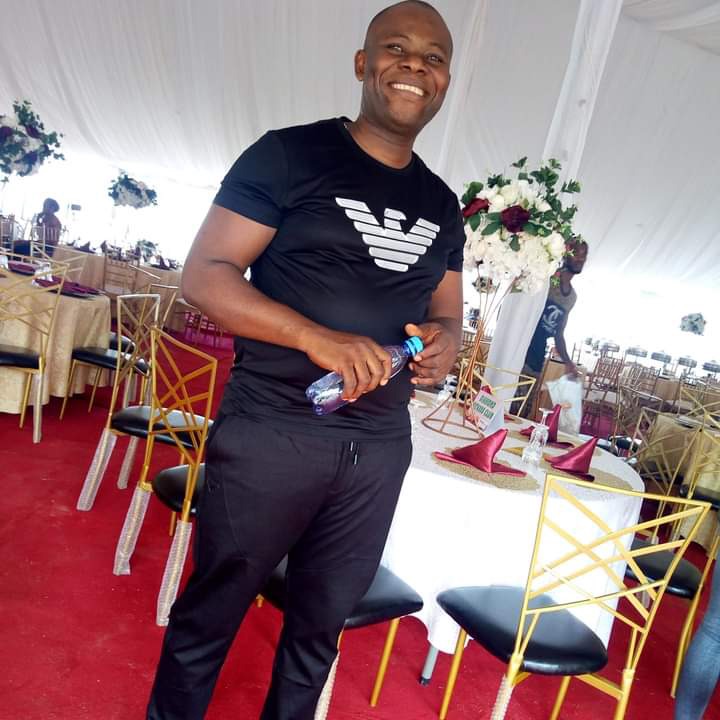 Nonetheless, on that fateful day, he regretted for ever been a loving and supportive husband. According to him, he earlier informed his wife of the visit of his friends who are bankers. In order to make the visit of his friends memorable, he asked the wife to prepare pounded yam with a local soup called, " Nsalla"
As expected, the friends visited. While he was having a quality time with his friends in the sitting room, his wife called him with a loud voice from the kitchen to join her there, so that he could pound the yam. Apparently, he didn't see that coming. It was more like a shocker to him.
See the screenshot below for the detail of his story: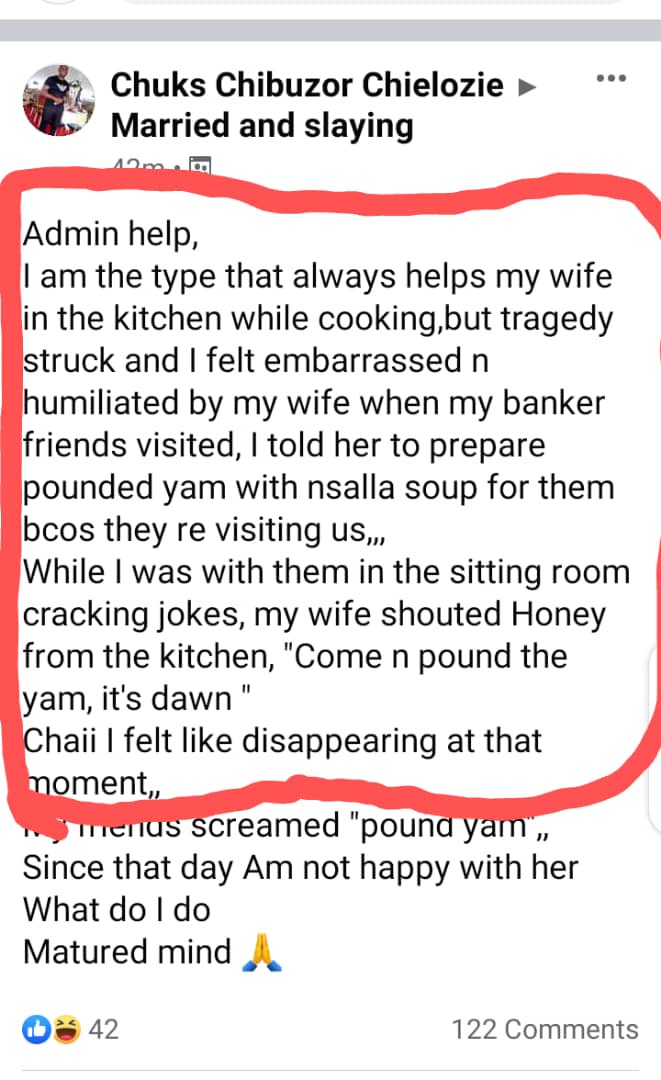 You may say that, the wife didn't do anything wrong, after all she is his wife. But come to think of it, is courtesy not supposed to be applied in such scenario? I mean, how something is said is as important as what is said.
After he made the post, some members of the group took to the comment section to express themselves on what transpired between the poster and his wife.
See what some of the group members comment in the screenshots below: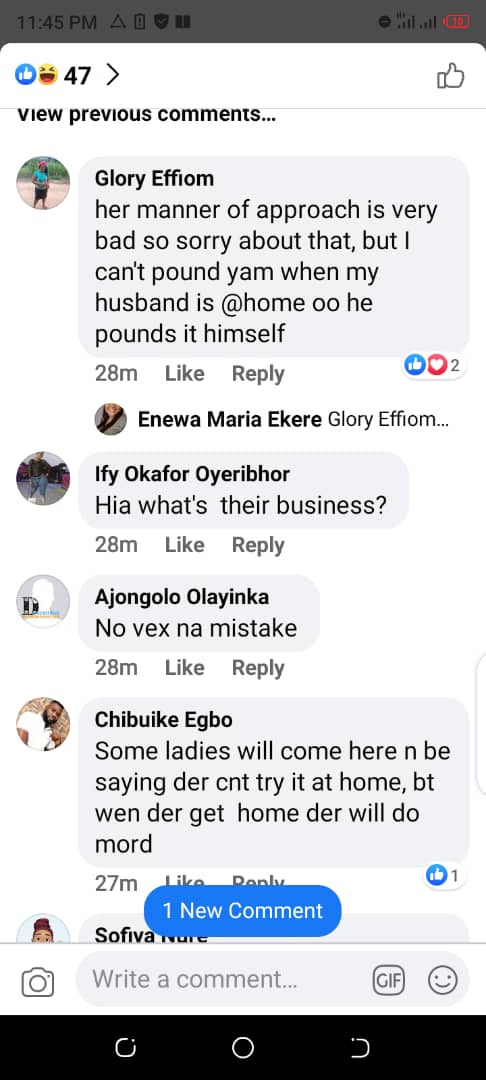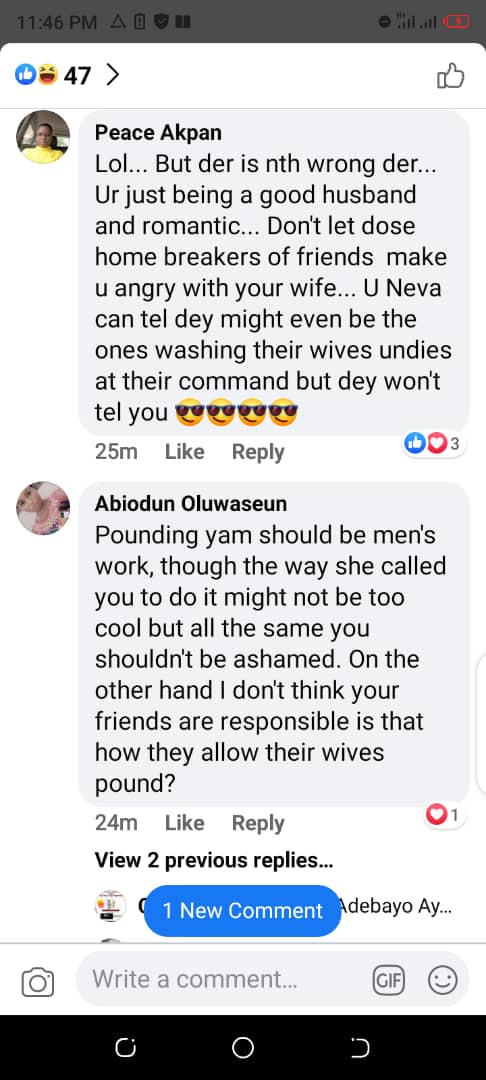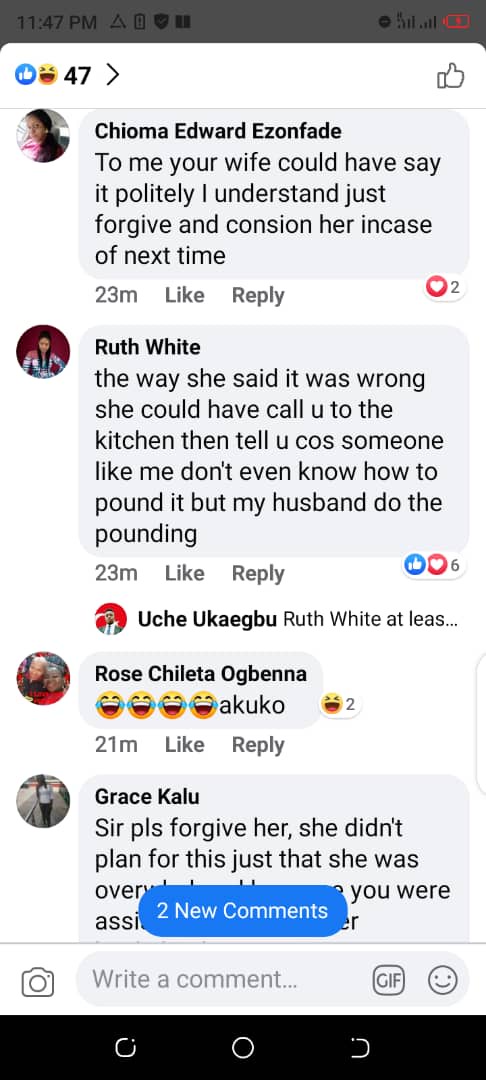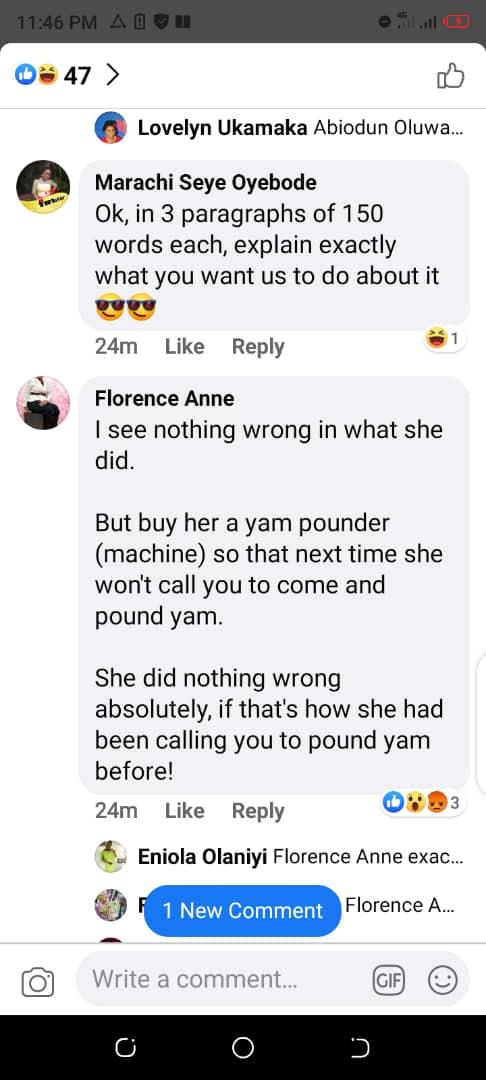 Be the judge. What is your take on what happened between the man and his wife? Is the wife at fault or she was right to have called her husband from the kitchen in the presence of his friends to pound yam for her?
Drop your opinion in the comment box.
Content created and supplied by: BornWriter (via Opera News )