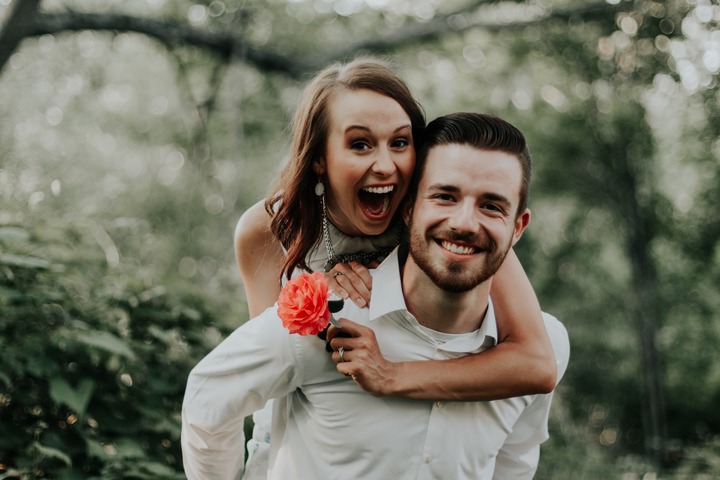 Everybody speaks of love, but only a few understands the essence and true meaning of love.
Everybody wants a successful home or marriage after a wedding, but only a few understands their way around it.
A happy home is what any man and woman would pray for. However, most lives have been lost, people put to trauma and many lost hope of love all because of lack of the right principles to apply to make a perfect home. And that, my dear, is why we have put together thses successful basic rules, to grow, nurture and keep your marriage ever blissful and romantic.
Below are 10 basic rules you must keep if you want your marriage to last long. Enjoy the ride.
1. Sacrifice
Sacrifice is one of the keys to a successful marriage or relationship.
Sacrifices entails so many things, one of which is compromise. Often time, sacrifice has been spoken by many to be the most pillar to a successful marriage or union.
Making sacfriceses isn't easy. ( If you like as people wey d do money ritual. Lolzzz). Especially in a union. But after the sacrifices comes the beautiful romance in a union.
On the altar of sacrifices is where a solid union is built. That is the trying time in the union. Just like gold, that is the processing period, after which, it comes out glittering.
Same happens in relationships and unions. And as long as sacrifices continues, the unions lasts.
2. Care
For love to stand, it is crucial to have care. however, there's a thin line between care and love. The role of care in any successful union can and should never be downplayed.
Care becomes crucial as love itself cannot sustain a relationship, union or what have you.
Learn to understand what your partner wants, where and when he/she wants it.
You are expected to have know your partner's favorite colors, favorite meals and whatever it is that tickles his or her fancy, give them a spoil with that with a little bit of surprise.
Make him or her feel like the only one in the world with just you with them.
Dude, you can cook the meals. Sometimes. Cook the meals. Serve the meal. It doesn't matter if you help with the dishes a few times or even sometimes.
Hey pretty lady, you can do a lot better than just telling your friends how lovely he treats you, send flowers across to him to sweep him off his feet. It's just gonna hit straight to his head.
Care is very important. Very very crucial.
3. Friendship.
This is Paramount. There must be a common platform in friendship. The absence of friendship crashes whatever it is you feel you have built.
You should have a bestie, a gist mate, a play mate and many more fun personalities you could ever want in your partner.
Most times why a couple go a long time without talking to each other over a misunderstanding, no matter how big or small, is because the absence of the word "friendship". Friendship should serve as the cement to every union.
Know your partner outside your love zone. Take it outside the box a few times. Play fun games... You could decide to try out the whole process of how you met each other. It's is this hopeless romance friendship infuses in a union.
4. Intimacy.
Your relationship or union can never be blissful if there's no intimacy. Intimacy is not sex. It is knowing each other to the very last. including plans, ways and every single thing.
When there's intimacy, you are able to know your partner's flaws, you are even able to memorize their hair lines... Recognize the sound of their laughter from anywhere you could here it, know when they're not okay even when they claim to be. Intimacy gives your partner a deep sense of belonging which makes him or her run to you every single time rather than any other person because you're the only one who understands better.
5. Desire.
Desire is not love, intimacy, care or friendship. You have to express desire to each other and be able to enjoy each other.
There also must be sexual desire. There must be a deep urge of sexual desire between you both, emotionally and physically, mentality, intellectually and on every level that requires desirability.
For a home, desire and friendship is very important.
6. Sincereity.
Be sincere with yourself and partner. Being sincere is different from intimacy. Know yourself. Knowing yourself helps you know who fits into your life better.
Be true to feelings and emotions. Don't make life time decisions based on what your parents or friends think. You know your spec, go get him or her. You know what you want it a woman or man... Make sure you find it before making that decision.
You like a thick lady for example, why then settle for a slim one because of on thing or another? Because you know what?? You'll end up cheating on her with a thick lady.
Same goes to the other gender. Know exactly what you want. Be sincere to yourself in all ramifications.
More to sincerity is being truthful to your partner. For the sake of Christ they deserve the very truth to it's tiniest details.
Sincerity helps consolidate your union. Be sincere with each other and that way, nothing comes in between you both.
7. Compatibility.
This is such virtue you can't joke with. It is expected that at the stage of your marriage or relationship, you are comfortable enough around and with your partner. Now the question is:
Can u go out with your partner??...
Are you proud of your partner enough to go out with him/her at public places?? ....
How much of your partner do you know you can look at and just laugh off???...
What about their eating habits?.... Sense of of humor and all that??...
This compatibility extends to some parts as: intellectual, emotional, spiritual, in area of finance and even more.etc.
All these are things you must tackle and be sure you both are compatible enough to ensure a happy and smooth union.
8. You must be spiritually together.
Yes! Building a home and keeping your marriage has a lot more to put in than just the wedding party, shopping spray, the hang outs and all the kisses around the house.
Be spiritually connected with your partner. Build a wall of thick connection in the spirit. That way, before anything happens in your marriage, so to say that; before your partner starts erring, you get this signals and intercede before time on their behalf. It helps and goes a long way to keeping your marriage fresh and blissful.
9. Priority
Priority is one of the most neglected issues in a union.
You must set your priorities. Setting priorities helps build better. Priority (es) as the case may be, confines mutual respect, it helps you understand your selves better, appreciate quality and standard.
Setting priority (es) has proven overtime, to boost financial progress, reverence and has helped to build a healthier line of discussion which is void of misunderstanding and quarrels.
10. Forgiveness
A couple coming together means two different worlds practically coming together as one. Few of the times were there are slight misunderstanding, forgiveness plays a vital role in bringing the duo together as one.
Forgiveness gives love uncountable chances to reign and prevail. Forgiveness is divine. That's why you must be together with one whom you connect deeply in all ramifications with, especially, spiritually.
No doubt, love is a beautiful thing. And having people who understand this language of love and build strongly on it is even a more beautiful thing.
Thank you for visiting this blog today.
I hope you find this article interesting and helpful.
Please, feel free to leave your comments and suggestions as they are deeply appreciated.
Warm Regards.
Content created and supplied by: MiracleMichaels_01 (via Opera News )
Opera News is a free to use platform and the views and opinions expressed herein are solely those of the author and do not represent, reflect or express the views of Opera News. Any/all written content and images displayed are provided by the blogger/author, appear herein as submitted by the blogger/author and are unedited by Opera News. Opera News does not consent to nor does it condone the posting of any content that violates the rights (including the copyrights) of any third party, nor content that may malign, inter alia, any religion, ethnic group, organization, gender, company, or individual. Opera News furthermore does not condone the use of our platform for the purposes encouraging/endorsing hate speech, violation of human rights and/or utterances of a defamatory nature. If the content contained herein violates any of your rights, including those of copyright, and/or violates any the above mentioned factors, you are requested to immediately notify us using via the following email address operanews-external(at)opera.com and/or report the article using the available reporting functionality built into our Platform See More