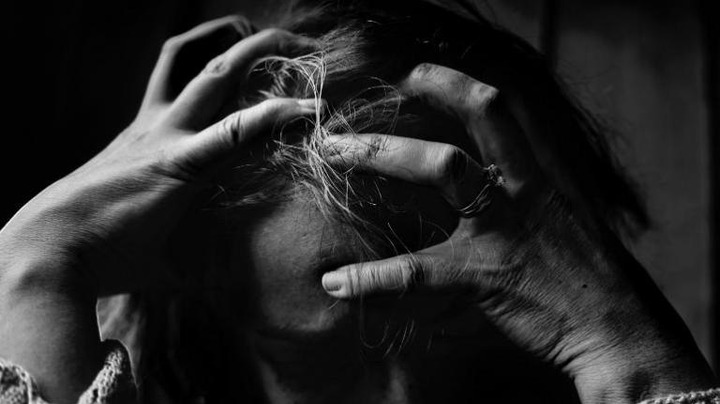 Peer Pressure
You're a good woman, humble, confident, no complexity, yet unmarried. Another is promiscuous, yet luckily she is married even though she doesn't treat her hubby well.
There are times when this pressure gets the best of you. So your friends swim in/out of relationship, and you probably haven't been in a relationship in four years even while you're humble.
Your secondary school classmates be having kids and you're still thinking they too young. Then you're like wait... 😭😭😭😭😭
You see them with kids/married, you give a smiling face with open mouth and cold sweat. Clean forget we're all in our mid/late twenties.
Refreshing to see that men could appreciate another man's looks without the fear of being called soft or gay. Society places so much pressure on men eh.
It occurred to me how pressure sometimes comes in our environments, very unintentionally. It is why we always need to secure ourselves beyond the things of this world, including possessions and relationships.
Pressures most time are borne from our insecurities and desires, we need to deal with these things to free ourselves from being pressured by them even when our society expose us to them unintentionally.
It's a mindset matter. The society sets standard for you. And no matter how strong you are, sometimes you break down. You end up making the wrong choices because you want to ideally impress people. But when it hits you at that point, how do you manage it? Do you have a plan?
We are humans. We are indeed all culpable. There are days when the truth rubs off in your face and you let your guard down.
Do your friends feel pressured because of your achievements? How do you help that friend?
Stop living a life of competition. Life's a marathon, not a short distance race. Your friends may not mean it in a bad way, but they don't realize you're both not on the same page. They don't spend the number of hours you spend on the road nor the stress of your job, but they earn more making you feel small. Worst, they think you are stingy, because in their heads they're guessing your salary based on where you work or your position, which is not up to. And painfully so. You need to be intentional about the people around you. Sometimes, they are not bragging or being proud when they tell you their success, they want to encourage you or give you hope that it could be you tomorrow.
Some persons may feel, as much as they detest some schemes, please no one should blame young people who just want to succeed at any cost!!! But you equally can't deny that responsibility must be taken for actions.
And tbh I don't know if anyone wants to fail.. "at any cost" must have logical constraints.
Don't let it crip up on you when you don't meet expectations. I remember how my dad use to compare me with a friend on behavioral pattern, why I needed to act like him - I usually suck it up. Being contented, it's not by power or by might but by the Grace of God. Makes me remember the Scripture Romans 9:16
Being pressured to do anything is never sustainable, once you realise there's pressure in your motive, you need to take several steps back.
Pressure sometimes blurs your vision and creates illusions. Don't feel pressured to do anything. No pressure to prove anything now now.
And yes there is positive peer pressure. Preparatory phases aren't meant for the public. Sometimes, people need to see it long enough before they do or believe in it. So keep marketing your dreams out there, don't stop, some people take longer to respond than others but the response will still come.
Sometimes I pray, Lord, please give me Children that will not bring shame to your name, give me the grace also, to raise them in a manner that will not bring shame to my name, may my children be sharp arrows in my quiver that will pierce the evil of this world and not perpetuate it Folded hands - You can imagine these kids aren't even here yet and they already have all this pressure to be perfect.
And peer pressure is not for young people alone. It happens to old people too, even those with children - do I have a car or house? Why are my children not married yet like others? When am I having a business of my own?
You've brought out all your best in sincerity and sacrifice. You pressed all the right buttons, done the right things, yet with little or no result.
Sometimes you want to mother/father people, and people judge it for being harsh. You want to be sincere and disciplined to people, they end up terming you strict. You want to be gentle and reserved, people call you arrogant.
Quit your worries, nothing is wrong with you. Or you probably need to change your approach to how you deal or interact with people. See ehnnn... This peer pressure matter no get one answer finally. (The people that are doing it, do they have two heads?) It's a thin line before you cross into depression. Sometimes it could be down to life goals and fulfilment. Not to say you cannot supercede your expectations and still not be satisfied. Be the best of you, celebrate your own milestones, close your eyes to other people's accomplishment. Make God your Anchor. Master contentment. Admit your insecurities and the things that pressure you - that's what makes us human after all. Sometimes distance is required too. Do what makes you happy. Do your thing. Live your life. Be less pressured and less aggressive about finding significant other. "I'm getting older is the biggest form of pressure".
Identify your weakness and strength. Hold on to your values. Life itself is full of pressure, pressure to survive, pressure to make money, pressure to succeed. Wait on God's timing. Your time and purpose is different, you might just need to break a pressure point to arrive at the light in the end of your tunnel.
Content created and supplied by: Maxwelikechukwu (via Opera News )