On the night she was stood up, Amanda Schiewe wrote on Instagram, "I was getting nervous. Craig is NOT the kind of gentleman to just ditch a gal… and we were so excited to spend the evening together. Something was up. I never expected to hear the kind of news I received."
She knew Craig Towler well enough to know he wouldn't just disappear. At 28 years old, he made a great life for himself in Boulder, Colorado. He lived there since he was a kid and couldn't think of settling down anywhere else. "This is my town," he said. "I was a runner, I liked to hike and do everything outdoors."
Labeling Towler as an outdoorsman was also a huge understatement. This guy lived and breathed every activity under the sun. He played all kinds of sports and hit the gym regularly, but it was 10k races that really got his gears turning. He was born for sport, and everyone around him knew it.
Towler was employed at BBSC Endurance Sports, a company that sponsored sporting events for both beginner athletes and elite competitors. He worked hard to spread his love of keeping active to his community, and there was one woman in particular who had been fond of his passion for the last few weeks — Amanda.
Towler had recently stated dating the fitness trainer, and although it was still incredibly early on in their relationship, the two seemed to have fallen quite smitten with each other. So much so, in fact, that Towler couldn't wait to introduce her to his buddies.
BBSC Endurance Sports always hosted a large annual race on Independence Day, which was then followed by an epic fireworks display over the city. This was the perfect time, Towler figured, to have a romantic night with Amanda around his friends while gazing out at a spectacularly patriotic show. That year, Towler was particularly looking forward to the race.
"This year was especially exciting because it was the first race I was working as the timer," he said in an interview. The festivities went off without a hitch, and once the final contestant finished the race, everyone packed up for the day to return home in preparation of the firework show later on. Amanda was now eagerly waiting to see Towler and find out how the event went.
The night would only have been the pair's third date, but things were moving along quickly, and both Amanda and Towler seemed like they had visions of the relationship lasting a long time. However, after Amanda got ready for the evening of fun, she sat and waited. And waited — and then she got a phone call.
It was Towler's number that appeared on her caller ID, but the voice was one of his friends delivering unbearable news. "Cedric (Towler's best friend) told me Craig was hit by a car and was going to survive. He also told me Craig said he was really sorry to have to cancel our date!" Amanda was left horrified, but the call didn't capture the full reality of the situation.
Apparently, what had happened was an impaired driver slammed into the back of Towler while he was unloading his racing gear. "Before I knew what had happened," Towler recalled, "I looked down and saw both of my legs detached. I was in tremendous shock at the time, but I remember everything very vividly."
Towler continued, "I was conscious the entire time and I remember everything until being sedated for the surgeries. I later learned from the doctors that the (makeshift belt) tourniquets had stayed on my legs until I entered surgery hours later, and are the reason that I am alive today." Amanda, without any hesitation, rushed to Denver Health Medical Center trauma center to be by Towler's side.
Simply living through the accident was horrifying enough, but once Towler was alert and able to communicate with doctors, they gave him heartbreaking news: They would need to amputate both of his legs, or else he'd bleed out. "It was either life or limb. I remember telling the doctor 'You know what, just do what you have to do.'"
Towler was scheduled for five surgeries over the next week to complete the full amputation of both legs, and Amanda didn't plan on going anywhere while they happened. The two had become each other's rocks, and Towler needed the emotional support now more than ever before in his life. So, Amanda spent weeks at the hospital tending to his every need.
Towler admitted, "I honestly didn't know what to expect, but she was there immediately, no questions asked and I knew she would be the one for me." The fact that Towler even took the time out to text her during the chaotic scene also scored some serious brownie points with her, as well. She gushed, "The fact that he was even thinking of me made me fall for him even harder."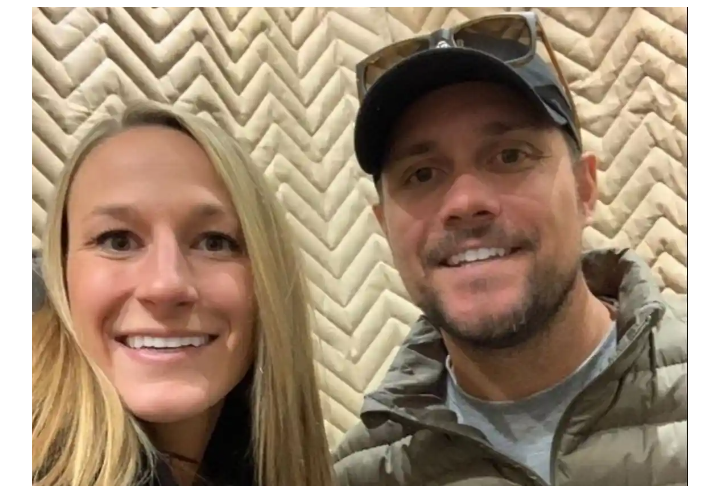 Recovery, as you might have expected, was the farthest thing from easy. Staying active and playing sports were Towler's passions, and now he had to rethink how he would do literally everything in his life without legs. He found himself in some incredibly dark places, but both his mother and Amanda helped pull him back into the light of hope.
"When I was in the ICU, I made a very conscious decision," he said. "I was talking to my mom and I said I need to accept what had happened and that it was real. Only once I had that acceptance could I move forward." Luckily, his will to move forward trumped his desire to give up all hope.
"In that short period of time I quickly learned how selfless and kind Amanda was, especially considering the shape I was Amanda was a big part of everything. It 100 percent helped to have a partner there in such a hard time, with so many emotions going on." But, the urge to keep active never left Towler, so now he had to adjust to the new norms of staying fit.
"This experience may have changed me physically, but my core values and life goals have not changed," he said. "I am lucky to be alive today, so every second that I am here is a blessing, and I will use my life experiences to spread positivity, and hopefully help motivate people to value the time we have."
Towler admitted, "It would be untrue to say that I have not changed by this experience. The fact of the matter is that no matter how positive my outlook is, and how motivated I am to succeed, this experience has changed me for the rest of my life." Towler knew about the struggles of amputations first-hand, so along with rejoining the gym and resuming racing, he started an online support group called Amputee Concierge.
Craig Towler lived through an experience most of us cannot even fathom, but it was the constant support of Amanda Schiewe that kept a smile on his face even when he didn't want to face life. When he was down, he found strength in the stories of people like himself — people still changing the world.
Content created and supplied by: Olufhemyy (via Opera News )