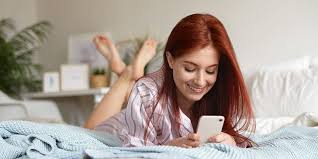 There's no denying that phones are a big part of our romantic lives. Since everyone seems to have and carry around a cell phone in today's world, making a man obsess over you can be as easy as sending him the right text messages.
Texting plays a massive role when it comes to dating and relationships. A text can send the wrong impression and cause a guy to be turned off … or it can have a huge impact causing him to think and obsess over you for the entire day.
If you've ever wondered how to make a man obsessed with you, you're about to find out.
Whenever you are texting him note this 3 things:
• Stop he generic "hey, hello, or what's up" texts. It is boring.
• Avoid wrong grammar and unnecessary emoji. Stop using lols, ok unnecessarily and don't make autocorrect spoil the mood.
• Do not obsessively check your phone over and over to reply. This may seems desperate.
Texts to make him obsess over you:
1. Inject humor but don't do this too frequently. Humor is a great way to bond, and men love a sharp, funny, lighthearted woman.
2. Try the "tickle his senses" text with him. This will give him a little taste of your sensual side but leave him wanting more.
3. Try the "Q&A" text. This isn't your typical Question and Answer, it stands for Question and Arouse!
Don't send him mundane things like 'where are you?' Instead send something like "What are you wearing right now?" or "What do you want me to do to you later?"
4. Cross the barrier of boring and dull messages and remix your conversation with some spicy cute messages. These texts to make him think about you can be sent as a text when he wakes up in the morning.
These text messages are a sweet reminder to him that you love him, still obsess over him and that he is the one who holds your heart.
5. The thoughtful, supportive text. One of the best parts of being in a romantic relationship is that your partner will remember little things that are important to you, things that maybe not even your good friends will remember.
Content created and supplied by: Upzy (via Opera News )