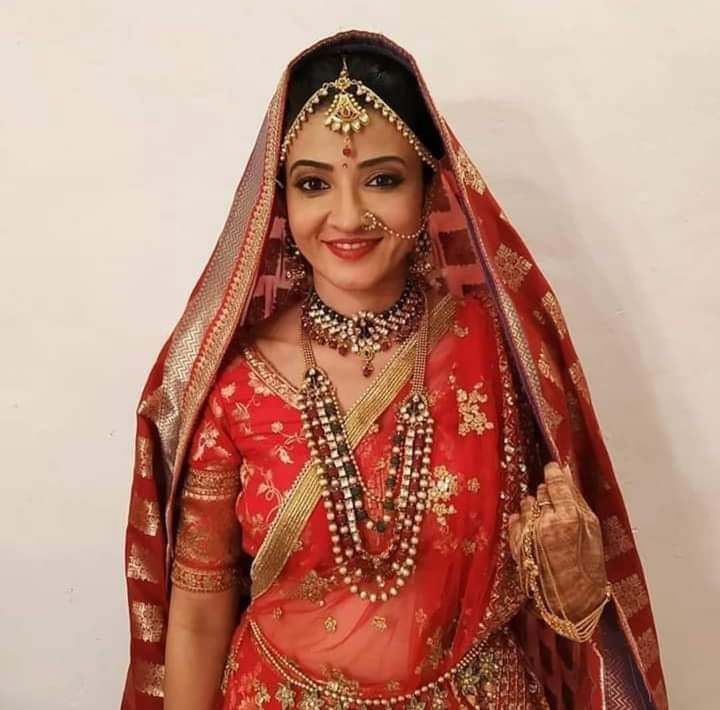 Sahil's Mother Blackmails Him, Avantika Leaves Her Wedding And Vaidika-Sahil's Wedding.
Rekha locks herself into the kitchen. Rekha turns the gas of stoves on. Her eyes reddened. Everyone in the house gather outside and tries to stop her. Rekha finds herself a match-stick. The alone was now suffocating her. Shashi tells Sahil it's because of his insistence.
Rekha says she would die if he continue chasing that divorcee girl. Mina says Rekha is getting asthma attack. Sahil and Shashi forcefully breaks the bolt of kitchen. Sahil questions if she wants to emotionally black mail him. Rekha says she will continue doing it, if he doesn't marry Avantika.
Vaidika convinces Avantika that guy isn't suitable for her. Avantika was offensive and asks why she says so. Everyone from the family gather around. Avantika says Vaidika is convincing her to say no to Sahil's proposal. Their father asks Vaidika what happened. Vaidika says that guy loves someone else, they shouldn't marry Avantika to someone who doesn't love her.
Her mother says his parents would have known already if their son loved someone else. She decides to call Rekha and complain. Vaidika tries to stop her parents. They get Rekha ji's phone then. It was Sahil. Sahil tells her he is ready to marry Avantika. There, at Kashab's house Sahil had called in front of his family.
Avantika's mother confirms what he means. Sahil repeats he is ready to marry Avantika, this time heard by Avantika's family on a loud speaker. Vaidika was scolded by her mother.
It was Sahil's turmeric ritual. The family had gathered around. A young girl blindfolds Sahil. He recognizes is young and cute sister and requests her to stay around. Geet notices Sahil sat upset. Rekha comes to send her away from some chore, then tells Sahil to cheer up.
Avantika is a nice girl, and everything gets well after marriage. They now prepare to go to Avantika's house. Sahil wish Vaidika becomes his life partner somehow, he wonders how this will happen.
Vaidika was making arrangements for Avantika's Haldi. She was upset and concerned that Sahil didn't love her. She decides to inquire why he said a yes to marriage. She can't let her sister marry someone who doesn't love her. Rekha asks Vaidika to call the Halwai. Kashab family arrives.
Geet runs with the Haldi thaal into the house to apply it to her sister in law. She hits Vaidika in a hurry, spilling the bowl of turmeric over Vaidika. Rekha recognizes Vaidika as the girl in community center. Everyone was shocked there. Mina asks who this girl is, she got the Haldi. Rekha asks who she is. From the gate, a lady replies she is the elder daughter of the family Vaidika.
Rekha recognizes her, Sahil says she got married but it was broken. She is the one they met in community center. The lady asks how it matters if her marriage was broken, she is gem at heart; one in million. She introduces herself as their Bua. She says she is proud of Vaidika that she left an illiterate man. Mina says they are shocked that their daughter left her own house.
Bua asks if they have a problem that their daughter didn't want to get beaten or tortured by a man; had they called her brave if she had died there. Their Vaidika is really brave and they are proud of her. Anju gives courage to Vaidika. Vaidika's mother requests Anju to stop all this, they won't be able to fight the society.
Anju convinces they must support Vaidika, she won't be able to keep Avantika happy by hurting her elder daughter. They shouldn't at all marry Avantika in a family who have objection with Vaidika's divorce. She inquires Sahil's opinion.
Sahil replies they have no problem at all and even from his family. And it seems a planning of God that the Haldi spilt over her. Vaidika corrects that it was only an accident. She takes the bowl and asks Rekha to apply the Haldi on Avantika.
Inside, Avantika enjoys the dances. After the Haldi ritual, Avantika goes to change into a new dress. Vaidika stops outside the window Sahil stood beside, and asks Sahil to come over. She needs to talk to him. Anju notices Vaidika with Avantika's groom. Vaidika asks Sahil why he said a yes.
Sahil asks if he shouldn't have, if she disliked it. Vaidika agrees, she disliked him lying about it. She questions Sahil if he really loves her sister. Avantika is her younger sister, she can't let her marry a man who doesn't love her. Sahil tells Vaidika about his mother's attempt to suicide.
He accepts he doesn't love Avantika, nor does he want to marry her. He walks closer to Vaidika and says he loves her, since the first sight. He feels differently about her. He holds Vaidika's hand and proposes her to marry him. Vaidika replies she would never marry him. Her family selected him for her sister.
Sahil says Vaidika herself claimed he shouldn't marry Avantika. Vaidika asks what about his mother. Sometimes one has to sacrifice for the sake of family, he must forget about their past life and that old lady's claims. She tells him to marry Avantika, he will fall in love with her as well.
Sahil says everything that happened recently indicates they met for some reason. Their meeting, that old woman, the split of Haldi and everything else. He can bring a Baraat for her sister, but he would only marry Vaidika. He says he promises the fate will have to bend in front of his love.
The next day, Sahil came over as the groom for wedding. Sahil thinks Vaidika will be his bride, as he prayed whole night that Vaidika must be his bride. He is sure he will only marry Vaidika.
In the room, Avantika's bridal dress was ready. She gets a call and says she is coming over, else their plan would fail. Vaidika comes to the room. She notices Avantika wasn't yet ready. She was concerned, and locks the door from inside. She was at once afraid if Sahil said something.
Avantika denies. Vaidika says every girl has to marry, she is lucky that she is marrying in the same city. Avantika says Sorab is committing a suicide. Vaidika asks who, Sorab, her friend? Avantika says she must go, Pandit ji has to make the preparations. Even Sorab's family isn't in India, she can leave a friend of her with him. She jumps out of the window. Vaidika was left helpless.
Outside, Pandit ji had started the wedding mantra. He now calls the bride. Vaidika's mother knocks the door as everyone is calling her downstairs.
Everyone was waiting for the wedding rituals. Vaidika's mother comes to bring Avantika downstairs. Pandit ji was in a hurry and asks them to bring the bride soon. The neighbors now gossip where the bride has been. Sahil was happy and tells his parents it seems Avantika doesn't want this marriage. They must also cancel it.
Anju comes there and says Avantika isn't answering from the room. Mina and some other guests try to create some problems but Vaidika's father calms the crowd. Everyone turn to see the bride come downstairs. Sahil was tensed and prays for a miracle.
Pandit ji calls the bride on stage and asks Sahil to perform the Vermala ritual. The bride was Vaidika under the veil, all in tears. Upon the family pressure, she does the Vermala ritual. Sahil stood with a sad face, then puts the Vermala around her neck with a trembling hand. Vaidika thinks it's for protecting respect of her and Sahil's family. What Avantika is going to do will be a sin.
She recalls calling Avantika's number. Avantika didn't take the call, instead Sorab had hugged her from behind. Sorab turned the call on. Avantika said to Sorab she loves him only but wants money as well; she would marry Sahil and loot his money by giving him poison. Vaidika was shocked to hear this.
There, Avantika minds Sorab to be outside Kashab house tonight. She turns to leave but Manjolika had locked the door from outside. She thinks she can't let anyone intervene in her daughter and Sahil's marriage.
Vaidika prays Avantika is back in time. She doesn't want to marry Sahil. If Avantika's reality is disclosed it will bring much disgrace to the family. There, Sahil wonders what he should do to stop this wedding. He can only marry Vaidika ji.
Sahil was given a thaal. He was shocked to see Vaidika's reflection under the veil and silently thanks God to fulfil his wish. He always knew they had a connection since ages. It's proven she is coming in his life as his life partner now. He wonders how this all happened.
Anju looks around the crowd for Vaidika. She was worried and looks around in the house for her. She thinks there is something wrong for sure, someone must have said some curt words to Vaidika. No one at home cares for Vaidika, but this Bua does.
The bride and groom were asked to stand for wedding rounds. Sahil jumps to stand up at once, astonishing his parents. Vaidika's mother asks her to stand up. Vaidika thinks she will get married if she takes the rounds, but can't disclose being under the veil as well. Her parents would have to bear much disgrace else.
She wish Avantika returns soon and takes her place on the stage. Sahil holds Vaidika's hand and pulls her up. The wedding rounds begin. After the fourth round, Pandit ji asks the bride to move forward. Vaidika withdraws her hand from Sahil's hand. The guests still call her parents name of not bringing their daughters well.
Content created and supplied by: Shamss (via Opera News )
Opera News is a free to use platform and the views and opinions expressed herein are solely those of the author and do not represent, reflect or express the views of Opera News. Any/all written content and images displayed are provided by the blogger/author, appear herein as submitted by the blogger/author and are unedited by Opera News. Opera News does not consent to nor does it condone the posting of any content that violates the rights (including the copyrights) of any third party, nor content that may malign, inter alia, any religion, ethnic group, organization, gender, company, or individual. Opera News furthermore does not condone the use of our platform for the purposes encouraging/endorsing hate speech, violation of human rights and/or utterances of a defamatory nature. If the content contained herein violates any of your rights, including those of copyright, and/or violates any the above mentioned factors, you are requested to immediately notify us using via the following email address operanews-external(at)opera.com and/or report the article using the available reporting functionality built into our Platform See More