Some men want a step-by-step action plan on how to make a woman fall in love. But love is unique, and the actions that make a woman fall in love are different for every woman and relationship. Better use of a man's time then, is to focus on becoming the type of man women can fall in love with easily. To learn how to become that man women want, read on.
Telling you the truth. There is no magic formula to cure a broken heart, that is for sure. On the flip side, there isn't a love potion that I know of that is going to make someone fall for you. The only thing you can do, is increase the odds you will get the woman you want by following these expert and practically proven tips.
1. Be Open With Emotions
In order to make woman love you, a woman needs to know who you are at your core. If you want her to fall in love with you, you are going to have to show some vulnerability in private and be open with your emotions. 
When a woman knows and understands how you feel in different instances, she will feel like she has a connection to your soul. That's is point one out of many.
2. Be Confident And Passionate
Women don't want to be in relationships with insecure men who need constant caretaking, so be confident in who you are and what you do. One way to show confidence is through your passions.
There is a fine line between confidence and arrogance, so tread lightly. Seeing you have a passion for your life and hobbies shows that, it is possible for there to be passion between the two of you. 
3. Make Her Feel Girly And Feminine Again
For a battery to work, it needs a positive and negative to create and electrical charge. The same applies to human sexual attraction in terms of masculine and feminine energy. Another easy way to get her fall with you again, is to consistently make her feel feminine and girly in response to your masculinity.
4. Bring Her Fairly Tale To Life
Pay close attention to what she says to ultimately figure out her goals, and dreams in life. Then create an alignment with her future and your future. Therefore, you are getting her to start thinking about you as a fatherly figure. But make sure always to be real and authentic.  
5. Show Affection The Way She Wants It
You see, not every woman wants affection the same way. All of these forms of appreciation are important, but some are stronger than others for different people. For example, they are all important to me, but one of my strongest love languages is physical touch.
This is probably the most single important thing for women. Women need to feel affection from the one they love and a lot of it. Please understand this.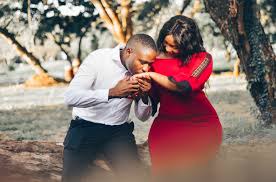 If you can do aforementioned items for a woman, she will naturally remain in love with you and will be happy to stick with you for life.
Content created and supplied by: Oshomatic (via Opera News )