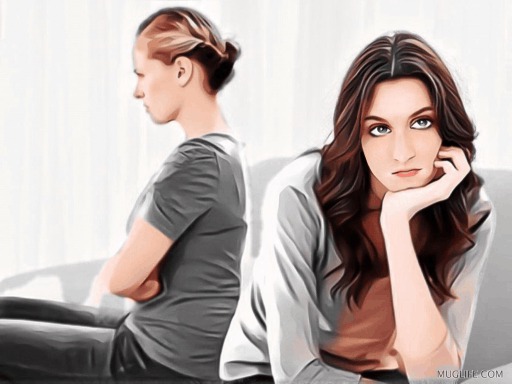 https://sketchyourstory.com.ng
Have you ever had someone in your life that you confide in? You really love and care about the person, even if the person is not related to you?
My name is Angelica, a 300 level student of mass communication. During my 200 level in the university, I got a roommate named Jane. She was also a 200 level student. Jane and I got along so well that we became best friends, I took her like my sister. Jane was from a poor family, she hustled to pay all her fees in school, she worked at a small restaurant outside school. At times, she missed her lectures, so that she can work and earn some cash. I pitied Jane, I wasn't from a very rich family, but I was better than Jane, I helped her the little way I could. I gave her some money to buy her textbooks and food, she really appreciated my help.
Jane got into a relationship with a guy named Andy. I felt like their relationship was distracting Jane from her studies. Jane was always spending her time with Andy. Don't get me wrong, its' no big deal spending time with your boyfriend, but all Jane did was to chat with him, and do nothing else. I tried advising her, it sounded to her like I was jealous of her relationship, but that isn't the case. Jane felt like I was lonely, because I was not in any relationship, she decided to hook me up with Andy s' best friend, George. I wasn't really interested in being, in any relationship, and I didn't like George. Jane kept on persuading me to say yes to him, I didn't want to date George, I kept on saying no. Jane got tired of persuading me, and stopped.
I noticed that Jane changed her wardrobe, she had new and expensive clothes, bags, shoes, and a lot of things, she also bought an iPhone, I was surprised. I asked Jane how she got all these things, and she told me that Andy bought them for her. Andy bought them for her? I asked myself. I remembered vividly, that Jane told me Andy was from a poor family, he was also working in the same restaurant where she was working. I suspected that Jane was lying to me, but why would she do that, I decided to give Jane the benefit of the doubt.
One morning, I woke up to prepare for lectures, and I didn't find Jane in the room, I am sure she spent the night in the room, I dialed her phone number, it wasn't available. I went to other rooms and asked about her, but nobody has seen her. I waited for some minutes to know if Jane will be back, before I lock the room, and going for lectures. Suddenly, someone ran inside the room, I was frightened by the way the person came inside, it was Jane. Jane was panting, she had bruises all over her body, she looked so scared. I got some towels, with water to clean her wounds, she was in so much pains, I gave her some pain relievers, and allowed her to rest before talking to her. I asked Jane about what happened to her, and she narrated to me, how she was attacked by armed robbers in school. Jane went for lectures early in the morning, and on her way, she got attacked, her iPhone was stolen, and she was beaten up. I was very sorry for Jane.
Jane recovered very fast, like nothing happened to her. The next day, I went for lectures, the moment I entered the lecture hall, all eyes were on me, it felt weird. I took a good look at myself to know whether I was wearing something bad, but I was dressing well, I saw people stare at me uncontrollably. After lectures, I went back to the hostel, people were still staring at me and talking among themselves. I felt embarrassed. I was still walking towards the hostel, when a guy slapped my butts, and shouted
"Big good ass!"
"What the hell was that!" I asked angrily.
The guy laughed and ran away, that was very stupid and childish, I said. I got to the hostel, and people were still staring at me, I went to my room, and locked the doors.
"What is happening? What did I do?" I asked myself.
When Jane came back, I confided in her, and she advised me not to worry about anything. In the evening, I was browsing through Facebook, I saw shocking pictures, my heart almost jumped out of my mouth when I saw these pictures. They were nude pictures of me, I was in the bathroom naked. I don't have nude pictures, I have never taken nude pictures in my life, I have never gone naked in front of anybody before, even when I want to bathe, I undress in the bathroom. I told Jane about what I saw, and she was shocked. I cried in her arms, and she consoled me all through the night. I realized the reason why everyone was staring at me, it was because they saw the nude pictures, and the account that posted the pictures was mine, someone actually hacked my account to do this.
I didn't go out of my room for weeks, I couldn't stand the shame, all I did was to cry and wonder why someone could do this to me. My elder brother saw the viral pictures, and he was very angry, he called me and started insulting me, he didn't allow me to explain myself. He told me that my parents have already concluded, that they would not cater for my needs again in school, because I have become a shame to them. I was shattered by this, I contacted my parents, but they refused to answer my calls, I knew that, it was the end of my studies. I decided to go the church to pray. After spending some minutes in the church, I went back to the hostel. I covered my face, so that no one could recognize me. I was walking towards my room, when Rita, Jane s' course mate and friend, called me to her room, I was ashamed to talk to anyone, but it sounded like she wanted to tell me something very important.
"Angelica, I am sorry for what happened, this shouldn't have happened to you. I called you to tell you the truth concerning who did this to you." Rita said, I became very eager to hear her out.
"You may not believe me, but I am telling you the truth, Jane is behind what happened to you." Rita said with confidence. I didn't say anything, I just waited for her to explain.
"Jane confided in me. She told me that George has been trying to make you his girlfriend but you refused, then he started sending you gifts through Jane. Jane did not give you those gifts. All those new stuffs she has, was given to her by George, to give to you. She was very glad that you did not accept to date George, if not, she would have lost all these gifts she has been receiving. Jane told me that George became furious, because of how you still refused to be his girlfriend despite all the gifts, he thought that you were receiving his gifts. George gave Jane a camera, and instructed Jane to take nude pictures of you, he promised to give Jane 1000 dollars, if she will do it. As greedy and wicked Jane could be, she agreed and took pictures of you, when you were bathing. When she was done, she took the camera, and gave it back to George. Jane requested for her payment, but George gave her only one dollar, she got angry and tried to fight George, and he gave her a serious beating. George hacked your Facebook account, and posted those pictures of you, as a revenge, for refusing to be his girlfriend." Rita narrated.
I was speechless for some minutes, Rita brought her phone and played the recording of what Jane said, I felt betrayed and shed tears. I thanked her for telling me the truth. I consoled myself, and waited for Jane to come back. When Jane came back, I was boiling in anger, I revealed to her that I already know what she did, she denied everything. When I played her the recording of what she said, she couldn't deny it.
"I am not sorry, and I can never be. I hate you, and I enjoyed taking those gifts that were supposed to be given to you." Jane said proudly.
At that moment, I slapped her, before she could raise her hands against me, I began to hit her. A serious fight began, I gave her a serious beating, took her outside and stripped her naked in front of everyone, so that she can feel the same embarrassment, I felt. 
People came to separate the fight. All of them were insulting me, for beating Jane and stripping her naked. I stopped fighting, brought my phone and played the recording of Jane s' confession, they apologized to me for the insults. I left the premises, packed my things and travelled to my hometown. I explained to my parents, all that happened, they apologized to me for doubting me. Right now, I am still battling with developing my self-esteem. All I can pray for, is that the pictures get deleted from peoples mind.
Thanks for Reading
Don't Forget to Share the story, Like and comment!
Content created and supplied by: Storylovers! (via Opera News )