Are you a lady and you have been wondering why men keep breaking your heart every time you are in a relationship with them? Sometimes, you think you need deliverance from the spirit husband.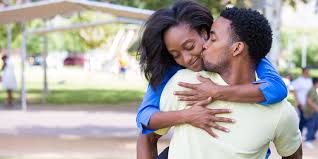 Well, I am glad to inform you that we will cover five ways on how you can keep that man in your life forever but before we go into the steps. Kindly ensure you drop your comments at the end of this article and don't forget to share with friends or loved ones.
The steps are as follows:
1) Compatibility: Most students normally thinks being compatible with your partner is not a big deal but It is actually a big deal. Before you go into that relationship, sit your partner down and asks questions. Both of you should be truthful when answering. This will help you to know if you are compatible or not and it will help both of you to have less problems in the future.
2) Be His Confidant: So many ladies are not who you can confide in. Guys know who they can confide in from far. It does not matter if you pretend he can trust you or not. He will surely know if he can confide in you. One way he can confide in you is when you say intelligent things. When you give him good advice. When you help his financial status. All this will make him look at you and he will make you his confidant. When a man has finally made you his confidant, he would stick with you because he would not want to miss you & Start over by looking for new confidant.
3) Both Of You Must ensure You Have Same Love Language: When you know his love language, you must ensure you adopt his love language as your own. For example, Buying flowers could be his love language. If you bug him a towel, he may not appreciate it just like buying him a flower. Ensure you know his love language and keep using it for him but don't over do it so it would not become boring.
4) Give Him Space: Yes, I know you love him but sometimes you play hard to get also. But do not overdo It. Just do it once in a while in order to keep him on his toes. Stop chasing after his attention. Give him the attention he gives you sometimes. You should know how to balance this in order to be able to win his love for ever.
5) Be creative and productive: You should know how to be creative in the terms of dressing. Do not expose your body. Dress responsibly. Men love it when their partner have a good taste of fashion. Not only that, As a woman. You should have something doing. 
We appreciate you for reading this piece. Please keep reading all my articles. Thank you!!!
Content created and supplied by: Olushoy (via Opera News )