Mistakes happen a lot especially in a relationship cause no matter how hard you may try, your relationship can not be a perfect one. So to keep your relationship you have to develop the necessary tolerance that is needed to overlook your partner's pitfalls, which means being able to give your partner a second, third, or fourth chance.
But the question is, Does the person you are dating worth a second chance? Although you need to tolerate you, partner, it's not in all situation that needs tolerance. You might be in the kind of relationship where the best thing to do is to work away.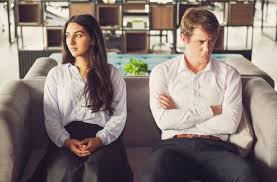 Funny as it may seem, but the truth is that some persons don't deserve your tolerance that is because they have gone out of line by doing things to hurt you intentionally. When someone does things intentionally and starts begging, I don't see the reason why you should give that person a second chance, when you give that person a second chance he will do that thing again or even worst.
Below are 6 things a man will do that will make him not deserve a second chance.
1 When a man refuses to accept his wrong
A man that is not interested in owning up to his mistakes and shortcomings will end up not getting a second chance from the woman he is hurting.
2 He does not apologize for his mistakes
How can you make a mistake and not apologize for it? You know you have screwed up big time and you are still expecting a second chance so that you can hurt her again. A man who is too proud to apologize to a woman deserves no second chance.
3 He focuses his attention on all the shortcomings you have had in the past
Instead of him accepting his mistake and apologize he will focus on your shortcomings after knowing he screwed up big time.
4 A man that makes you feel bad about yourself does not deserve a second chance from her cause he cannot continue to kill her values and confidence.
5 A man that makes the same mistake over and over again should not consider getting a second chance cause he will continue hurting you.
6 A man that tells you your feelings are invalid deserve not a second chance.
Content created and supplied by: Gistflow (via Opera News )