Infidelity is fast becoming the norm amongst married people.
The rate at which spouses cheat on each other is now very high.
A man has caught his wife in the act of cheating. Barely three days he came back from overseas.
The man has been abroad working while his wife stays back here in Nigeria.
Information gathered shows that friends of the man had seen his wife acting out of turn. So they put across several calls to him to inform him about her infidelity.
The man decided to come back to Nigeria. He never said a word about his return to his wife. She never knew he was in town too.
After watching and waiting, she finally showed up at a hotel with a man.
That was how he caught her in the act.
In a video uploaded on Twitter social media, the woman's husband could be heard talking to her lover "do you know I have the right to kill you?" right before he slapped the man.
She was busy crying and pleading with him not to carry out his threats.
May God help us all. This marriage thing is not easy at the end of the day.
Here's the link to watch the video;
https://twitter.com/Newstainment01/status/1349627486561308673?s=19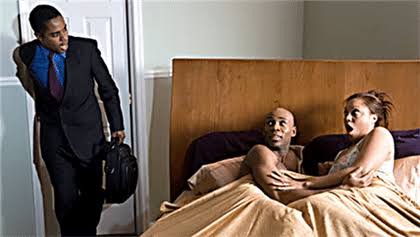 Content created and supplied by: Fairladydiary (via Opera News )