Hello great users of OperaNews.
Hello to great Nigerian youths.
Someone complained to me about Food science and technology being gender based and talks on unemployment. I dropped my opinion and someone came to disturb me.
I'm very disappointed at the mindset of many youths these days… Seriously?.
So you're still thinking of going to school and graduating for someone to employ you in thier company.
Now hold your horses. I'm not telling you to go and learn "hand work" as many Nigerians (even the president) will call it as a side hustle.
Why? Why do you still have this archaic mentality that our forefathers laid. Even they are gone and we still chain ourselves in this mentality of 
GO TO SCHOOL-GRADUATE-GET A JOB-GET RICH-GET MARRIED-HAVE CHILDREN and DIE.
Hell no! You still think this way!.
What happened to the Brain God implanted in your skull.
Look guys I know many of us are a circumstance of our parents thinking studying certain courses will bring prestige and money. Let me not even dive into that.
A lot of us are saying I am studying this and that... is that what you really intended to do? Let me not dive into that as well.
You will answer the questions for yourselves.
For the sake of the newbies who are going to write jamb. I Will ask you to please do that course because you have passion for it. Don't go into the university and start screaming SCHOOL NA SCAM... I hope you get that?
School is not a SCAM! The system is the FAILED ONE!
Get a degree in what you're most interested in and what you have a burning desire for.
Not... ( I love this course oh! but who'll employ me, ah! no this one will not bring me honor, people will start looking at me somehow… seriously?)
All departments are useful, EVERYTHING!! I say.
All these things you call HAND SKILL or whatever are major courses abroad… You get?.
They build companies on it… you get?.
Don't settle for less seriously… If you love graphic designing don't limit your mentality to a Wooden shop with few computers in it… Damn!.
If you love sewing , don't limit your mentality to one sewing machine, a dirty shop.
If you love hairdressing don't limit your mentality to a shop with hood dryers, and nonsense all over
Even bricklaying, weldering and all those jobs we belittle are companies abroad infact within Africa.
Don't you get it? People are born everyday with this passion to do the things I stated above and just because they haven't seen anyone with the courage to build companies in Nigeria… they're discouraged or even when they have the courage and their parents hear about it, They will take them to church for deliverance… why!
Moving on... we need to get this straight and maybe If we understand this in our generation things will be different for us.
Nigeria is on a scale now. And it's not even balancing. 
That enslaved mentality won't let people achieve their dreams and what God intends for them to do in Life
Who told God created you to get a job, get rich and get married? Is that all?
So you won't even have any impact at all… than to feed on someone's company till you die?.
Okay… I want us to imagine this, all youths in Nigeria want to become doctors and nurses… this and that, and they dream of getting employed .
Is that balanced? When everyone is rushing to medicine and accounting?
Why are they going there?... ask most of them… they don't even have the passion .
God have awesomely created you to be a CEO of a prestigious company but no, you went ahead to study medicine when deep inside you… you know you don't have the passion but as usual, society must be followed right?
Now to the future doctors, nurses, accountants and so on… who have true passion for thier courses… Have you thought of creating employment or causing unemployment?
Now the trend has now become go to school and learn a *HAND WORK* but why?
Everyone is now rushing to learn the HANDWORK… those it's meant for and those who isn't.
What is education to you? A white board? Four walls? A table and chair?
If you are still thinking this is education then you are hooked in the head… sorry to say
We have to understand, this is our time and our generation… if you're eighteen and above and you're still thinking like a child infact I don't even care the age… because even a 5 year old now builds gadgets.
So far you're able to think then you need to start building.
What are we gonna give to the generations coming? Those old niggas have done thier parts… it's time to build new heroes but no… You still want your children to go to school and learn about Awolowo and co… why?
Won't there be any like them anymore?
Nigeria is not balanced because we think BACKWARDS
The definition of success to an average Nigerian is a car and a house or properties. Seriously?
Is that what success means to you?
That's why we have a high crime rate in Nigeria.
People stealing and maiming. Ask them why, they'll tell you is poverty.
Sorry that's not an excuse and don't come into my comment session and start lecturing me on what poverty is. I know what it means to get damn hungry to the extent of being desperate but my mentality is not caged.
I won't make someone else cry just to fill my stomach and I know I can't die of hunger as well.
You're just eighteen and you want to kill yourself. My friend will you sit down and use your brain!!.
I don't have money… I don't have a  car... at eighteen.
Tell them to do menial jobs… they'll carry shoulder high… ah! I can't oh!.
No sense of responsibility.
Patience is missing in this generation.
We want to become important overnight and we ignore PROCESS.
Your parents died and so? You don't have money and so?
Nobody will hear your excuse oh! They want to see what you become.
So continue waking up and complaining.
I won't fail my coming generation… I don't know about you.
So to all youths reading this… I'm challenging you to use your brain and put your thinking cap on. Nigeria is in trouble because people can't think!!!.
They can't think!!!.
You see someone succeed illegally and be like "Someone's own has to spoil before someone's own gets better… we have to make this money" if I slap you!!!.
We play too much in this country in the name of relieving depression.
Now has that reduced the rate of homicide or increased it?
Has it nurtured the economy in coma?
Nigeria will never be balanced… when brains are on reverse, when youths… youths can't think.
THINK! and they choose to settle for less.
I CANT KILL MYSELF, LIFE IS TOO SHORT, MAKE IT BEFORE ITS TOO LATE… all these stupid writeups flying up and down..
A generation that thinks of nothing but extravagance, s£x, harbor unnecessary relationships that'll later wreck them.
As a moderator, I just see alot of heartbreaking posts and shake head… the day reality will slap you hard in the face, I pray white hair will not be the one reminding you of what you should have done better.
I know some people will still come here and spit jargons… I don't care... The truth must be told.
For those who let it simmer and settle in thier brain. CONGRATULATIONS... For those who will see as a MOTIVATIONAL SPEAKER.
CONGRATULATIONS... For those who will come to savage in the comment section.
CONGRATS.
I have said what I have to.
You can take the truth and bend it to the back, side, right, left or even throw it in the drain.
The truth will remain the TRUTH and it will set YOU FREE.
Thanks for reading.
Don't forget to follow up.
Thank you for using OperaNews.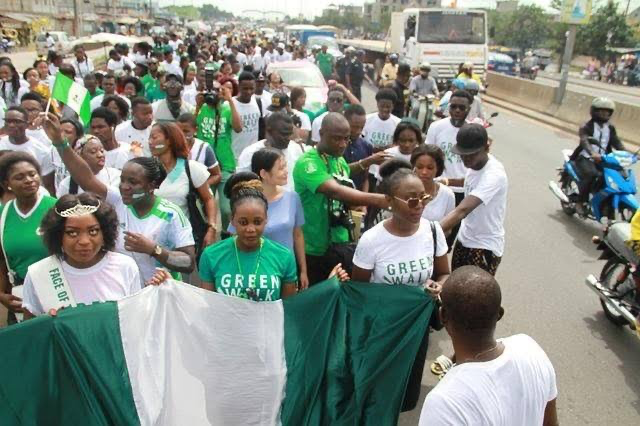 Content created and supplied by: TrendingNews.NG (via Opera News )
Opera News is a free to use platform and the views and opinions expressed herein are solely those of the author and do not represent, reflect or express the views of Opera News. Any/all written content and images displayed are provided by the blogger/author, appear herein as submitted by the blogger/author and are unedited by Opera News. Opera News does not consent to nor does it condone the posting of any content that violates the rights (including the copyrights) of any third party, nor content that may malign, inter alia, any religion, ethnic group, organization, gender, company, or individual. Opera News furthermore does not condone the use of our platform for the purposes encouraging/endorsing hate speech, violation of human rights and/or utterances of a defamatory nature. If the content contained herein violates any of your rights, including those of copyright, and/or violates any the above mentioned factors, you are requested to immediately notify us using via the following email address operanews-external(at)opera.com and/or report the article using the available reporting functionality built into our Platform See More