Being in a relationship gives an unexplainable type of feeling especially when you are so in love with each other. Giving each other nicknames in a relationship also strength the bond of the relationship. It makes you two feel closer and also makes you very happy.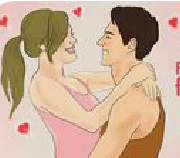 Nickname can be described as a familiar name a person calls you by instead of your actual name. Nicknames are very romantic when used in a relationship. Even if you are married, you should try and give each other nicknames.
There are a lot of different and cute nicknames you can give your partner. Today I will be listing some cute nickname ideas you can call your girlfriend and their meanings.
1) Agapi Mou - It is a Greek word which means my love.
2) Alliebear - A nickname for girlfriend who cares about you.
3) Amante - Means a lover
4) Amore - Someone that you love
5) Babette - a girl you admire
6) Baba Ganoush - Suitable if your girlfriend is the jovial type
7) Baby bear - If your girlfriend likes cuddling you.
8) Baby Bugaboo - Suitable for a girlfriend who gets jealous easily.
9) Bee Knees - Suitable for an impressive girlfriend
10) Bibbles - A girlfriend who is always positive.
Content created and supplied by: Kaybeewrites (via Opera News )