Nigerian Army kills 50 robbers
The Nigeria Defense Forces (NDF) says it has killed 50 robbers in Kuriya village in Kaura Namoda Local Government Area of ​​Zamfara State.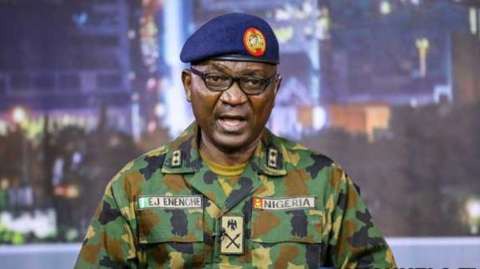 A statement issued by the head of the Information Department, Major General John Enenche, on Sunday said that their forces had fought the insurgents with the help of drones.
He added that four soldiers were injured during the fighting, rescuing 334 animals stolen by the robbers.
Meanwhile, troops deployed to Duniya town in Danmusa Local Government Area of ​​Katsina State rescued 62 animals from the robbers, who escaped after spotting the soldiers.
Reports from Kaduna state say robbers killed at least three people on Saturday in a village in Cameroon's Kauru Local Government Area.
RELATED NEWS
Jonah: Shekau is not well, he is praying for the Christians and Muslims of Nigeria, he will apologize
In pictures: APC senator jumps over a well as he is attacked by gunmen
The federal government has confirmed the effectiveness of COVID-19 vaccine
Right now: Car accident kills 20 in Bauchi
Opinion: POS: History and ruling, Prof. Ahmad Murtala
Police arrest armed robbers in Kano State
The Ondo State governor has called for the strengthening of the state police
Content created and supplied by: TORIOLATOHEEB (via Opera News )