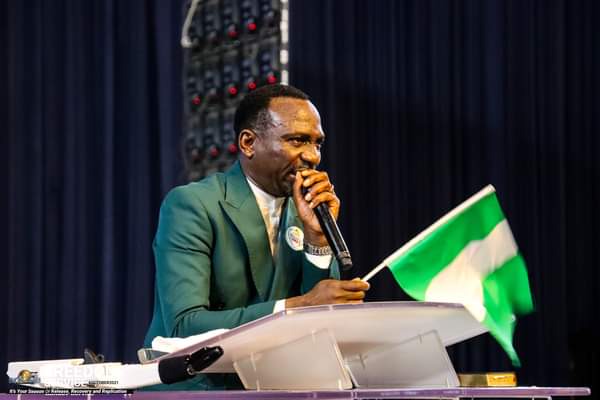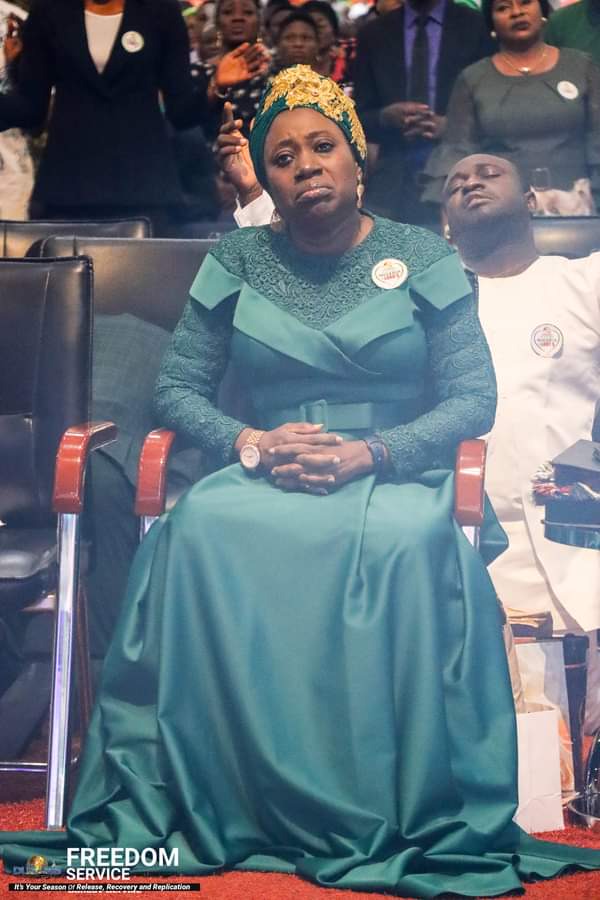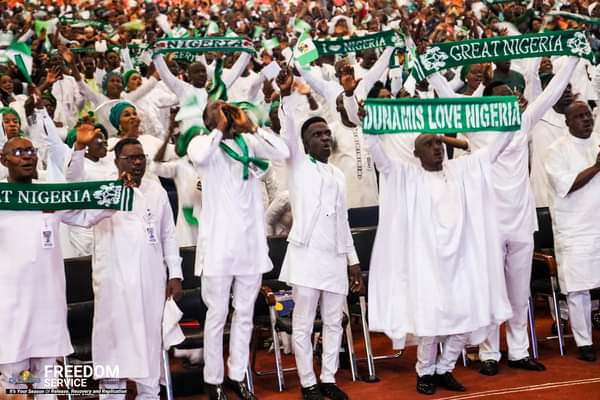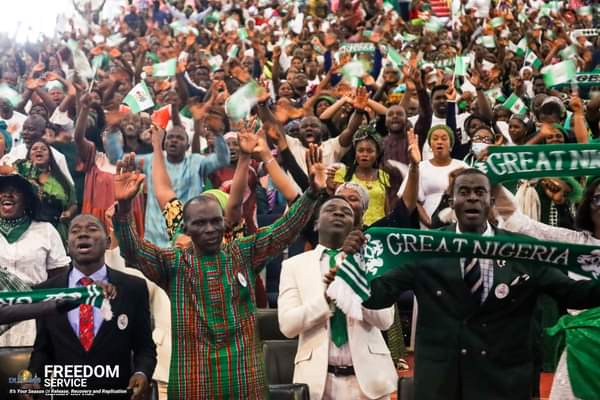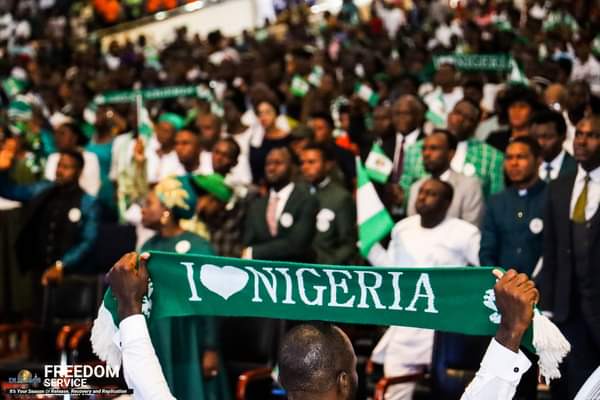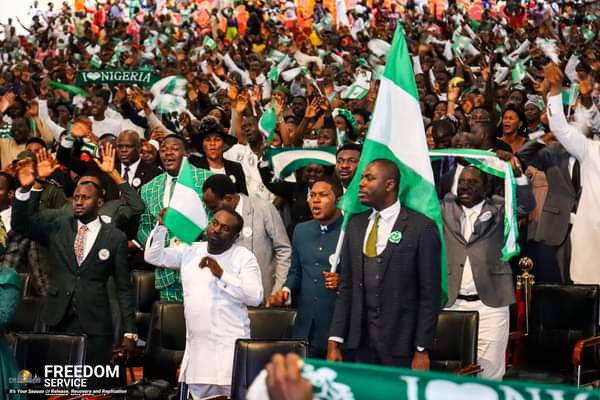 WHEN COVID-19 CAME TO NIGERIA, THE GROUND WAS SATURATED WITH THE WORD; WORD FROM THE FAITH TABERNACLE IN OTA, CANAANLAND, WORD FROM THE REDEMPTION CAMP, DEEPER LIFE CHURCH, DUNAMIS CHURCH, WORD FROM EVERYWHERE.
WE MAY NOT HAVE SOME PHYSICAL FACILITIES IN NIGERIA BECAUSE OF CORRUPTION BUT WE HAVE THE WORD.
WHEN EBOLA CAME IN, THE WORD BOILED EBOLA.
OTHER PLACES HAVE NATURAL DISASTERS BUT WE HAVE LEADERSHIP DISASTER'; WHERE THE DISASTER IS NOT EARTHQUAKE, IT IS A PERSON.
NIGERIA IS A BLESSED COUNTRY BUT SHE IS SUFFERING FROM 'CHRONIC DISASTROUS LEADERSHIP SYNDROME'- (CDLS).
EVERY NIGERIAN BY THE NUMBER OF RESOURCES AND AMOUNT OF MONEY IN THIS NATION SHOULD HAVE A GOOD STANDARD OF LIVING.
'SOMEBODY TOLD ME HE WAS TALKING WITH ONE OF THE PEOPLE IN LEADERSHIP IN THIS COUNTRY (NIGERIA), AT ONE POINT HE SAID, 'WITH THE WHOLE PROBLEM, THIS NATION IS ABOUT TO SCATTER'?. THE PERSON SAID, " LET IT SCATTER!"
ONE OF THE MOST IMPACTFUL DELIVERANCE TOOLS IS DELIVERANCE BY THE WORD.
-Pastor Paul Enenche at Dunamis International Gospel Centre on 'FREE INDEED' at Freedom Service, Glory Dome.
Father we give You the praise, we give You the honour. Independence Day symbolizes liberty and freedom; deliverance from captivity.
Lift your hands high.
Just begin to worship Him and begin to see your liberty on all sides: freedom and deliverance from all sides.
Lift your hands and whisper the name of J-E-S-U-S...
- Power of the Holy Ghost!
- Ancestral, generational, occultic powers, witchcraft curses are breaking right now!
- Chains of slavery are breaking!
- The yokes of fruitlessness and barrenness are breaking!
- Your seed is released from captivity!
- Receive the touch of liberty in the name of Jesus!
Lift your hands and give the King of kings, the Lord of lords, the I AM that I AM the praise. Father thank You for a moment like this. Blessed be Your name. Honour to Your name. Thank You Master, in Jesus precious name.
I prophesy upon you today, liberty for your family, community and liberty for our Nation. Thank You Master, in Jesus precious name.
Did you see the beautiful picture of the Glory Dome just now? Someone was telling me the other day that even those who are on ground here, we are wondering, how did this happened? When was this constructed, how did all these twenty one thousand, four hundred and something pieces of metals were knitted together for the roof? Not two hundred, not two thousand or one hundred - twenty one thousand pieces.
Only God could have done that. The God who did this here will construct our Nation, will construct your family, destiny, change your story, the story of your family and community.
John 8:32, 36
- You shall be free indeed!
This morning let me start by welcoming you to the month of October. This is the first day of the tenth month and this month shall favour you
Look at your neighbor and say; "this month is your month; it shall favour you. This year is not allowed to end until your desires and your expectations come to pass".
The subject is:
FREE INDEED
Our objective is to understand that:
1. God is a God of liberty and freedom.
2. To understand the forces of freedom.
We serve a God who is a Specialist in the liberty of both lives and land. He was the God who brought Israel out of the captivity of Egypt. "I will pass through the land tonight and Pharaoh will let you go" (Exodus 12:12-13). Church Gist. He is the God of liberty; He is the God who terminated the captivity of Joseph in prison (Psalm 105:17-20). He is the God who brought Paul and Silas out of prison when they were kept in jail and at midnight, they sang praises (Acts 16:25-26), suddenly the prison door opened and they were out.
God is a God of liberty (2 Corinthians 3:17-18). Bondage does not exist in God and it cannot exist in God (Psalm 107:20). It is fully established that nobody can be bound or tied around God. "Lose him and let him go" was what He said to Lazarus when he came out of the grave in John 11.
Luke 13:10-18
Jesus' assignment was to loose the captives anywhere He found them.
- Today, I announce, I prophesy to you and to your family, to your community and to our Nation; Freedom is coming, liberty is coming, deliverance is coming, the chains and the yokes are breaking in the name of Jesus.
- I am anointed to announce that this day; today is the beginning of a change of situation for your life; a change of things, a change of issues for your family, for your community and above all, a change of status for Nigeria.
WHAT FORCES OF FREEDOM DO WE HAVE?
1. The force of the Word of God (Psalm 107:20, John 8:32, John 17:17). If the devil cannot keep you away from the Word, he cannot keep you away from your freedom. If he cannot keep a people from the Word, he cannot keep the people away from freedom.
Do you know that they expected people to die like flies in Africa, especially Nigeria the most populous black Nation on the earth? They said that the COVID is going to wipe out people on the street. Some demonic agents were asking that they should turned some Church facilities into isolation centers and they agreed with the voice of the devil that this place will be the burial ground. The casualty from COVID so far, for the whole of the COVID season is not up to one month's casualty of malaria. The COVID came and when it came, the ground was saturated with Word; Word from the Faith Tabernacle in Ota in Canaanland filling the air, Word from the Redeemed, Deeper Life, Dunamis Church, Word from everywhere. We may not have some physical facilities in Nigeria because of corruption but there is Word; prophetic mantle that is on the ground and when that devil came, he returned back to hell.
When Ebola came in, the Word boiled ebola. Liberia where ebola hits like fire, I told the Pastor in our church there: "not one hair will drop from any of the members there". There are those they have already taken almost to the mortuary, they came back provided they were connected to the Church.
- I prophesy your liberty and your deliverance and I prophesy liberty for this land.
Lift your hands and say; "I am too connected to the Word of God to be tied down by the devil. No devil can hold me back or hold back my destiny".
One of the most impactful deliverance tools is deliverance by the Word. When you struggle with 'pray for me, pray for me', just settle down with the Word. Somebody can pray for you, you can be free and the affliction may return depending on your faith level and your status but if you got it by the Word; it is permanent, it is durable because what brought the deliverance is necessary to keep the deliverance.
2. The force of service (Exodus 7:16, Exodus 8:1). If the people are going to serve the Lord, no devil can keep them from going. "Lord I dash myself to You, I donate my life to You. Anything You want to do with me, do with me". If God says I have the need for you, no ancestral devil can say I have a claim on you.
What we are doing now by His grace, under God, nobody from our line, village, local government etc because from childhood, you just dash yourself to God. I think I was age nine when I submitted my name for special number in Church, my brother was like seven years old and they carried us to the local priest. Today, I don't know the song we sang and I'm sure if you listen to it now, you may not like the melody. At age 11, I was already doing evangelism, three days dry fast and we broke the fast by twelve midnight the third day. I'm not saying this to brag but example communicates principles. What you couldn't do with your life, do it with your children. Let your children be able to fast at age 10 or 11 so that they can have a better life and better future than you.
You can make that covenant with God; "Lord I donate myself to You. From today I want the devil to leave me alone. What do You want me to do with my life. How do you want me to serve You"?
If the people are willing to serve, no devil can hold them. That is why the devil has no claim on our nation because the number of people, I think the highest level of ministers of the Gospel currently and globally is coming out of Nigeria; genuine servant, missionaries and people. For that sake He said if I find one man that is standing with me, I can spare the land. For that purpose we believe that our land shall not be destroyed and I believe in the name of Jesus; your own life and family shall not be destroyed.
Take your service to the next level. I entered an agreement with God when I went to the medical school and I said to God: "I'm going to serve, I'm go to preach and do everything You want me to do but I don't want to fail one exam" and that deal was sealed and I stepped in there like a tornado by His mercies. I preached in the buses, hostels, organized meetings and so on and God kept His part of the deal. I didn't hold back from serving Him and He didn't hold back from keeping me and causing me to excel and also causing me to move through the school sickless.
In the second year, we were in physiology laboratory; we were learning blood pressure for the first time and somebody checked my blood pressure and said the pressure appears high. I said, "me, pressure high? To hell with that pressure. Devil for your information, I will not check it another time, to let you know that it does not exist". I checked it back to hell. After many years (please if your faith is not at that level, don't function like that so that you don't end with stroke). I was at the airport here, somebody rushed at me, they have some medical equipment there. Daddy this is what we do; we check people's blood pressure, we do this and that. Can we please help you to check your own, just to bless our instruments. I said okay, check. "This is like a baby's blood pressure".
You shall serve the Lord, He shall bless your bread and your water. He will take away sickness from the midst of thee. He will cause you to have liberty.
In the University, I went to eased myself and then saw that blood was coming out in the restroom. Blood? "Bastard devil; this is your first and this is your last. Don't come out like this next time". It didn't come back another time.
- Today I prophesy; everything that will not let you go will go for you now!
- The yoke is broken!
- The embargo is lifted in the name of Jesus.
3. The force of praise (Acts 16:25. When praise goes up, God steps in and when God steps in, the devil steps out (Psalm 32:7). Songs carry deliverance power.
Listen, anything praise will do, grumbling will do the opposite, murmuring, complaining, depression and sadness will do the opposite. Church Gist. If praise sets you free, depression makes you bound. When you see me dance, I dance like a winner man. When you see me smile, it is not faked.
Please don't tie down your destiny by depression, with murmuring, grumbling or complaining; there is something to thank God for.
4. The force of prayer and fasting. Genesis 32:24-28, 1 Chronicle 4:9-10, Isaiah 58:6,8.
5. The force of Prophetic impact: Hosea 12:13.
If you are out of prophet, you are not out of liberty. Prophetic coverage is targeted towards the termination of captivity. If you are not without a prophet, no bondage can continue.
That's why there is hope for a Country like this.
When prophets give up, a generation can go down.
And our confidence in the fact that the Word of God shows us that the God of an individual is still the God of a nation. The God of Jacob is still the God of Israel. Jacob is a person and Israel is a nation.
THE CURRENT ISSUES OF NIGERIA.
I. Underdevelopment and retrogressions.
II. Corruption and financial criminality
III. Kidnapping, robbery and banditry.
IV. Nepotism, tribalism, regional domination.
V. Religious intolerance and massive religious persecution.
VI. Endemic poverty and massive suffering: is it glycogen storage disease in medicine, that we talked about 'starvation in the midst of abundance' . Church Gist. where you have a disease situation where the body is not lacking the necessary supply but it's not available for the system. Church Gist. Remember glycogen storage disease? It looks like we have such a situation in our nation.
Endemic poverty and massive suffering as If there are people who have sworn to make life difficult for other people. The more the suffering of the people, the better they feel. Church Gist. And people are wondering, is there any need to still pray for such a Country? Let it just scatter any way it wants.
Somebody told me he was talking with one of the people in the leadership of this Country(Nigeria), at one point and he said ' with the whole problem, the whole nation is about to scatter'?. Church Gist. The person said, "let it scatter".
Every Nigeria by the number of resources and amount of money in this nation, every Nigeria should have a good standard of living.
VII. It's a disease, I called it C.D.L.S. and that disease is called Chronic Disastrous Leadership Syndrome.
Chronic means of long duration, you know the rest of the word.
As if we did something wrong that imposes disasters as leaders. Church Gist. It's a new world, you won't find it anywhere.
Other places have natural disasters but we have leadership disaster. where the disaster is not earthquake, it is a person. It's a set of people, a cabalistic set of people. Church Gist. Who are trying to acquire a money that they will die and leave, and it will be of benefit to nobody.
Don't forget CDLS- Chronic Disastrous Leadership Syndrome.
Disasters as leaders, at all levels. Where a pauper wants to become President.
He didn't have anything before he became and now his only source of income is government money. And they have to remain there because if they leave that arena, they have nothing to go back to.
In places like America, you have people who are billionaires like their former President running businesses. Church Gist. Like the other President was a lawyer running a business, best-selling book author, and other things. They have other things to do with their lives. Church Gist. But in our place, somebody will kill to get into power because that is what he has to do with his life.
Somebody will win the election, they will fraudulently push it to another person. Church Gist. So, that to remain in power and then they sit there, no vision, no mission, no mentality, psycho sclerosis, no heart for people, no empathy, no sympathy. Some of them have never gone by road before, so they don't know how terrible the roads are. Somebody said no English, nothing....
Stand up on your feet.
Chronic disastrous leadership syndrome, no direction, and then when you combine it with no character- stealing: normal, fraud: normal.
But listen to me, the reason why we want to still hold on is:
1. That the Presence of God in our land is giving us results in deliverance, in healings, in signs, in wonders. So, it shows He is around.
2. If the devil were strong enough, we would have scattered since. I mean, restlessness in the east, restlessness in the west, restlessness in the north-east, restlessness in the south-south, restlessness everywhere. Things are so fragile and yet the land is still together. Church Gist. We believe that God has a purpose.
All those things mentioned now, we trust God we shall be freed from them.
Content created and supplied by: DunamisMessages (via Opera News )
Opera News is a free to use platform and the views and opinions expressed herein are solely those of the author and do not represent, reflect or express the views of Opera News. Any/all written content and images displayed are provided by the blogger/author, appear herein as submitted by the blogger/author and are unedited by Opera News. Opera News does not consent to nor does it condone the posting of any content that violates the rights (including the copyrights) of any third party, nor content that may malign, inter alia, any religion, ethnic group, organization, gender, company, or individual. Opera News furthermore does not condone the use of our platform for the purposes encouraging/endorsing hate speech, violation of human rights and/or utterances of a defamatory nature. If the content contained herein violates any of your rights, including those of copyright, and/or violates any the above mentioned factors, you are requested to immediately notify us using via the following email address operanews-external(at)opera.com and/or report the article using the available reporting functionality built into our Platform See More