In this life, if you don't respect yourself, there's no way people around you will respect you. No matter the kind of person you are to the people, if you misbehave, people around you will surely disrespect you, that's how this life is. But if you respect yourself and also respect others around you, there's no doubt that you will also recieve respect in return from them.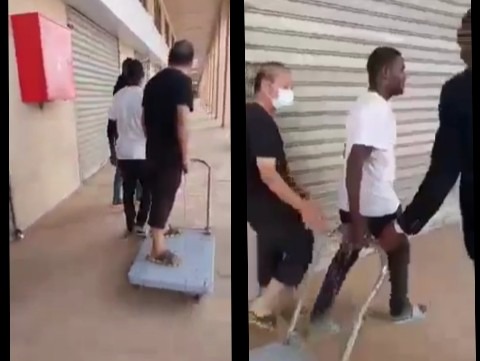 This has to do with a white man who ordered his worker who is a black young man to carry him in a trolley. If you watch the video which you will see down this article, you will see how everything happened. In the video, the white man closed his shop, instead of him to walk with his worker, he decided to stand on top a trolley while the black man was pulling the trolley.
While this was going on, two young men saw what happened, they got angry and attacked the white man. They asked him to get down from the trolley that they young man is not his slave. He is only his worker not his slave, they shouted at the white man telling him to get down from the trolley asap and walk with his legs.
They were even asking him whether he has no legs, why would he want his worker to be pulling him with his trolley? When he is not his slave, the white man got down from the trolley and walked the walk he didnt want to walk before. Some people like treating their workers like slaves, I don't know why. What do you have to say about this? Like, share and follow me up. See full video of the event HERE.
Content created and supplied by: Ikwor (via Opera News )