The eagle is a wonderful animal that people need to learn from. Among all the birds, the eagles stands out of be one of the best in so many areas. You could never survive adequately as a leader if you fail to learn from the eagle.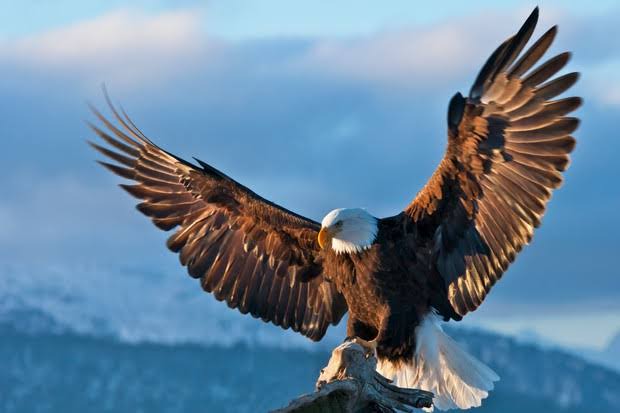 There are so many things to learn from the eagle ranging from its strength, wisdom, training and vision. You can learn the following leadership skills from the life of an eagle;
1. Eagles Like Storms:
Storms are days, moments and periods of challenges and tough environmental conditions. Any good leader must learn this. It doesn't matter if you're a church leader, or a leader in an organization or sect.
Eagles don't play with storms because they know it's their time for growth and strengthening. Your storms will reveal your weaknesses. While you to know of your weak points, use that time to build on it. Your tough days will help you patch the cracks in your leadership skill.
2. Eagles don't feed on dead animals:
Beware of the glory of the past as a leader. There are not made to be the point of your laziness. You must learn to go for new things each time as a leader.
You can never see an eagle looking for dead things to eat. True leaders to continue doing what others did. Your ability to look for new things and make it happen determines your level of thoughts and innovation.
Do new things and that will make you different.
3. Eagles hurt themselves by picking of their feathers to get new ones.
The bible says in the book of Psalms 103: 5; "...and renew your days like that of the eagles".
Eagles don't allow things to get old with them. They rather get new feathers than remain with old ones even it means hurting themselves. They know that a greater storm will come tomorrow hence the need for new feathers.
You must leave your comfort zones to get new things. Growth never take place when you don't have a price to pay for it.
4. Eagles trust their visions more than food itself.
An eagle cab site a prey from several kilometers and will still go for that target no matter the cost. It has been discovered that the eyes of the eagle can accurately sight things from a very far distant and still be sure of it.
So many young leaders die without impacts because they don't have visions. Some have visions but do not trust their vision. Any moment you begin to doubt your vision, your life has been defeated. Imagine if the eagles fail to trust their visions, they will die of hunger
If you fail to trust your vision, you will fall short of impacts as a leader.
5. The eagles break the nest for the younger ones to move out for flight.
This is a very important point to note from these eagles. A leader is a good leader if he spends to!e to produce leaders of his kind. People will not only know you by the level of your impacts but through how many people your life has helped to the top.
Always learn when necessary!
If you learnt something please share....
Content created and supplied by: Chikahub (via Opera News )