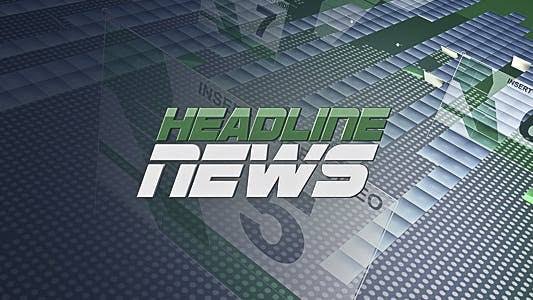 Today's Headlines: Soldiers Storm Ogun Villages As Herdsmen/Farmer Clashes Again, Adeboye Speaks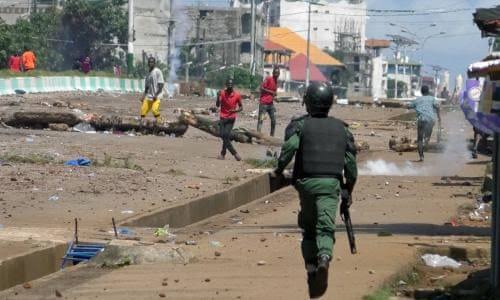 1) Soldiers storm Ogun Villages As Herdsmen/Farmer Clashes Again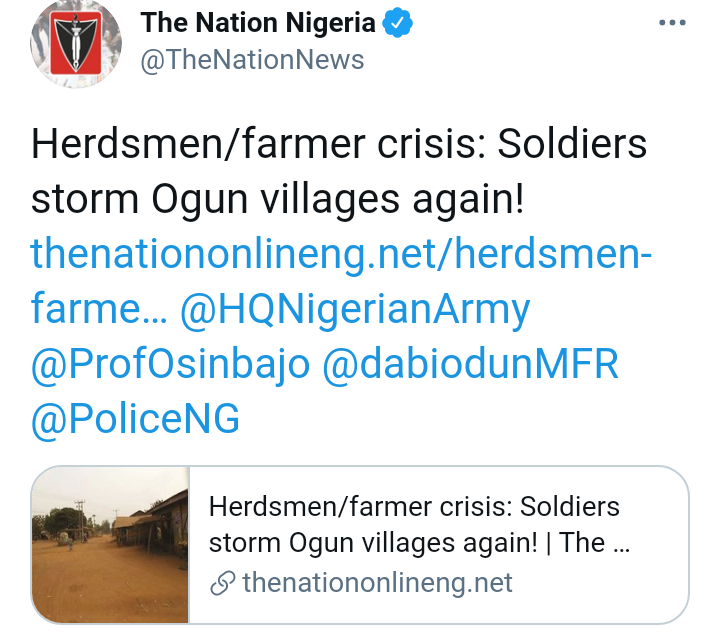 For the second time, soldiers from 35 Artillery Brigade, Alamala, Abeokuta, Ogun State, have visited some villages in Yewa North Local Government Area, Ogun State, where they had earlier brutalised residents at the instance of some herdsmen.
In a report exclusively published by The Nation penultimate Saturday, the soldiers had reportedly escorted some herdsmen to some of the villages on December 19, 2020 and flogged many of the residents for refusing to allow the herdsmen to graze their cattle on their farmlands.
About 29 villages in the area had been attacked in recent times by terror herdsmen who were said to have camped at Eggua, a neighbouring town, from where they led their cattle to destroy farmlands within the Ketu-Yewa communities, which share borders with the Republic of Benin.
The affected villages include Ateru, Moro, Ologun, Agbon, Igbota, Ogunba-Aiyetoro, Oke-Odo, Ibore, Gbokoto, Iselu, Ijale, Ohunbe, Igbeme, Ijoun, Owode-Ketu, Igan-Alade, Lashilo, Oja Odan, Moro, Ologun, Iyana Meta, Igbooro, Egbeda and Kuse.
The story has not been refuted by the Nigerian Army or the federal authorities many days after it was published.
Worried by the development, some traditional rulers in the area had written a petition against the soldiers, the state government, and the police in the state.
2) Teachers Suspends 3 Week-Old Strike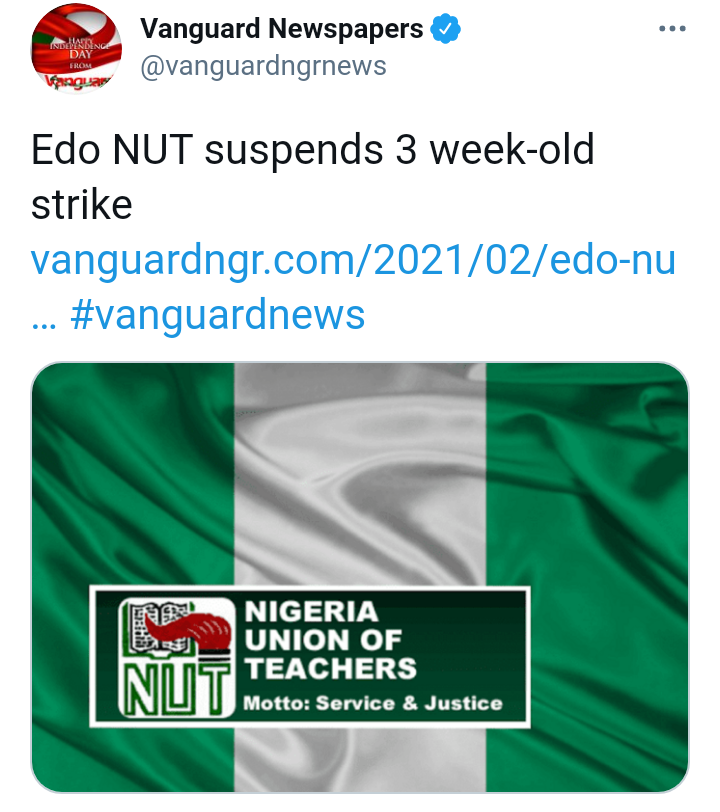 Public primary school heads and teachers in Edo, under the aegis of the Nigeria Union of Teacher (NUT), have suspended their three weeks industrial action over wage issues.
The union suspended the strike after an emergency State Wing Executive Council (SWEC) meeting in Benin on Friday.
The News Agency of Nigeria (NAN) reports that the union directed teachers to go on strike on Jan. 18, over non-payment or incomplete payment of 2013 to 2015 promotion arrears of some teachers.
The union also demanded reinforcement and guarantee payment of primary school teachers' monthly salaries on or before the 27th of every month as directed by Gov. Godwin Obaseki.
3) Adeboye Speaks Again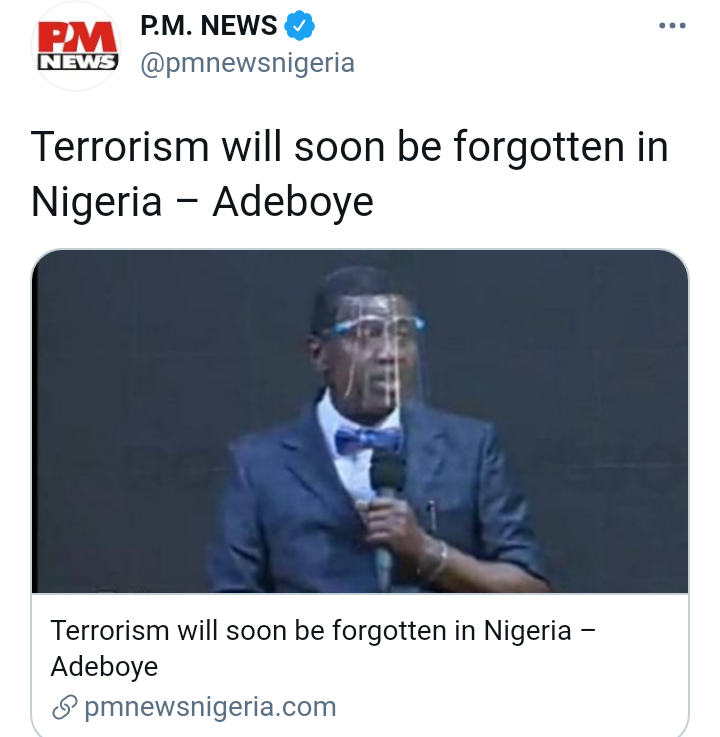 General Overseer, Redeemed Christian Church of God, RCCG, Pastor Enoch Adeboye on Friday night said terrorism would soon be a thing of the past in Nigeria.
Speaking at the February edition of the Holy Ghost Service, Adeboye said apart from Nigeria, all other nations of the world would soon be free from terrorism.
According to him, any form of crisis that has a beginning must surly come to an end.
4) Libyans select surprise candidate for interim PM
Libyan delegates at UN-led talks outside Geneva on Friday made the surprise choice of Abdul Hamid Dbeibah as prime minister of a transitional unity government to take the war-ravaged country through to elections in December.
Dbeibah was chosen along with a three-member presidency council to head a unity administration and steer the North African state towards the ballot box on December 24.
The Canadian-trained engineer from the city of Misrata and founder of the Libya al-Mostakbal (Libya of the Future) movement previously led the Libyan Investment and Development Company under dictator Moamer Kadhafi.
The vote is part of a complex UN-led process aiming to build on a fragile ceasefire and end more than a decade of conflict.
5) Police kill 8 'kidnappers' in Edo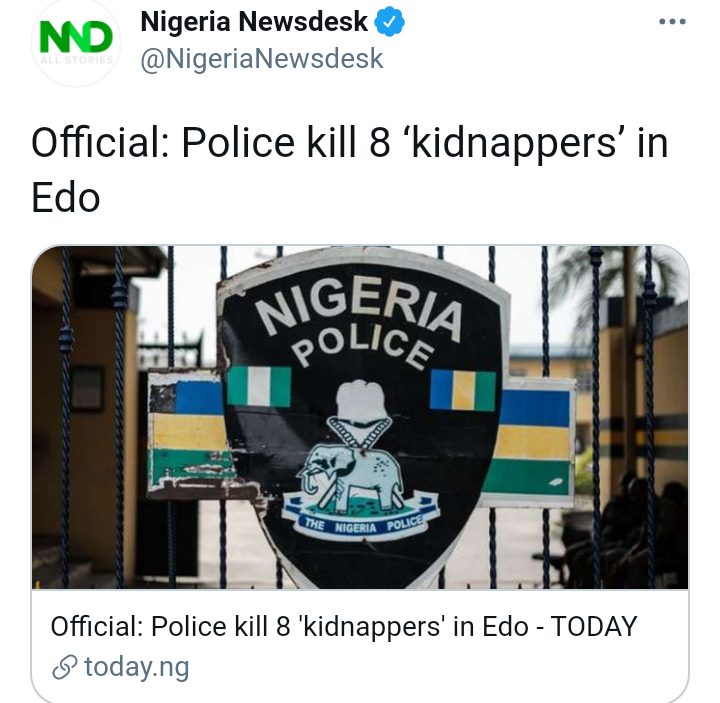 The police in Edo State said they have killed eight suspected kidnappers in the state in the last three weeks.
The Commissioner of Police in the state, Phillip Ogbadu, disclosed this on Friday in his maiden media briefing since assumption of office.
Mr Ogbadu also disclosed that two kidnap victims were rescued within the period under review.
He said, "From January 13 to today February 5, that is three weeks since I resumed office here, we have killed eight kidnap suspects during operations.
"Within the period under review, the command also arrested 71 suspects for various crimes in the state."
He explained that those arrested included 26 people for alleged cultism, 17 for alleged armed robbery and 11 persons for alleged kidnapping.
Others were three suspected ritualists, six murder suspects, one rape suspect, while five suspects were arrested for alleged unlawful possession of fire-arms and two for alleged assault.
The police commissioner said exhibits, which included two AK-47 rifles, one TO6 gun, eight locally made guns, 119 live ammunition and 27 cartridges, were recovered from the suspects, while eight vehicles, one motorcycle, three empty magazines and two dummy guns were also recovered.
What is your say on what Pastor Adeboye said?
Will Terrorism ever end in Nigeria?
As a Nigerian you can drop your opinions on the comment section below.
And remember to share this updates across all social media platforms.
Follow me for more latest updates around you.
Content created and supplied by: AkwaOnline (via Opera News )