A hot debate ensued on social micro-blogging platform Twitter over this weekend as a Twitter user asked a very simple question; between Lagos Danfo drivers and Ibadan's micra drivers, who's worse off in reckless driving. The reactions and thoughts from Nigerians will leave you reeling with laughter. Take a look below: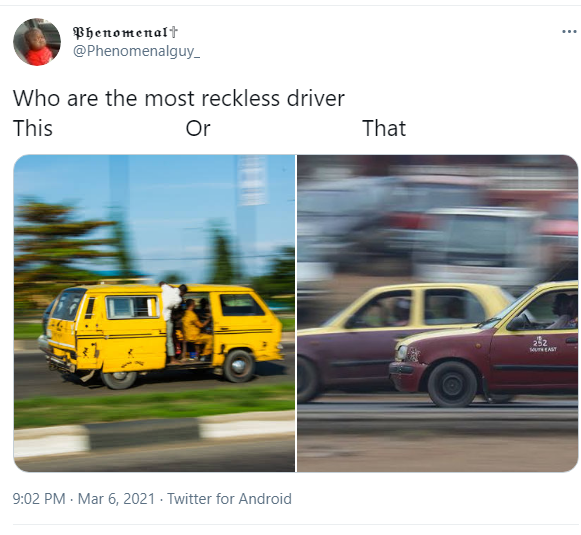 all the people saying Danfo have clearly never been to Ibadan these micra guys think they're okadas, trying to pass places barely big enough for okadas to fit through
Na lie.
I've experienced the two, no one comes close to Lagos Faragon drivers abeg
Bro, which ibadan you come?....i have experienced the 2 also and ibadan micra na craze.......driver go dey drive pass person parlor and landlord go still chop intercontinental curse ontop
Lol, I don't know the faragon drivers you have seen before, but try and board a faragon from Oshodi to Toll gate sango or from Oshodi to cms or cms to ajah.
Ibadan drivers know how to curse than take risks, faragon drivers won't even reply anyone until they kill you.
And yes, I've boarded micra in Ibadan to everywhere boardable in Ibadan. So I sabi wetin I day talk well.
Have you board one from Iwo road to ojo?
Its like furious 7 all over
Faragon drivers would maneuver through some routes like this, you'd ask yourself say shey na this bus pass this route, how you go even day compare the way person day drive cab with person way day drive bus?
I entered Danfo one day and the driver reversed from Tipper garage at Ojota to Berger bus stop.
I no dey burn dodo
Omoo na micra drivers,these people fit enter under trailer just to find their way out of a traffic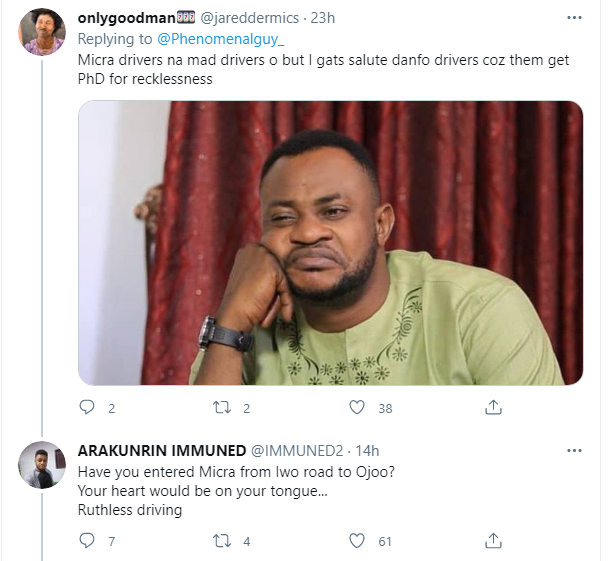 I would opt on a bike than enter micra... And the drivers have grade 1 ment issue. If they say no change mawole, just accept and move on to another . My first experience na me tire las las.
You hear the danfo dude telling dangote trailer- ' ma gba e daanu ; I go jam you'
Micra driver wey dey tell RX350 driver for inside traffic say he go jam am,make we see who e go pain pass.
Micra drivers no dey hear word. They will abuse you ontop ur money, and still instruct you to come down if u complain abt their reckless driving.
Come to lagos n c wetin danfo de drive. U go fear fear
Content created and supplied by: AdemolaTops (via Opera News )