A man who was shot in the leg by a policeman, on Monday, February 15, told a panel on police brutality at the Federal Capital Territory, Abuja, that he was shot in one of his legs by the said policeman over a bottle of beer which he broke.
The man, Julius Ogalanya, told the investigative panel on violations of human rights by the defunct Special Anti-Robbery Squad (SARS) and other police units set up by the National Human Rights Commission (NHRC) that he was shot after the owner of the drinking joint called the policeman over the incident.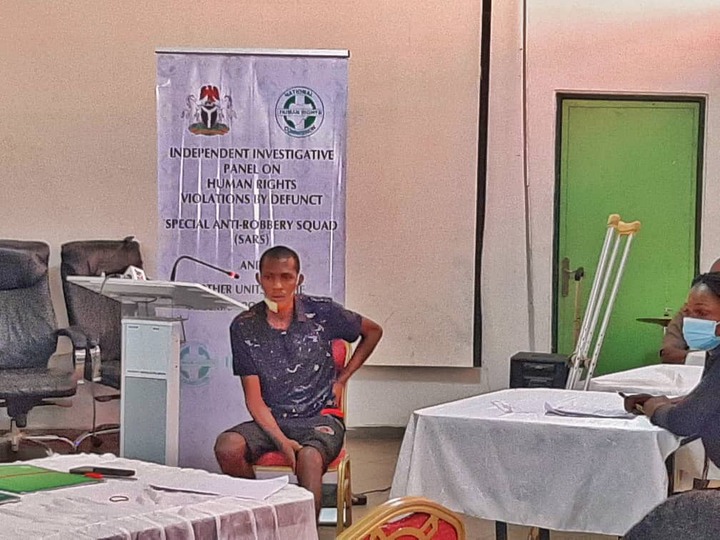 The man, while testifying before the panel which I monitored on Arise Television on Monday evening, said he was shot by the policeman, Gabriel Adi, attached to the Gwagwalada Police Division in Abuja. The photograph of Ogalanya at the panel sitting was taken from the Twitter handle of NHRC @NhrcNigeria.
Giving details of what happened to him, Ogalanya, who said that he was working at a pure water factory in Gwagwalada, Abuja, added that he was asked by the management of the factory to go home on April 2, 2020 because of lockdown imposed on the city.
He however said instead of going home, he decided to visit a friend of his at a place called Angwar Tiv, adding that the friend took him to a drinking joint where he bought him a bottle of beer.
He said: "While drinking the beer, the bottle fell from my hand and broke. The woman selling the beer started shouting which led to altercation between us. She said she was going to deal with me.
"We tried to settle the matter, but the woman refused and later called a policeman, Gabriel Adi, on phone who later came and said the matter could not be settled like that."
He said as he stood up to leave the drinking joint, Adi shot him in the left leg. He added that he was left bleeding at the spot until his friend aand some people around the place decided to rush him to the hospital on a bike
Ho however said as they were on the way to the hospital, some policemen in a car stopped them and eventually took him to the University of Abuja Teaching Hospital, Gwagwalada.
He, therefore, appealed to the panel to ensure justice for him, adding that the panel should also ask the Nigerian Police to compensate him as he spent quite some amounts of money to treat himself in the hospital.
Content created and supplied by: Osfem (via Opera News )