The level of criminal act in the country is becoming alarming and you just continue to wonder what caused the sudden increase. Is it the state of the economy or people are just desperate to acquire wealth. However, the most challenging aspect is that not every criminal case points to stealing.
The Nigerian Police Force has promised to give out a massive amount of 10million to compensate anyone who can provide information about the whereabout of two alleged criminals. The Police Force released this news on their social media page as they continue to look for these two men. According to the Nigerian Police, these men were in a criminal scene and was possibly involved in a punishable act.
However, it's clear that the offence would be a grievous one especially when you consider the compensation involved. I guess the Police Force won't give out #10milion if it's not a serious issue. The two alleged criminals were spotted on CCTV in the early hours of today.
We would urge every Nigerian to take a look at the pictures of those two men. It's not just about the compensation involved, it's about bringing those perpetrators to book. How would you feel if realise you had a chance to make justice prevail but you failed to take it. The numbers to call are on the pictures above and we hope someone can come up with a useful information in coming days.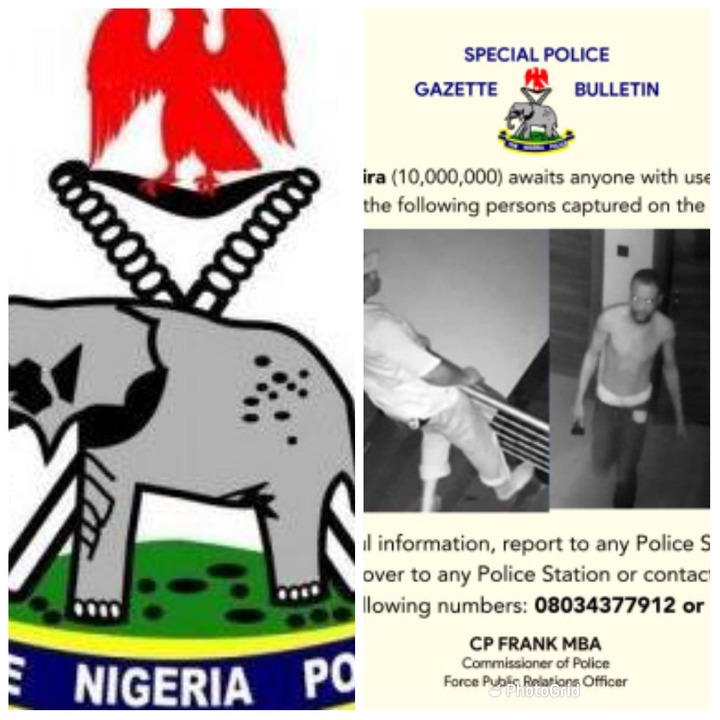 Content created and supplied by: Ent'mentgist (via Opera News )