Tears As Woman Alleged Duped By Fake Soldier, Laments At Court.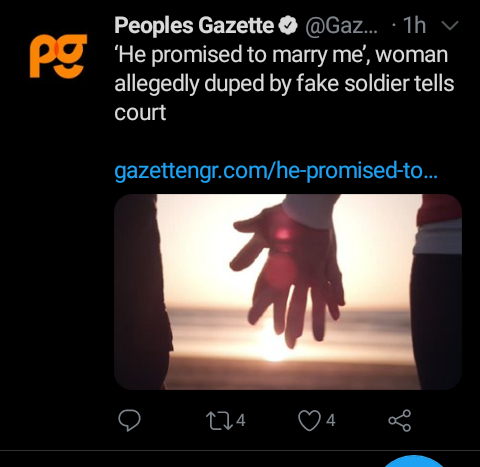 This evening according to Peoples Gazette, a old farmer, Torkuma Agber has been taken to court for allegedly impersonating an army officer and extorting money from a woman who claimed to be his girlfriend.
This incident happened in the Ukum Local Government Area of Benue as the prosecutor, Inspector Friday Kanshio told the court that the case was transferred from 72 Special Force Battalion, Nigeria Army Barrack, Makurdi, to the State CID, Makurdi through a letter that is dated: February 23, 2021.
According to reports, Inspector Friday Kanshio revealed that the letter stated that Ms. Rita Akaa of Tse-Ayu Nyon Village, Makurdi, had reported at the base on February 21 that an army officer called Torkuma Agber had defrauded her of the sum of eighty thousand naira.
The woman also said that Mr. Agber who was wearing a military face cap claimed to be a second lieutenant serving in the 72 Special Force Battalion which she doesn't know is a lie.
She made a statement that Mr. Agber allegedly started coming to her house and collected the sum of N80,000 from her with a promise to marry her. And the further investigation was carried on as the military face cap Mr. Agber stole was recovered from the defendant when he confessed to the crime.
Not everything we see in movies seems to happen in reality because this life is not something we can predict.
This should teach us a lesson that we should be careful with who we are dating because you might not know if the person you dating is a kidnapper or a criminal.
What are your thoughts on this?
Content created and supplied by: Jessicablog (via Opera News )