While I once fully supported my government, I can no longer understand its inexplicable inaction on the kidnapping of school pupils in northern Nigerian schools. The notoriety of kidnappers in this part of Nigeria is making people feel unsafe even at home. There is a growing consensus that the situation is dire-and looking every stateerystate day.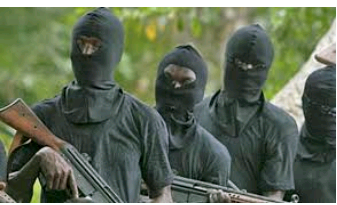 It is such that there is hardly a day it does not kick around the headlines. The most recent being the abduction of Secondary Schoolboys in Niger state. Just this week, Nigerians woke up to the malevolent news that gunmen have abducted scores of boarding schoolboys. The list is endless. As evidenced by the recent kidnappings, not even our Federal Capital Territory, Abuja is impervious to the kidnappers.
In this piece, I identify the following as the reasons why Kidnapping in Nigeria has become a ubiquitous epidemic. These are what has emboldened kidnappers in Nigeria:
1. Poor policing: isn't it ironic that in the presence of the police checkpoints, the crime rate is still very high? This is to say that there is a symbiosis between the kidnappers and the department of law enforcement agencies. Our roads have checkpoints but neither their scrutiny nor their search had curbed the kidnappings.
2.Recompense: unfortunately, the government has begun to pity kidnappers instead of being harsh on them. Nigeria would be a wonderful place if all arrested kidnappers are jailed for life to serve as a deterrent to others. There is nothing that has emboldened them other than this idea of treating them with a kid glove. With this even though the kidnappers needed money badly, they will not accede to a bad idea of abducting people.
3. Internercine rivalry: some politicians want to commandeer kidnapped victims and use them as a bargaining tool for them to take over the government. Unfortunately, the government of the past allowed this. This internecine rivalry between the immediate past and this present government has left us this way. 
I proffer the following solutions to help curb kidnapping in Nigeria:
1. Although the law is still on the books, its enforcement is in desuetude, and no longer a matter of police concern. The police should up their work to save us from this mess.
2. Abacha once said that 24 hours is enough to curb any magnitude of crime in a country that is if the government hand is not in it. The government of today should rise and protect the populace. It was aptly said by Abacha. There is no excuse from the government. There are no two definitions of failure. If you have failed in the area of protecting the citizens you have failed.
3. Enough of aiding and abetting crime by the host communities. It is time to work in synergy with the law enforcement agencies.
Content created and supplied by: Nwanna (via Opera News )