It was an unpleasant day on Tuesday, February 9, for motorists plying the ever-busy Ikorodu road as a result of massive gridlock following an accident involving two vehicles caused due to excessive speeding.
The accident happened on Dormalong Bridge inward Fadeyi when the driver of a Mazda MPV, apparently on top speed, rammed into a Ford SUV, causing damage to both his car and that of the Ford.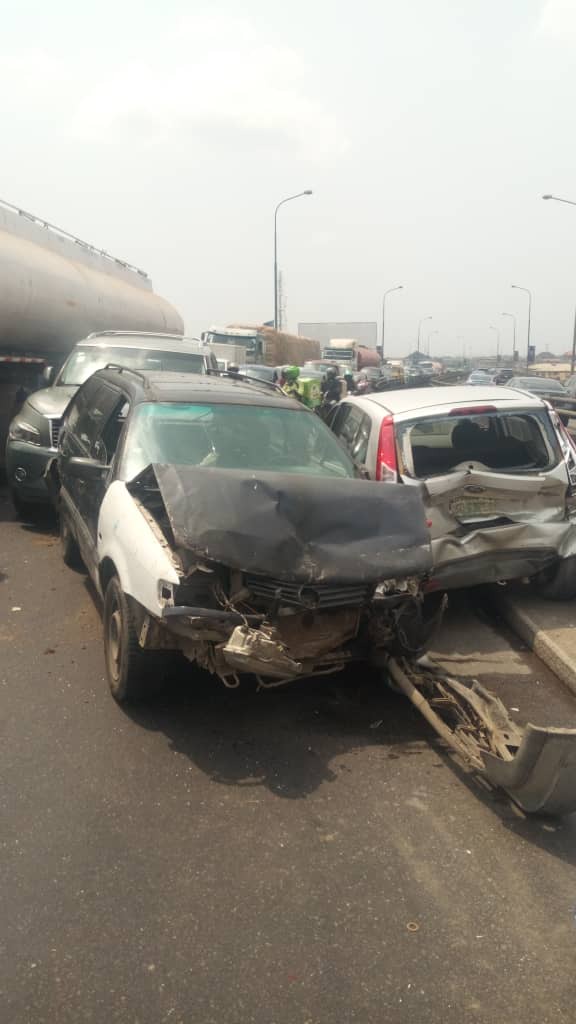 It was gathered that the incident, which happened around 12:30 p.m., caused massive gridlock on the Ikorodu Road inward Fadeyi, with policemen and other traffic officials making frantic efforts to control the attendant traffic.
According to the Lagos State Traffic Management Authority (LASTMA) which announced the accident on its social media platforms, the impact of the accident destroyed the bonnet and the bumper of the MPV while the booth of the Ford SUV as well as the back windscreen were destroyed.
As of the time of this report, efforts are being made by LASMA officials to tow the two vehicles off the road while policeman are also on ground controlling the traffic situation.
According to LASTMA which also reported the incident on its Twitter handle @followlastma: "An accident involving a Mazda MPV and a Ford SUV just occurred on Dormalong Bridge inward Fadeyi.
"No casualty recorded. Police officers and LASTMA officials already on ground to play their roles while effort is on to remove the affected vehicles. Our officers and policemen are managing the traffic situation."
Content created and supplied by: Osfem (via Opera News )