The driver of a Toyota Corolla escaped death in the morning of Saturday, February 20, when he lost control of the car and crashed it into a road barrier in Lagos State.
The incident occurred at Ikeja Along inward National around 9:10 a.m. when the lone occupant of the vehicle could no longer control it apparently as a result of excessive speeding, leading to the car crashing into the barrier.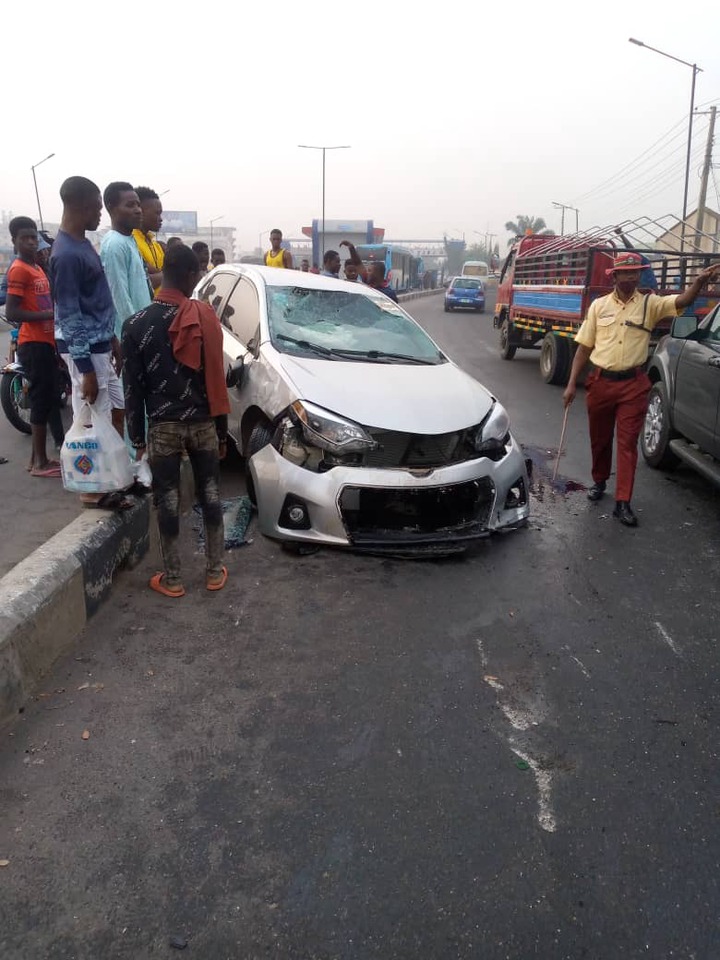 It was gathered that though the driver escaped death, the impact of the accident, which damaged the front part and the windscreen of the vehicle, made him to sustain a minor injury and was promptly attended to by emergency officials.
It was also gathered that the man, who was coming from the Lagos Airport end of the road, was on top speed probably because the road was free on Saturday morning but however lost control and crashed the silver colour vehicle after deciding to avoid crashing it into other vehicles.
The incident of the crash was announced by the LagosTrafficUpdate, an online agency that reports traffic situations in Lagos, on its social media platforms which also said men of the Lagos State Traffic Management Authority (LASTMA) and those of the Lagos State Emergency Management Agency (LASEMA) came promptly to the scene.
While men of LASTMA tried to control traffic and move the vehicle off the road, their counterparts at LASEMA were said to have provided first aid services to the man before taking him away from the scene in their vehicle.
According to LagosTrafficUpdate which also announce the accident on its Twitter handle @lagostrafficup1: "A lone accident just occurred now at Ikeja Along inward National due to excessive speed by the driver of the Toyota Corolla.
"The man sustained slight injury as a result of impact of the crash. He was promptly attended to and given First aid by LASEMA officials. 
"As result of the accident, traffic has build up backward to Ajayi Farm. Tow truck has been detailed to the location to move the car away from the accident scene."
Content created and supplied by: Osfem (via Opera News )