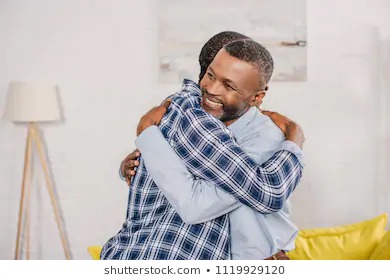 It's valentine season, this is the period people takeout time to acknowledge and appreciate their love ones,so I decided to share this beautiful story of the love parents has for their children. Parenting is a sacrificial privilege took up by our parents to give us their best in life, the only set of people who can live you completely are your parents ,but we failed to realize this fact sooner than later.. this is the story of a young man who thought his parents had the money which he needs to acquire a bike , but unknown to him ,there is more than what meets the eyes.
One day ,I was so angry ,that I left home ,swearing not to return, till I became a big boy. Parents,who can't even buy me a bike ,have no rights to dream to make me an engineer.
In fit of my anger ,I didn't even realize that I was wearing my father 's shoes. I even stole his wallet,which had some papers ,torn as well ,which my mother hadn't seen ..... while I was rushing on foot towards the bus station, I realized some prickly pains in my foot. I also felt dampness inside the shoe. That was when I realized the shoe had a hole underneath.
There were no buses around, not knowing what to do, I started to look into my dad's wallet ,I found a loan receipt of Rs 40,000 ,which he had taken from his office, a laptop bill (which he had bought for me).
To my utter shock ,I also found a letter from his manager to wear a neat looking shoes hence forth to the office. I remembered my mother pestering him to buy a new pair of shoes, but he would convinced her that his shoes will last another six months at least. I also found an old scooter to a new bike exchange offer in his wallet, I instantly remembered that when I left home ,my Dad's scooter was not there.
I started feeling weak in my legs, and felt like weeping uncontrollably !.
I ran back home with my foot paining ,only not to find my dad or the scooter there,I went in search of him and finally found him at the exchange office, looking at my dad ,my grief engulfed me ,I hugged him tightly and started crying loudly, said"Dad I don't need the bike " .
That is when I realized the pain,hardship our parents go through, and the unconditional love that they give us. We should only look to seek our needs and not our unrealistic wants.
Ridiculing parents when they are alive ,and longing for them when they are not around ,has no meaning .....
We are unable to fathom the extent of their love towards us ,the hard times they go through, their sacrifice under the sun and under the rain,in tears and through pain .we cannot repay their sacrifice but we can strive to keep them happy.
Just take out time from your busy schedule to appreciate their immerse love,sacrifice and dedication.
Kindly share this story with your children and friends to help identify and and develop human value in them .
The true acts of love is only truly expressed and shown by our adorable parents,so therefore they are our valentines.
Content created and supplied by: Minaella (via Opera News )