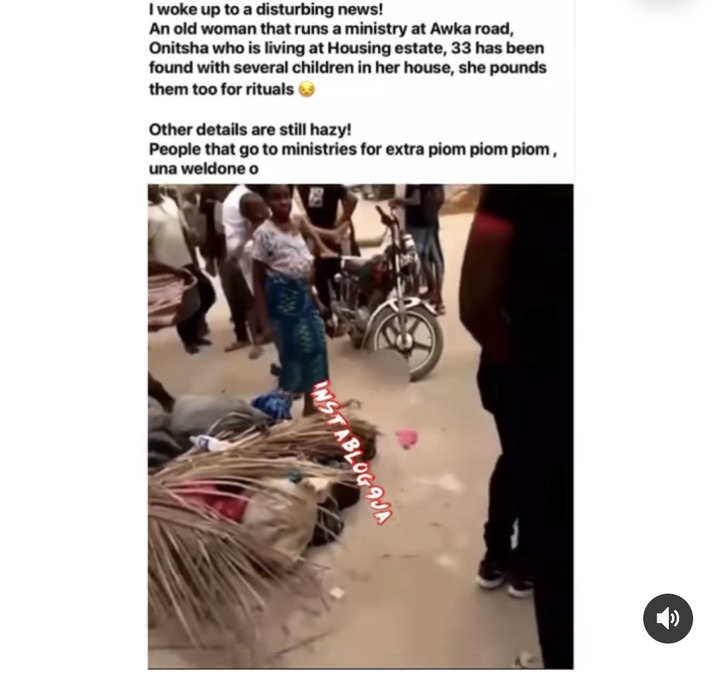 May God almighty continue to keep us and our love ones from the evil minded people.
Today 20th of February, 2021 an old woman and her gang living at Akwa road Onitsha Housing estate, 33 who runs a ministry was arrested and found with children in her house she pounds for rituals.
The police in the area had earlier today paraded the environment where residents have been complaining of strange thing they think is going on in the old woman compound.
It's was a very terrifying moment for the residents of the housing estate for not knowing such things have been happening in the residential area. Young children suddenly goes missing and their parents trys hard to search for them not knowing most of them were kidnapped by the old woman and her gang members living in the same housing estate.
See Graphic Video Below:- https://plentyvibe.com/2021/02/20/an-old-woman-and-her-gang-arrested-for-allegedly-pounding-children-for-ritual-in-akwa-anambra/
What are your thoughts about this? Drop a comment in the box below!
Follow us for more news, and entertainment
Content created and supplied by: PlentyvibeMedia1 (via Opera News )