Forests play an important role in improving the lives of humans and animals. The trees in them provide food, medicine, fuel and other necessities for humankind.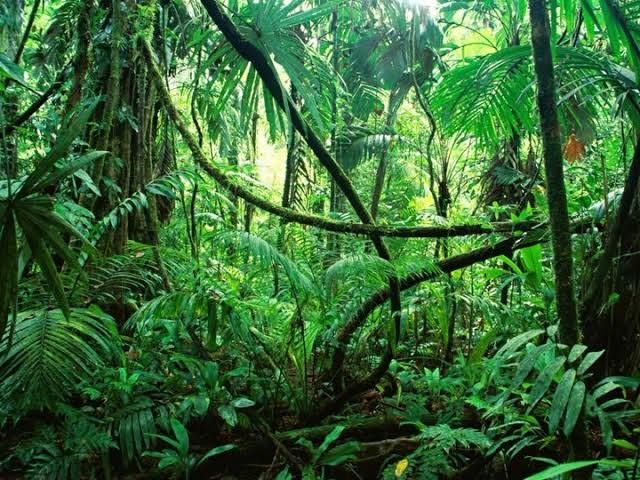 Sambisa Forest
Forests also help conserve agricultural land, reduce human emissions, prevent desertification and reduce global warming. Forests are home to wildlife, as well as parks and open spaces for humans.
God bless Nigeria with huge forests. About 10 million hectares across the country, about 10 percent of the country as a whole, are forested.
Nigerian law places 445 forests across the country as illegal hunting, logging and other activities that could pose a threat to forests.
But despite their benefits, many of Nigeria's forests have become strongholds of militants, terrorists, terrorists and kidnappers. The largest of these forests in northern Nigeria are:
Sambisa Forest
This forest is now the most famous in Nigeria because it is a safe haven for Boko Haram terrorists. The forest derives its name from the village of "Sambisa" in Gwaza Local Government Area of ​​Borno State.
The park is located 60 kilometers south-east of Maiduguri, and covers an area of ​​more than 2,200 square kilometers, covering parts of Borno, Yobe, Gombe, Bauchi State, Jigawa and Fargore Forests. in Kano State. But the area of ​​the park has been declining due to human trafficking and has now returned to about 600 square kilometers.
God has blessed Sambisa Forest with its beautiful climate, big trees and birds of prey. 62 The forest also has large wildlife such as apes, elephants, lions, leopards, dust and so on.
Boko Haram has been infiltrating Sambisa Forest since 2009 after clashes with security forces in Maiduguri left at least 200 members dead.
Abubakar Shekau and his followers then made the forest their base. Here they hide and carry out attacks; here they kidnap people who have stolen; Here they grow their own food and other activities.
Alargona Forest
Alagarno Forest is one of the most infamous forests in the country this year due to attacks by Boko Haram militants on Boko Haram hideouts. After the split of Boko Haram into two factions in 2016, the governors who overthrew Shekau feared that Shekau would cause them to be killed, and hair at the time was not very strong. So they left Sambisa Forest and returned to Alagarno Forest. 
Although ISWAP is now so strong that it has set up camps in Sambisa and Lake Chad, some ISWAP fighters continue to live in Alagarno Forest, probably because of the Baha'i saying "Two houses are a fire extinguisher".
Alagarno is a forest located in Mobbar Local Government Area, about 150 km north of Maiduguri, and extends into part of Geidam Local Government Area of ​​Yobe State. The forest also borders the Republic of Niger. It was through this forest that Boko Haram militants attacked the town of Damasak and killed 70 people in May 2015.
Dajin Rugu
Rugu is the name of a heroic community leader who once served in Katsina. Gogan became so famous for hunting with his hero in battle that he was shouted at, "Rugu Kan Kura Kowa touches you and you will spend the night."
The man and his people were living in a forest that is now in Safana Local Government Area of ​​Katsina State. Therefore, this forest was named Rugu Forest.
Rugu Forest has long dark grass and large trees especially during the rainy season. The park is huge and stretches from Katsina to Birnin Gwari in Kaduna and crosses part of Zamfara State.
Like Sambisa, Rugu Forest is known for its habitat for lions, elephants, hyenas, monkeys, donkeys and so on.
But in recent years, Rugu Forest has changed from a tourist destination to an eye-opener.
It became a camp for evil thieves and debtors and hostages and servants of God. Even 344 children abducted from their school in Kankara last December have been taken to Rugu Forest for hiding.
Kamuku Forest
Kamuku is the name of a tribe south of Kaduna. Due to the nature of Kamuku, one of the neighboring communities of the forest, it is called Kamuku Forest.
Kamuku Forest is located in Birni Gwari State and the Mariga River separates them from Kuyambana Forest in Zamfara and Kebbi States.
The forest also has large dark trees and large wildlife and a family of black and white birds about 177.
Kamuku Forest is a monster for both locals and foreigners. Even locals call Kamuku "Sambisa" because of his fear.
This forest and Kuyamban Forest are home to the gunmen who have plagued Birnin Gwari and Abuja travelers.
The unbelievers either enter the city or block the road to commit their crimes and then enter Kamuku to hide their belongings.
Nasarawa and Niger Forests
Many forests in Nasarawa, Niger and even Kogi states have recently become thickened due to increased attacks by militants and jihadists.
These forests include Unaisha Forest and Uttu Forest in Nasarawa State Local Government Area and Gegu Forest in Kogi State.
There is also the Tagina Forest in Niger State where the kidnappers of Kagara school teachers are believed to be.
Why Do Criminals Use These Forests?
There are several reasons why criminals are allowed to use these forests. Including carelessness from the government.
There are no security or government officials in most of these forests. And there is no road, let alone security.
They are also criminals who use motorcycles. Then there is the darkness of rivers and rocks and ravines in the abundance of these forests.
Thank you.
Content created and supplied by: TroyAj (via Opera News )