Few weeks ago a point of sale vendor in Aba was murdered by armed rubbers who came to attach her for her money. This became the trend in ABA of recently as POS vendors were targeted by armed rubber and some of them killed.
This particular story of the young lady killed was very painful and brought tears and sobber moments to people around the Enyimba city. Her only sin was that she tried to look for a means of survival .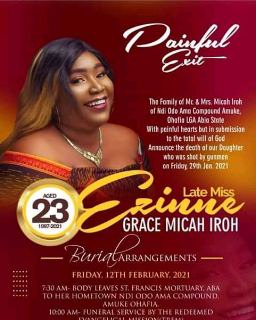 Miss Ezinna Grace Micah Iroh was just 23 years old before her sad demise and she is set to be buried on Friday 12 February at her home town in ohafia local government area of Abia state.
Miss Ezinne Grace Micah Iroh was shot on 29 January 2021 in her shop where she help people have access to deposit and withdrawal of money easily from their bank account. This form of financial transaction has become very rampant in Nigeria as it helps people get money easily and save then lots of time and stress. At the same time it gives the vendors some good profit after every transaction but Miss Grace was unlucky with the greedy arm rubbers .
Content created and supplied by: PrinceSan (via Opera News )