2020 was indeed a rough year for most people and our earnest prayer is that 2021 should not be as rough as 2020, but the only way we can achieve this as regards the global pandemic is if we all maintain social distancing and abide by COVID-19 measures. It saddens my heart that people still think that COVID-19 is a 'scam' in Nigeria, I think after you really this article you will come to the realization that it is not a scam. The question has been "have you seen anybody that has it?" But I think this lady was bold enough to let Nigerians know that COVID-19 is real as she shared photos of her friend who died of the pandemic.
A lady on Instagram with the name iamdebbyking took to her handle to share photos of her friend, Sotonye Ifeoma Dublin-Green who she said died of COVID-19 and will he buried tomorrow. The lady said her was her bestie and prayed that God should grant her soul eternal rest.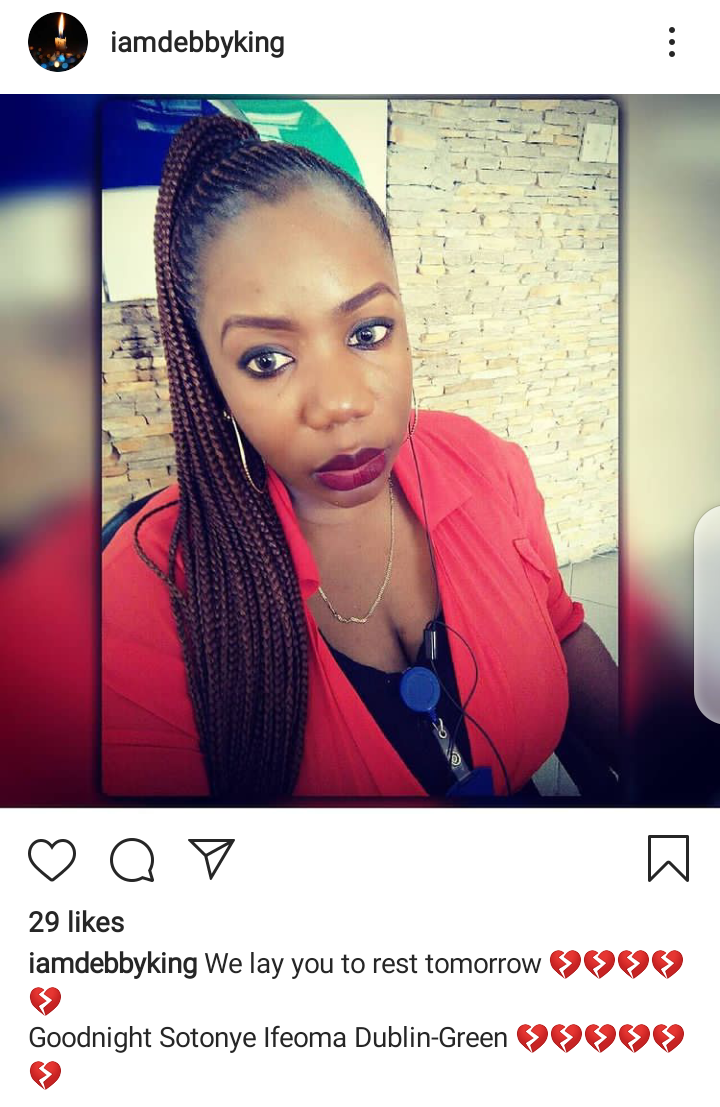 It saddens the heart to see such a pretty damsel lose her life to COVID-19, and I pray that God gives her family the fortitude to bear the irreplaceable loss. The lady who made the post alleged that her late friend was not treated well when she was admitted at Yaba Isolation Center. According to a 54 second video she posted on Instagram, she alleged that the hospital contributed to the death of her friend as she advised everyone never to go to Yaba Isolation Center, but instead self isolate at home.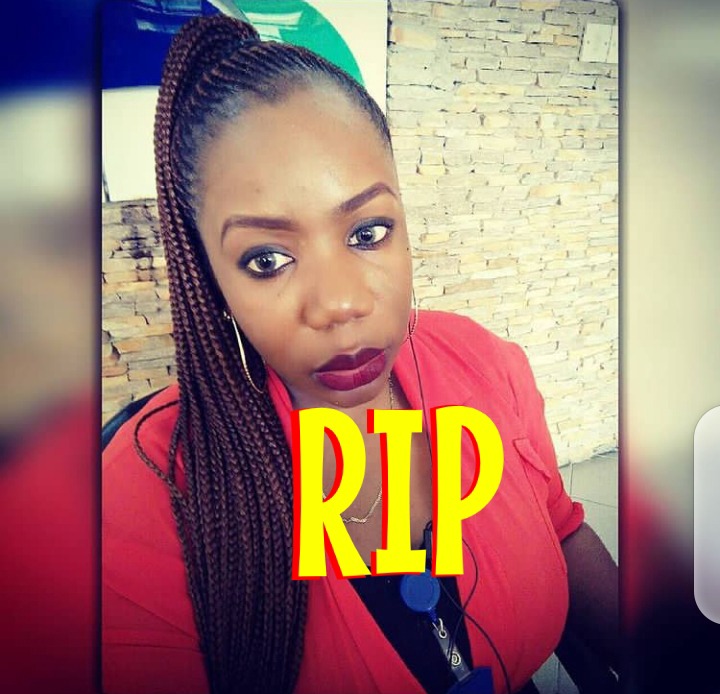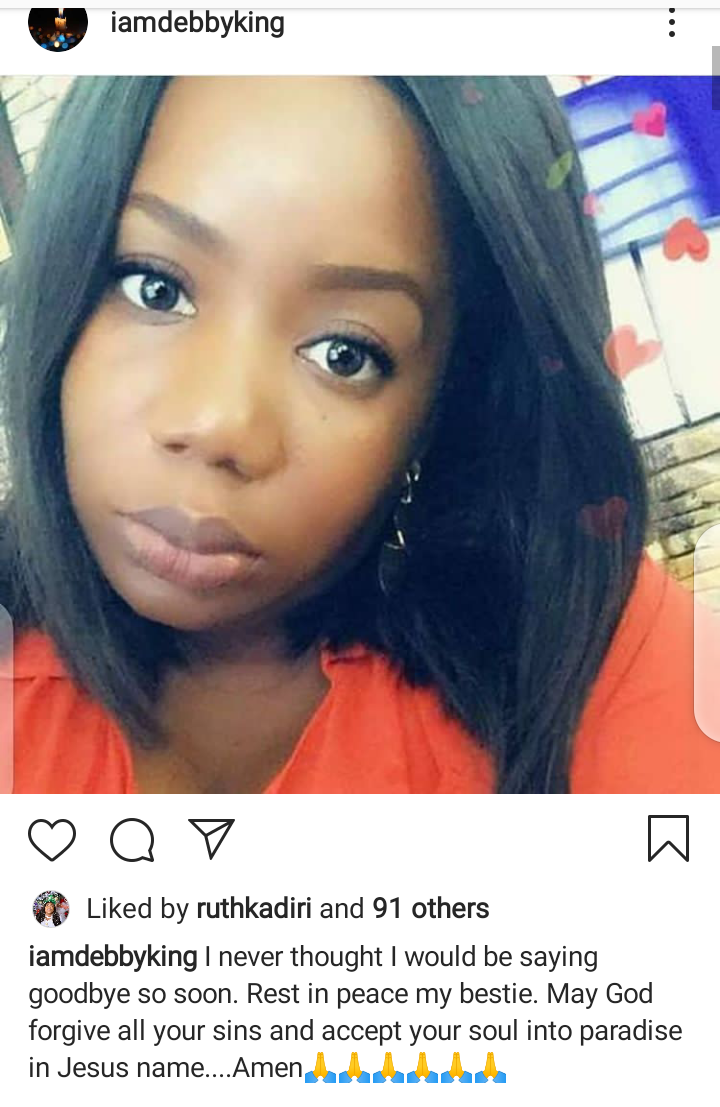 She also said that her friend's family bought oxygen tank foe her and alleged that they removed the tank for her which was meant to supply oxygen and gave it to another patient who bribed them at the isolation centre, adding that they show concern to those who paid money.
Watch video, Link: https://www.instagram.com/p/CJ5yfiqH_Ns/?igshid=c4f6ux7mkfe4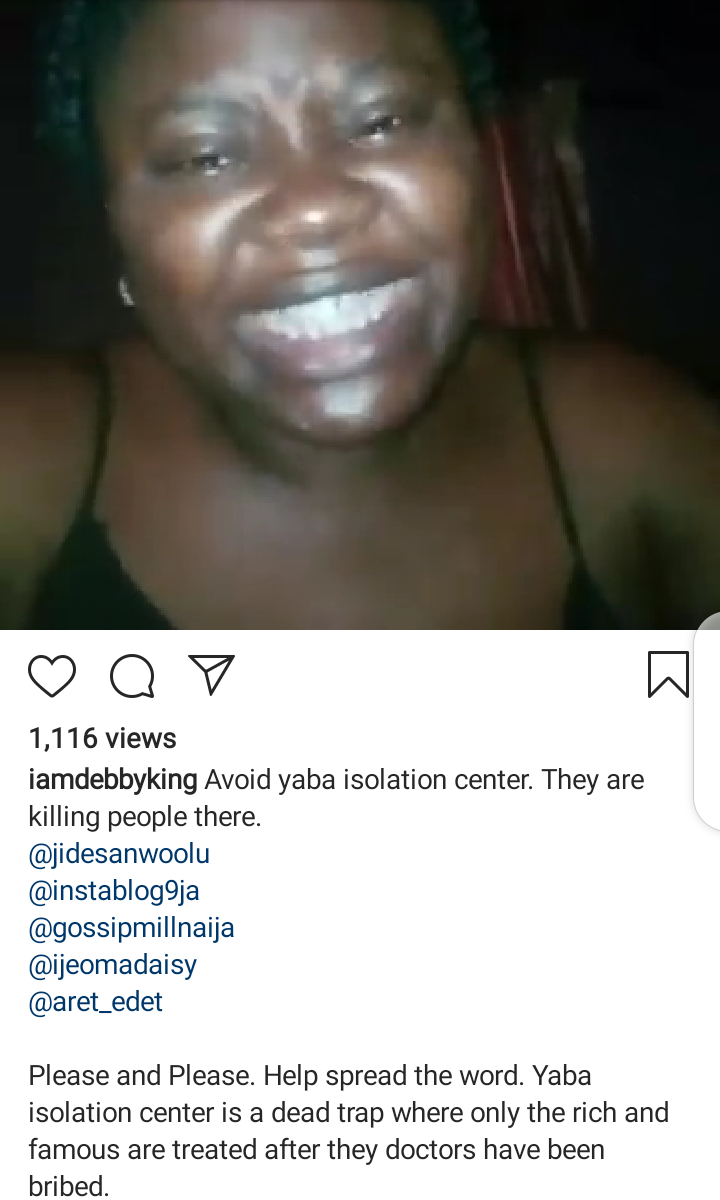 Even when Instablog9ja, some Nigerians reacted to it as they condemned what she said was allegedly done at Yaba Isolation Center.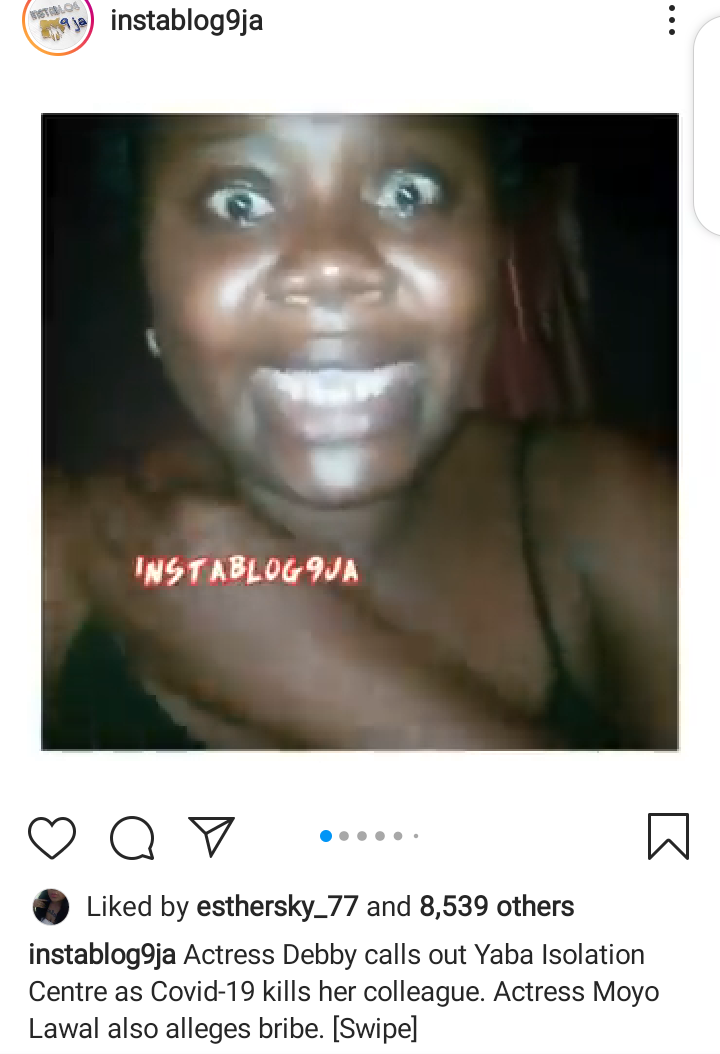 An Instagram User said he once thought COVID-19 was not really but after watching the video, he believes it is so real.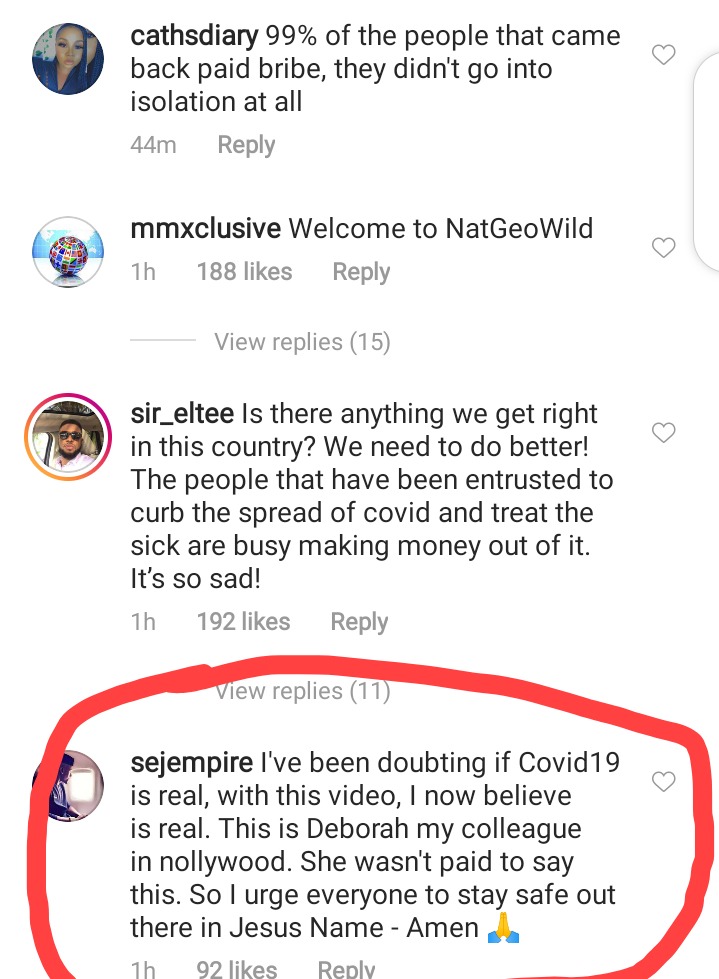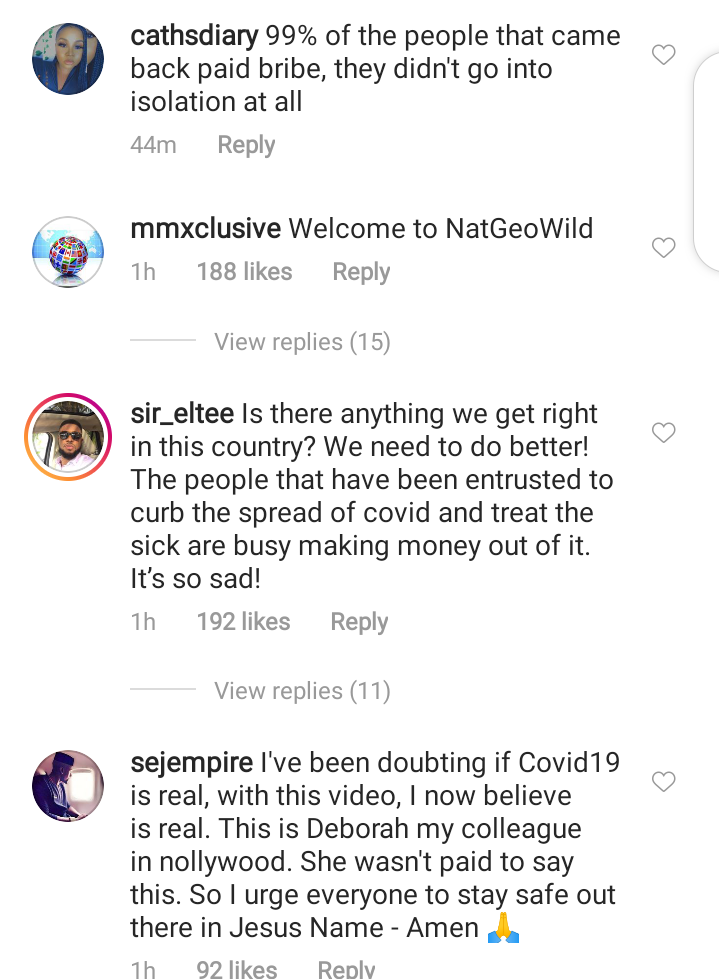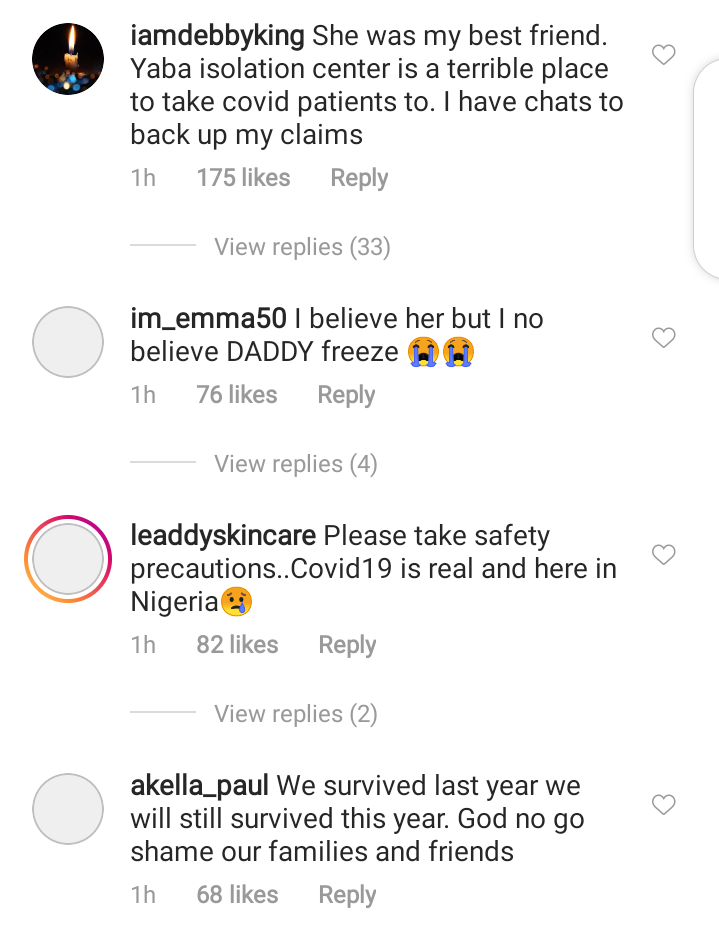 Dear Nigerians,
Please let us stay safe out there because prevention is better than cure. May the soul of this lady rest I peace, Amen.
Do you believe what this lady said was done to her friend at the Isolation Center? Like, share and drop a comment.
Content created and supplied by: ReignJerry (via Opera News )