The stealing mission in a farm is a short story of a father and his son. This is really funny, so you need to share it so that others can benefit from it.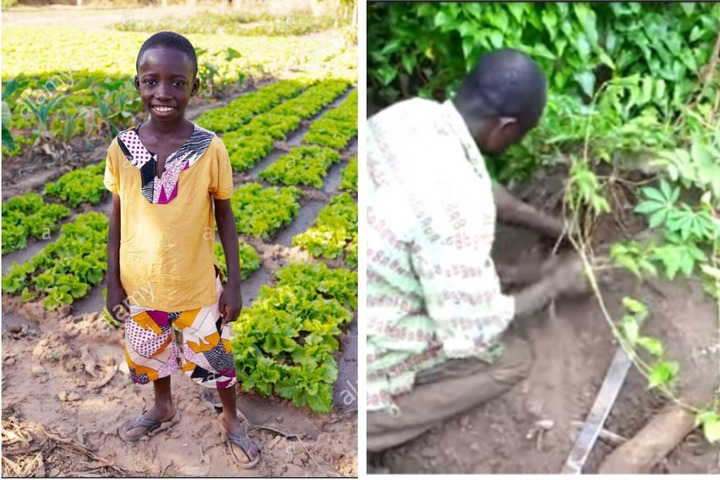 Father and son were at home and fully hungry. Father was thinking on how to get food for him and his son. The son was at the same time thinking on who to meet that will give him food.
Just then, as they were thinking. Father called his son, "Jimi, follow me"
Son: "okay, daddy. But where are we going?" The son asked.
Father: To get food.
Son: "At where?" He asked.
Father: Just follow me. Your question is becoming too much.
Son: Okay sir, I'm sorry sir.
They head to the bush. It was another person's farm. It was a little bit far.
Son: Haa... Daddy, where are we going now? I'm scared ooo
Father: I said just follow me or you want hunger to kill you.
Not long, they get to the farm. Father instruct his son.
Father: My son, you will stay in this road, okay! When you see anyone coming, alert me by clapping your hands so that I will quickly come out to avoid being caught. Is that clear?
Son: Yes sir.
Father went into the person's farm to uproot tubers of yam. As he kept digging, his son gave the first clap. Father ran out to see that there was nobody.
Father: Son, where is the person?
Son: Nobody.
Father: Don't you understand what I said? I said when you see someone coming, give me an MTN beep flash by a clap.
He went back to continue digging the yam. The son gave another clap. Father ran out again breathing heavily.
Father: Son, who do you see?
Son: Nobody.
Father: Again, nobody? Then, why do you clap your hands. Abi what type of child is this now. Simple instruction you won't hear. Okay! This is your last chance. If not, hunger will kill you.
Son: Okay daddy. Last chance. Yes, last chance. Daddy, you know Jesus died and rose up on the third day, right? How many times did Peter denied Jesus? 3 times, right? How many times did Satan tempt Jesus? 3 times, right?
Father: Yeee... Yes.
Son: So, this will be the last chance.
He sluggishly went back to continue his digging as he kept ruminating on what his son said. He continued.
In a little while, the boy gave another clap. Father ran out and ask again.
Father: Who do you see?
Son pointing his finger up. Father was looking at the sky.
Son: Daddy, I see God. God is looking at you if you think nobody else sees you.
Father fell down on his kneels and cry to God for minutes and they left.
On their way home, someone miraculously gave them plenty tubers of yam which they took home.
What ever you are doing in the secret that you think nobody sees you, God is watching you. My lessons.
Hope the story was interesting and you really enjoyed it. Please, drop your comments on what you learn from it.
Don't forget to SHARE it to your friends and families and kindly click on the FOLLOW botton for more story update.
Thanks for reading and remain blessed!
Content created and supplied by: GokePeter (via Opera News )