Abducted Jangede Schoolgirls Regain Freedom After 4Days In Kidnapers Den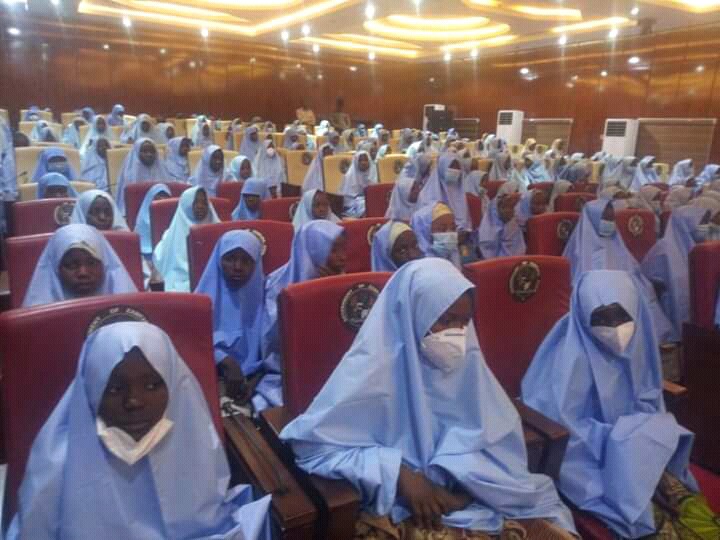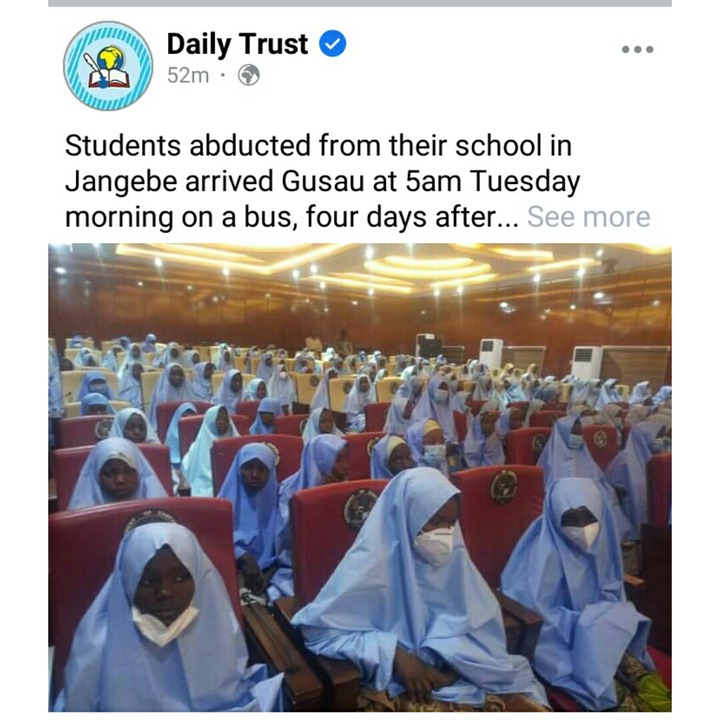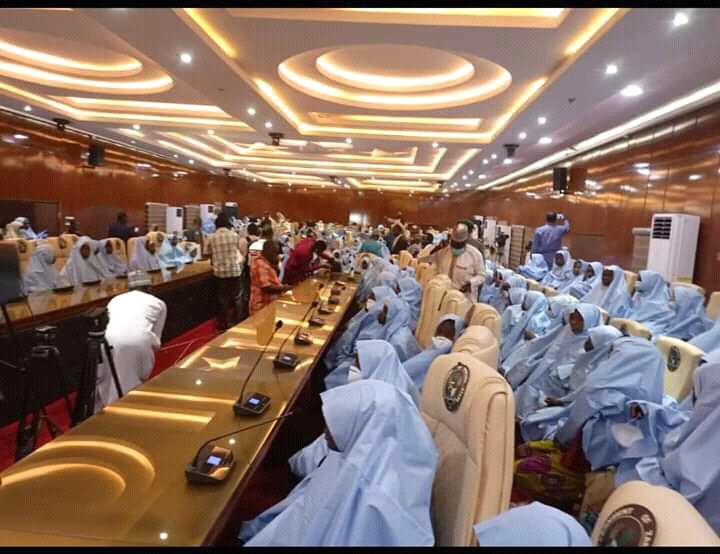 The abducted school girls arrived Gusua, the state capital at about 5am Tuesday morning on a bus, four days after they were taken hostage. Their return comes amidst tight negotiation and rescue efforts. However, they arrived the government house on a bus, a photo shows them dressed in blue hijab. Governor Bello Mattawale told the girls to take their ordeal in good faith and that the enemy would be shamed.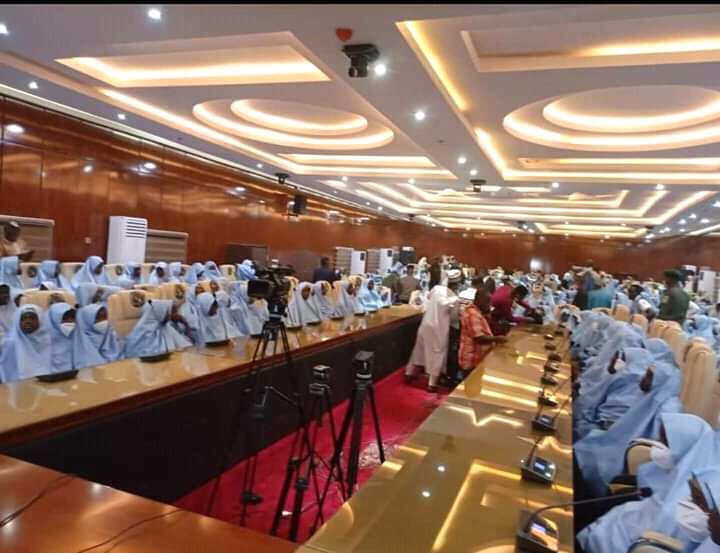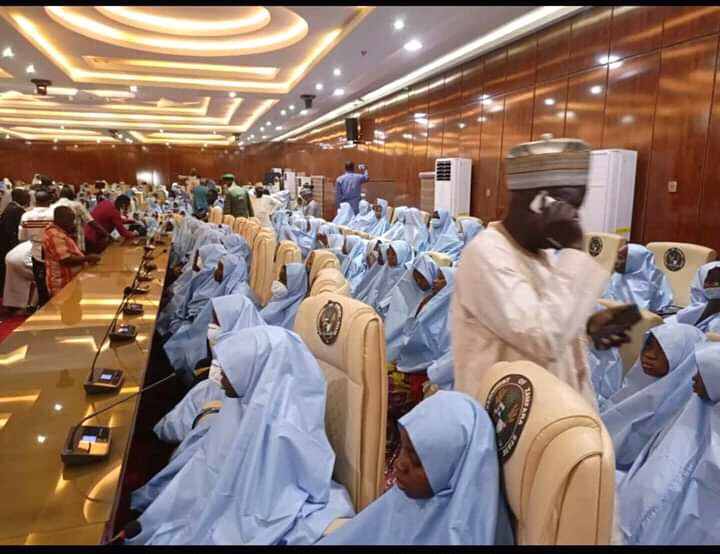 Recall that the girls were taken hostage on Friday when armed gunmen invaded Government Girls Secondary School, Jangede in Talata Marafa council area of Zamfara State. The number of those Kidnapped was put at 317. At first, 279 were released by their kidnappers at 4am on Tuesday, and arrived on a bus to government house, Gusau.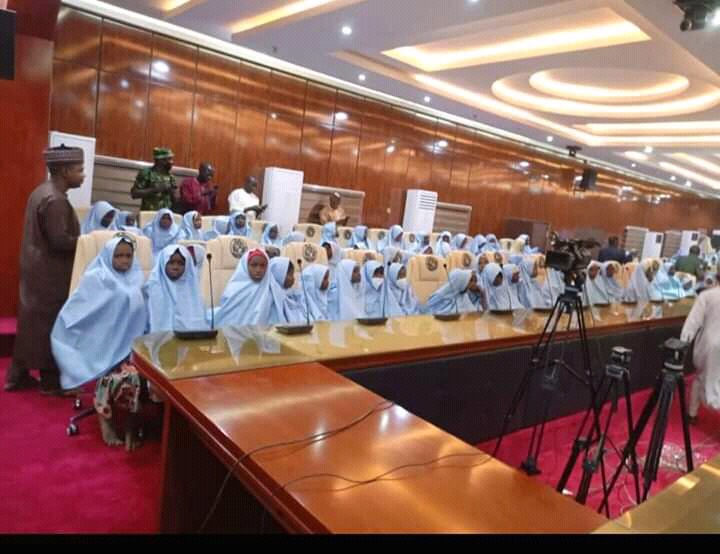 The other 38 girls remain uncounted for. The abduction comes just two weeks after armed gunmen abducted dozens of students and staff from a boys school in Kagara, Niger State. The students were freed on Saturday morning, a day after the abduction of Jangede girls.
Pastor's Wife Accuses Husband Of Sleeping With Church Members, Want Divorce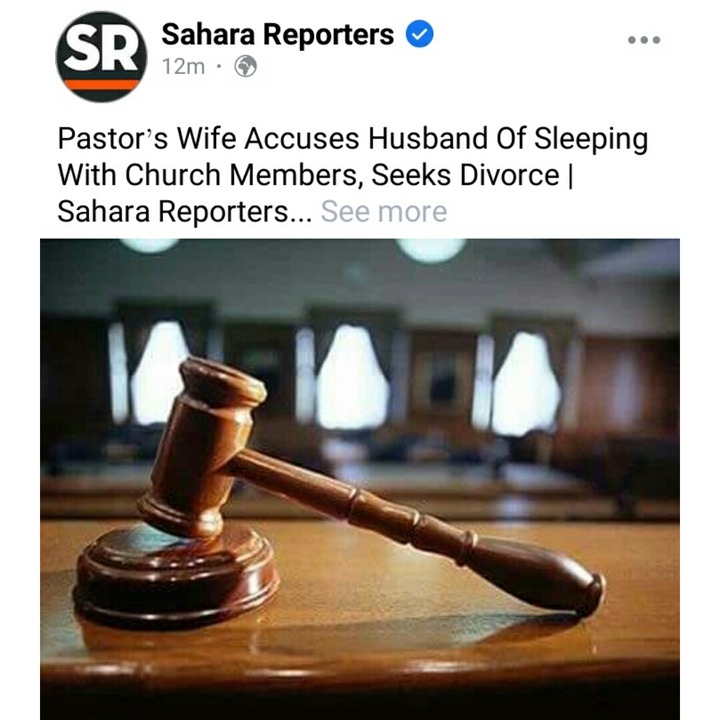 The wife of the pastor of a new generation church has approached a Yola upper area court in Adamawa State to dissolve her marriage to her husband, whom she allegedly caught sleeping with female church members.
Mrs Jummai Mala, who also claim to be the breadwinner of the family, alleged in court fillings that her husband, Pastor Yakubu Ayuba, had three kids sleeping with female church members in his office. Mrs Jummai Mala also alleged that her husband had a bed in the church office, which he was using to commit adultery. She also claimed to have personally caught him in the act in the office on several occasions.
Mrs Jummai Mala, who stated that her husband was behaving so that she could not reasonably be expected to live with and be called his wife, urged the court to dissolve the marriage. She said her husband was in the habit of chasing women in his church to the extent that some of the women even confronted her on several occasions and threatened to beat her up.
However, while substantiating her claim that her estranged husband had abdicated his responsibilities as the head of his house, Mr Jummai mentioned that her husband was in the habit of beating her whenever she refused to give him money and once broke her head.
Responding, Mr Yakubu Ayuba, claimed that all the allegations against him were false. He said what his estranged wife told the court was far from the truth, according to a report by Punch. However, the presiding judge, Umar Isa, adjourned the matter to March 10 for the continuation of defence.
Jihadist Attacked UN Base In Borno, Trapping 25 Aid Workers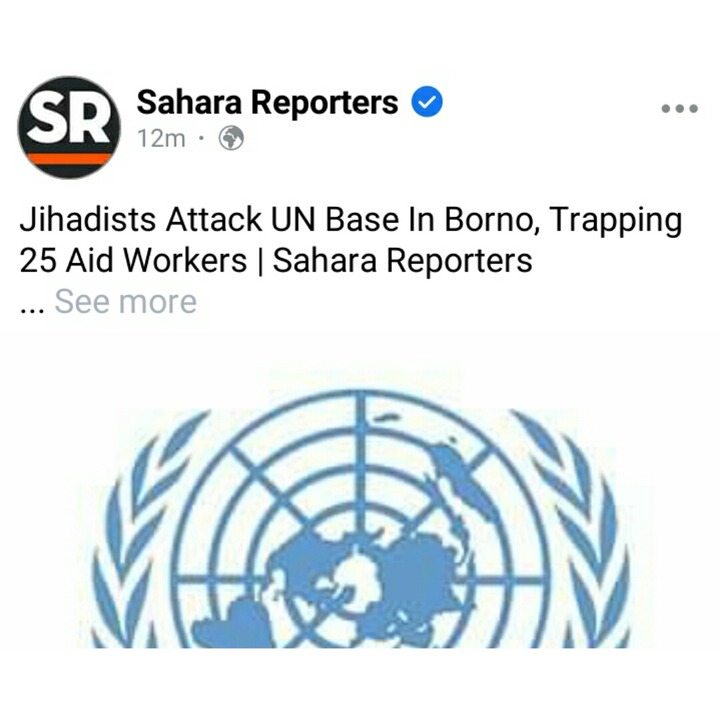 Jihadist linked to the Islamic State have attacked a UN base and overrun a humanitarian hub in Borno, trapping 25 aid workers, security and humanitarian sources said.
Scores of Islamic State West Africa Province (ISWAP) fighters invaded the town of Dikwa in Borno State, dislodging troops from the military base and torching the humanitarian hub. Military reinforcement, including fighter jets and a helicopter gunship, had been deployed to help repel the attackers, a military source said.
For more than a decade, Nigeria's military has battled an insurgency by the Islamist groups Boko Haram that has devastated the northeast, killing at least 36,000 people and displacing more than two million.
The ISWAP group split from Boko Haram in 2016 and has become a dominant threat in the region, attacking soldiers and bases while killing and kidnapping citizens. However, the violence has spread into neighboring countries prompting a regional military coalition to fight the militants.
The latest attack comes after President Muhammadu Buhari replaced his four top military commanders after months of pressure over the government's failure to flush out the Islamist insurgency.
Food Vendors Laments As Prices of Foodstuffs Increases In Southwest States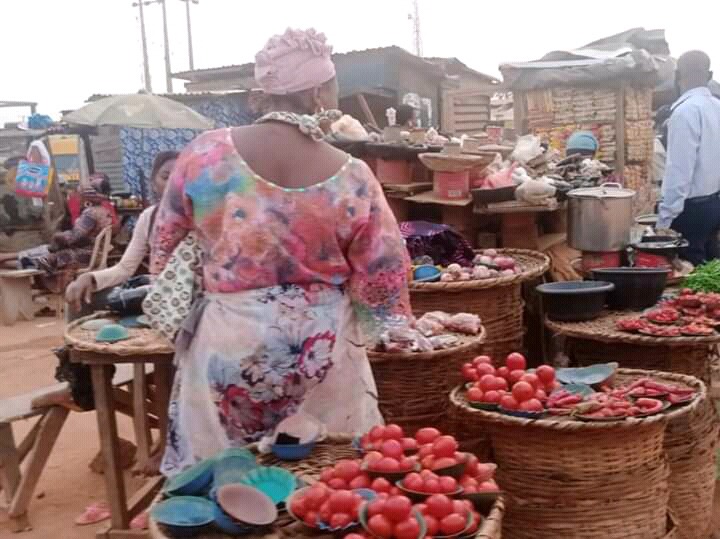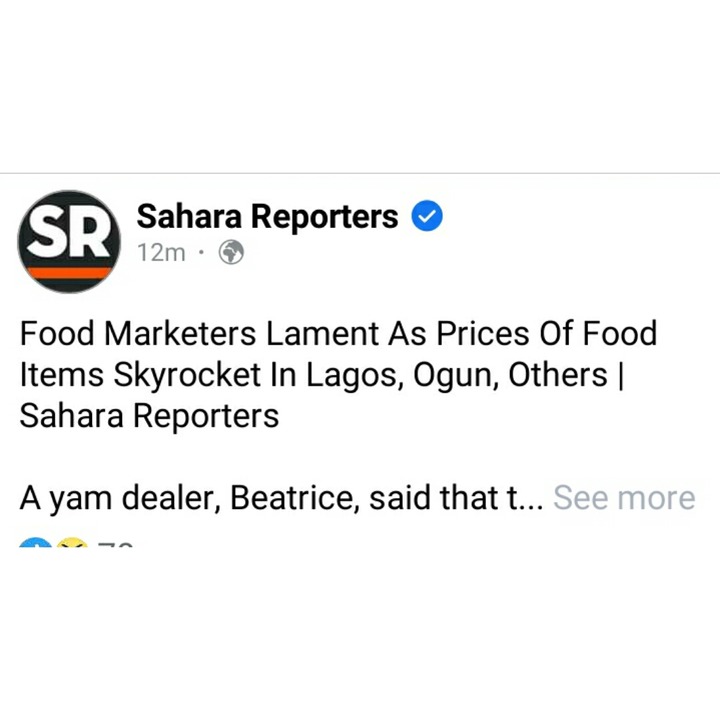 Oyo, Ogun and Lagos State have started feeling the heat of the strike action embarked upon by members of the Amalgamated Union Foodstuff and Cattle Dealers of Nigeria (AUFCDN) as prices of beef, food and vegetables in the markets have skyrocketed.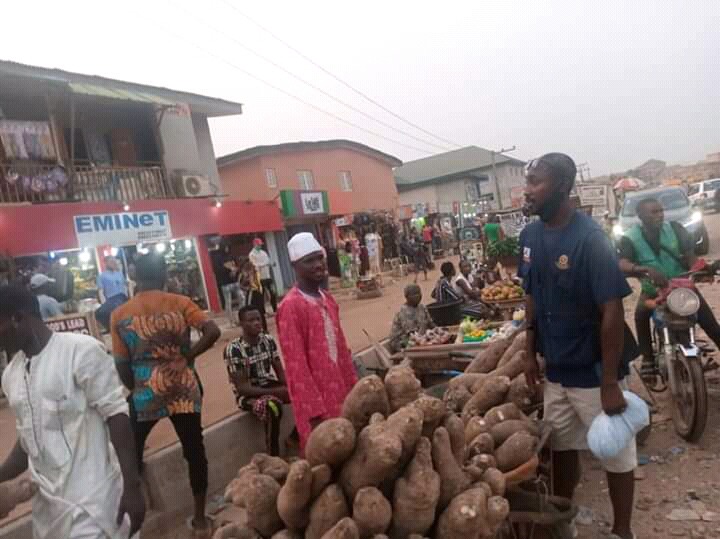 Recall that the Union which is an affiliate of the Nigerian Labour Congress (NLC), commenced a nationwide strike last Thursday following the expiration of a seven-day ultimatum given to the federal government to attend to its demands.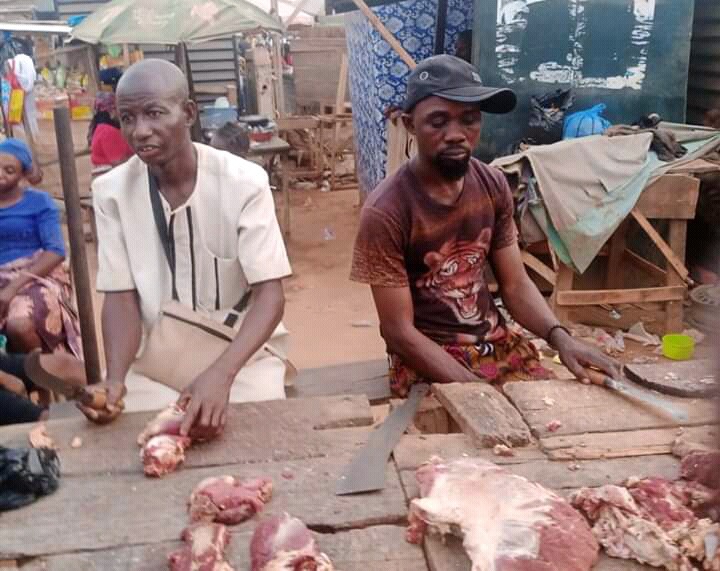 However, a butcher at Kara Market, Abute, said that the market had been shut since Monday morning as there was no cows to kill. He said that the abattoir has been shut since last Thursday and that the situation was affecting beef vendors and consumers in the area.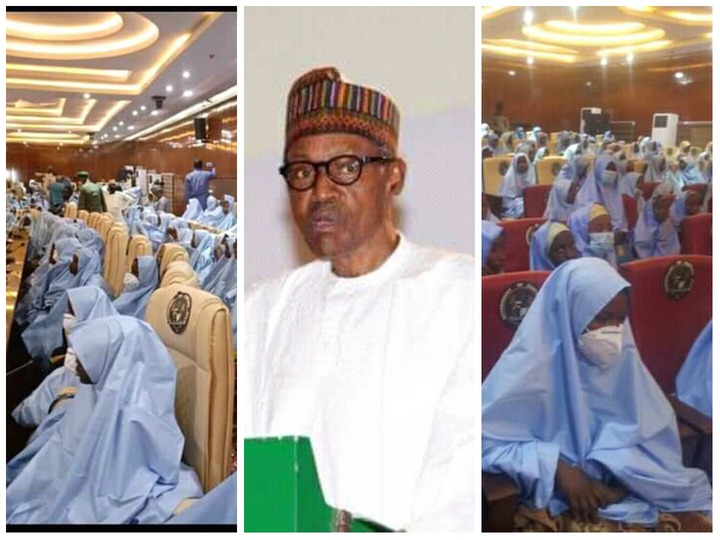 Content created and supplied by: Sourcementor (via Opera News )