It is general knowledge that the insecurity issues in Nigeria has taken a different turn of events. The Kaduna - Abuja road that is constantly made use of by travelers amost became the best spot for kidnappers. People traveling were often kidnapped on a daily basis. People often wonder how they get their own weapons to attack people.
Image source: Wikipedia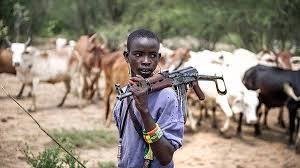 Illustration purpose only
A video was shared on an Instagram page @legitpost.com.ng. it showed a vehicle that was set on fire in Edo state as fulani Herdsmen were caught trying to gain entrance into the state. It was a very scary scene as people gathered to record the event on their phones. In the video a lot of weapons were discovered from them on the scene.
Farmers and fulani Herdsmen have often clash as their animals feed from fram crops instead of grasses. There have been call for government to provide animal ranching facilities but this has hardly been done.
Content created and supplied by: smooth2real (via Opera News )