Former aviation minister and PDP chieftain, Chief Femi Fani Kayode, also known as FFK, has lampooned the senate president, Ahmad Lawan for accusing the southwest governors of being responsible for the crises in the region.
The senate president had given his position while Speaking in an interview with BBC Hausa Service.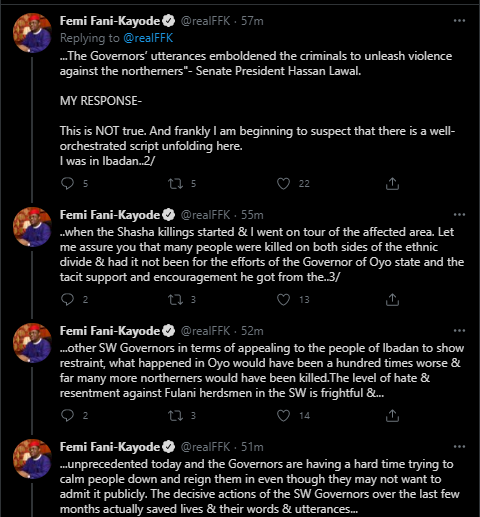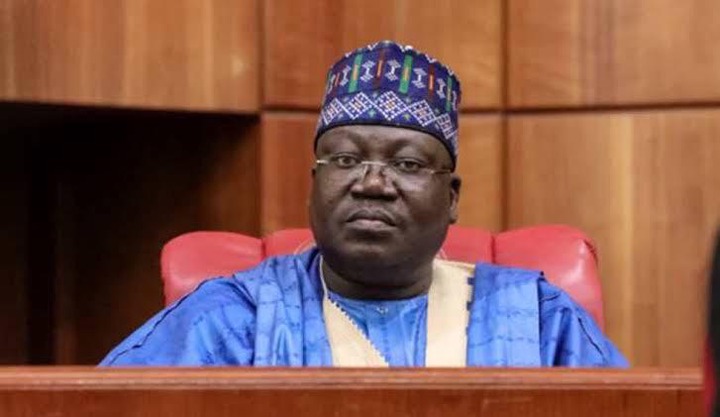 Lawan attributed the violence in the southwest to the recent calls for the evacuation of Fulani herders out of Southwestern states saying that utterances made by some southwest Governors was responsible for the killings in Sasha Market in Ibadan, Oyo State, and other violence against Northerners in the Region.
Lawan further lashed out at the South West Governors, accusing them of being the masterminds of the killings in Sasha Market in Ibadan.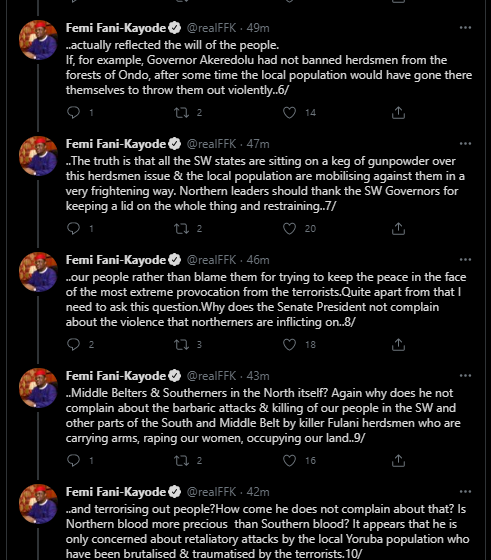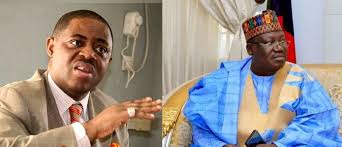 Reacting to this statement, FFK has said all the statements made by the senate president are all lies.
FFK further added that he was beginning to suspect that there is a well-orchestrated script unfolding in all the crises reported in the area.
According to FFK, he was in Ibadan when the Shasha killings started & he went on a tour of the affected area.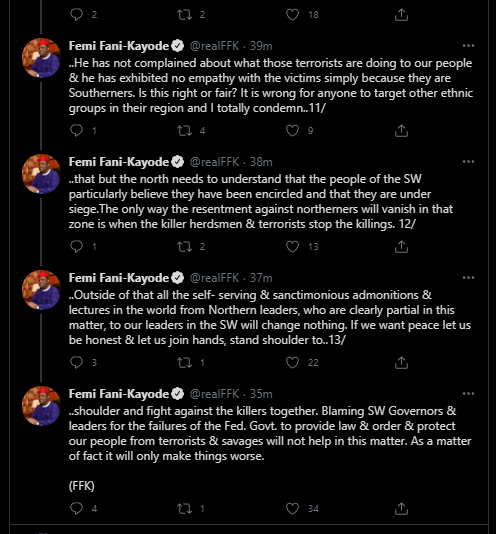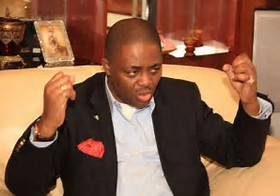 He also added that he witnessed crises and destruction of lives and properties from both sides of the ethnic clash.
He further stressed that if not for the quick intervention of the southwest governors who spoke to both parties, what happened in Oyo would have been a hundred times worse & far many more northerners would have been killed.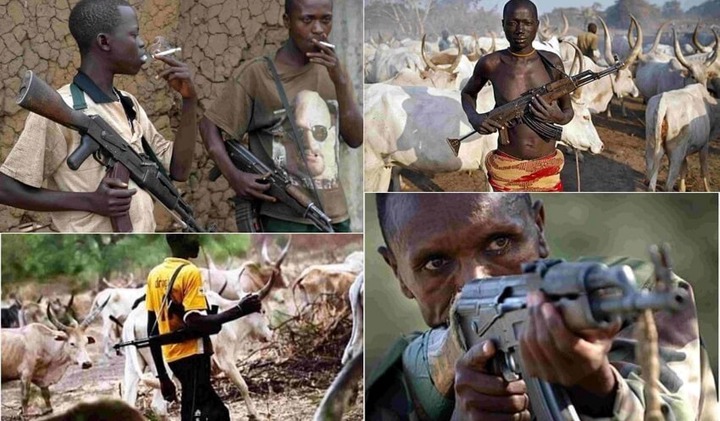 FFK also revealed that he noticed that the level of hate & resentment against the Fulani herdsmen in the SouthWest is frightful & unprecedented today and the Governors had a hard time trying to calm people down and stop them from further violence.
He made it clear that it was the decisive actions of the SouthWest Governors over the last few months that saved lives which in turn, countered the accusations by the senate president.
FFK then wondered why the Senate President has not openly complained about the violence that northerners have inflicted on Middle Belters & Southerners in the North.
He also wondered why Lawan has not complained about the barbaric attacks & killing of farmers and other residents in the SouthWest and other parts of the South and Middle Belt by killer Fulani herdsmen who are carrying arms, raping women, occupying lands, and terrorizing people.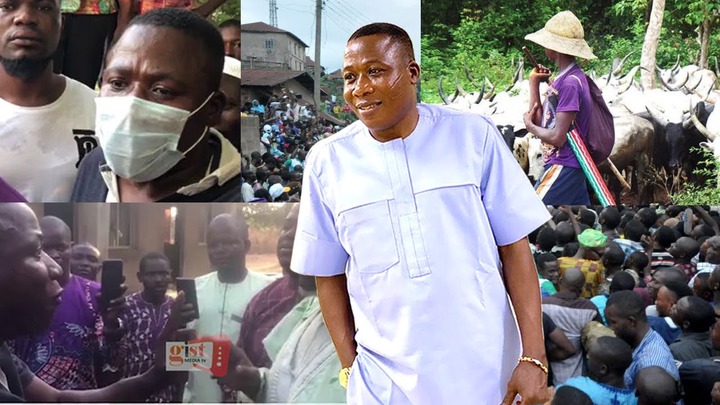 He then went ahead to totally condemn widespread violence and killings but stressed that the north needs to understand that the people of the SouthWest particularly believe they have been encircled and that they are under siege.
He ended by saying that the only way the resentment against northerners will vanish in the southwest zone is when the killer herdsmen & terrorists stop the killings. 
Content created and supplied by: MirabelJackson (via Opera News )