Three commercial motorcycle riders and three passengers sustained various degrees of injuries on Wednesday, April 7, in Ibadan, the Oyo State capital, when a man driving a Federal Government pick-up van on one way rammed into three motorcycles on a major road in the city.
The incident happened around 11:00 a.m. at Adamasingba area inward Dugbe when the driver of the pick-up van with registration number 18H-10FG belonging to the Nigerian Content Development and Monitoring Board (NCDMB) decided to take one way as a result traffic gridlock on the busy road.
It was gathered that as he was on the one way and on excessive speeding, he was said to have rammed into the three commercial motorcycles popularly called Okada, leading to the three riders and the three passengers sustaining various degrees of injuries.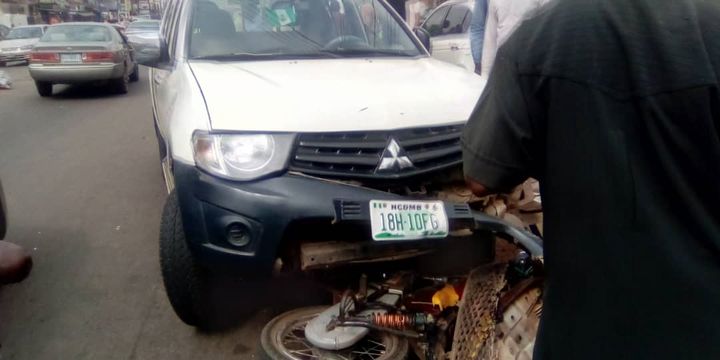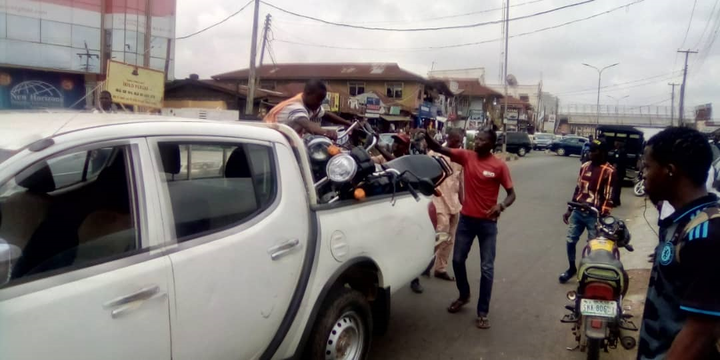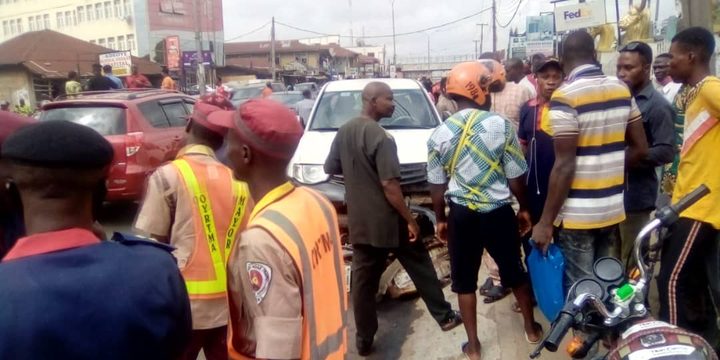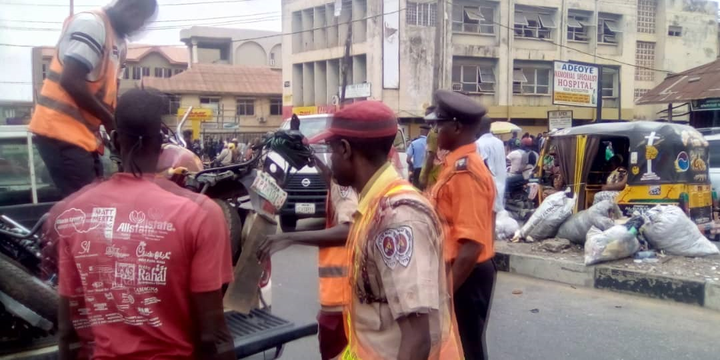 According to the Oyo State Road Transport Management Agency (OYRTMA), the agency monitoring the traffic situation in the state, which announced the incident, the accident caused more gridlock on the other side of the road as the vehicle and the three motorcycles blocked a substantial part of the road before they were eventually removed and taken to Mokola Police Station.
The three commercial motorcycle riders and the three passengers, according to reports, were rushed to a hospital by the OYRTMA rescue team for medical attention while the said driver has also been taken to the said police station.
According to the OYRTMA which announced the incident on its Twitter handle @OYRTMA1: "Date of road traffic accident: 7th April, 2021, around 11:00 a.m; Location: Adamasingba inward Dugbe, Ibadan, Oyo State; Vehicle involved: Mitsubishi pick-up van and three motorcycles; Cause of accident: Reckless driving by pick-up van on one way.
"Those injured: Six, comprising three Okada riders and three passengers. Situation report: The victims have been rushed to a nearby hospital and the OYRTMA rescue team is on ground to remove the vehicles involved and tow them to Mokola Police Station for further investigations."  
Content created and supplied by: Osfem (via Opera News )