Today's News: Gunmen Kidnap Delta Couple During Wedding, Kidnapers In Ondo Speak Fulfulde-Rotimi..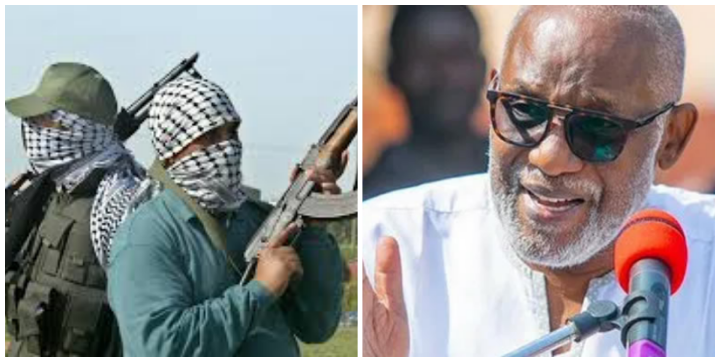 Here are today's News...
1) Gunmen Kidnap Delta Couple During Wedding...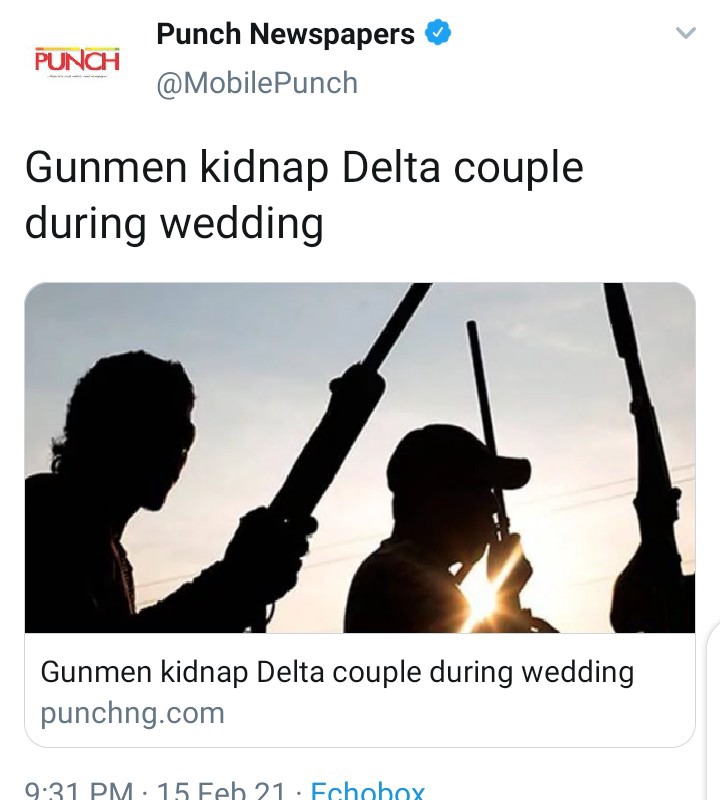 Gunmen suspected to be Fulani herdsmen, has kidnapped a couple whose marriage ceremony was scheduled for February 13 along the railway in Emuhu, Agbor, Ika South Local Government Area of Delta State. It was gathered that the abductors demanded N15 million to release the victims whose names were yet to be identified. A source in the community said, "Fulani Herdsmen Kidnapped lovers whose marriage slated to hold last Saturday, alongside one other at railway Emuhu Agbor, demanding N15m for their release".
"There is a battalion of soldiers, police, and host of security agencies in Ika land, but they could not do anything to prevent the rate of kidnapping. Imagine innocent people who supposed to wed and enjoy their marriage being kidnapped, it is very painful. Now they are demanding money for their release, where will they get that kind of money from?"
2) Kidnapers In Ondo Forest Speak Fulfuld, Says Akeredolu...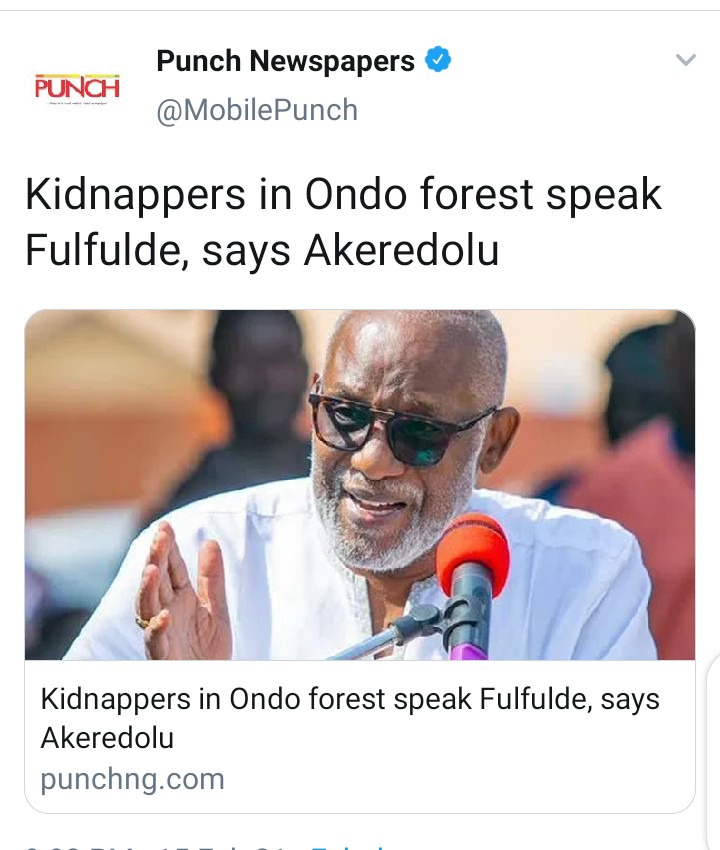 Ondo state Governor, Rotimi Akeredolu (SAN), on Monday, said Kidnapers In Ondo forest reserve speak fulfuld. The governor spoke while featuring on channels Television's 'Politics Today' programme.
According to UNESCO Thesaurus, fulfulde is the language of the fulbe people also known as peul or Fulani, who are found throughout West Africa. There have been unrest in the South-West region of late over the activities of Fulani herders who have been accused of committing sundry crimes including killing, kidnapping, rape, and farm destruction. In a bid to sanitise the forest, Akeredolu had ordered herdsmen to vacate the Ondo state forest reserve or be registered with the ministry of agriculture in the state. The development had sparked controversy with the presidency saying the governor lacked the right to order the herdsmen to vacate the forest reserve.
Speaking on Monday, Akeredolu said, "What we had to address in Ondo state is essentially our discovery that some criminal elements were using our forest reserve to perpetrate crimes, and we said, look, we are not going to stay and just watch this happens".
"It is the order of the day that every person that is kidnapped is taken to this forest. Then, we must clear that forest of all criminals, we must clear all the criminals no matter who they are".
When asked specifically to name the language of the Kidnappers, Akeredolu said, "Most of them was speaking fulfulde, and there is no need to run away from it. This is a common language that is spoken across the length and breadth particularly in West Africa and North Africa. So if they come in, how did they come in?".
"Miyetti Allah does not have to defend these people if they are not their members. There is no need to defend them; let us treat them as what they are (criminals), and they (Miyetti Allah) themselves, should support us in getting them out" the governor added.
Content created and supplied by: [email protected] (via Opera News )