In An Interview With Channels,See What The Army Said About The Farmers Allegedly Killed By BokoHaram
Ever since the tenure of the former president Goodluck Ebele Jonathan which lasted from 2010-2015, the Boko Haram terrorists Has been terrorizing Nigerians especially those in the north east. Due to their incessant attacks on the Nigerian army or innocent citizens, they got recognized internationally as a terrorist organization.
During Jonathan's tenure, there were quite a handful of major attacks from the terrorist group which erupted protests for his impeachment. The abduction of the chibok girls was one of the straws the broke the camels back; the nation was thrown into mourning as 276 young energetic girls were abducted by Boko Haram on the 24th of April 2014.
Ever since president Muhammadu Buhari got into the presidential seat in 2015, the terrorists have continued their attacks. However, on the 28th of November, 2020; over 45 rice farmers were allegedly slaughtered by alleged Boko Haram members in the village of Koshobe in Maiduguri. It was really a bad day for the residents.
Lots of blames have been thrown at the Army and the chief of staffs including the president himself, citizens are really yearning for the extermination of this insurgency before we go down with it. I must also commend the Nigerian army for their incessant endeavours to combat the Boko Haram terrorists. Gallant soldiers are risking their lives to keep us safe, I believe they demand some accolades too.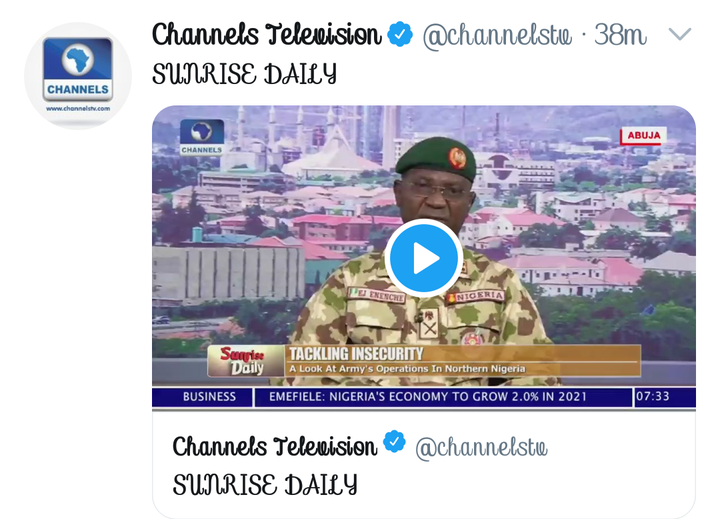 In an interview with channels TV this morning, The Nigerian army represented by Coordinator of Defence Media Operations, Major General E.J Enenche has addressed the nation concerning the killing of the farmers and other insecurities in the north. Lots of questions have been bombarded at him by the news reporters.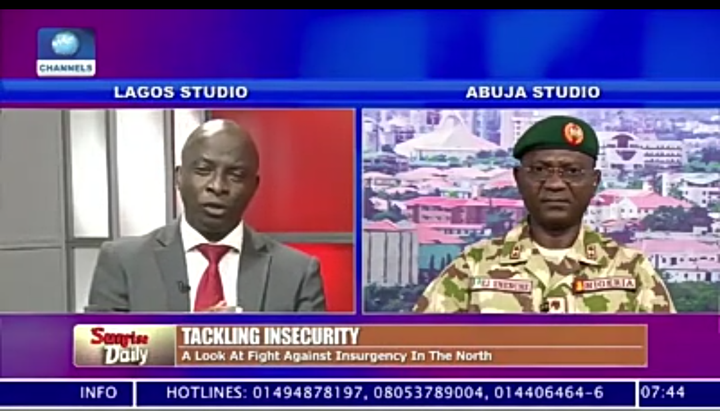 However, At the time this article was written the live broadcast is still on featuring lots of dignitaries. The live broadcast was captioned 'tackling insecurity' and it has really been enlightening.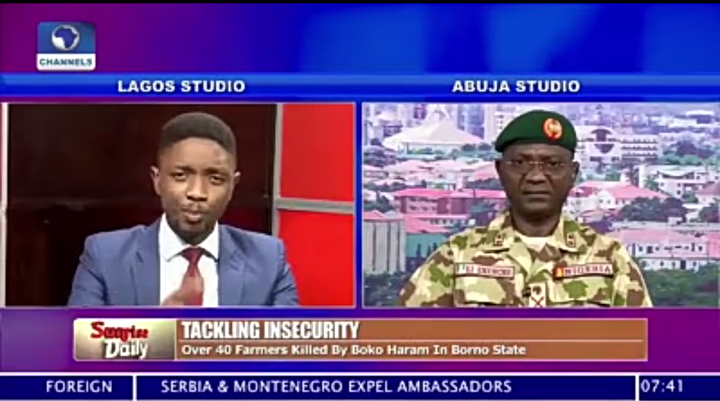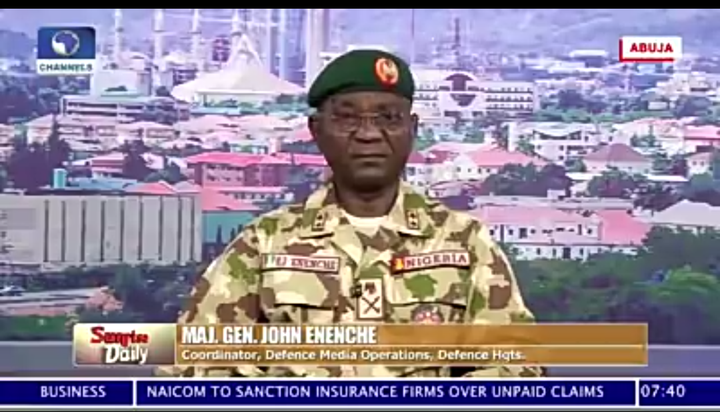 Enenche highlighted that these terrorists has informants in some of the north east villages, and that is why sometimes when the Army crosses a village for patrol, on their way back they sometimes run into an IED. He went further to say that the army Has a robust package to fight insurgency.
When he was asked if the Nigerian army has informants disguised as villagers too, he blatantly refused to answer the question saying it'll jeopardize plans.
Enenche also emphasized that the army are setting up schemes for farm patrols and market patrols in the north east for stability. Here are reactions from people.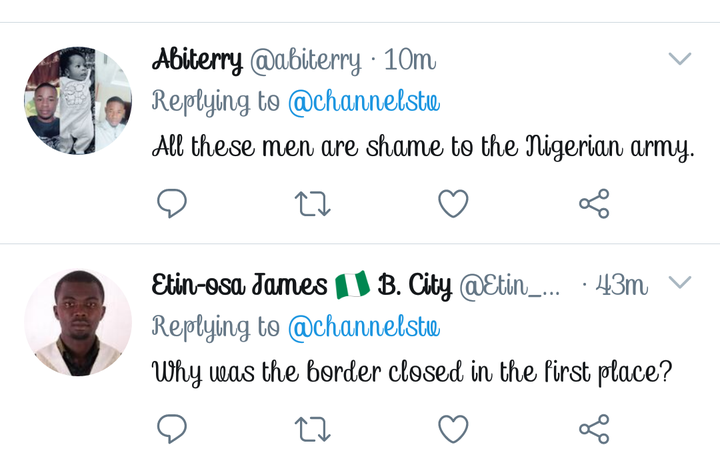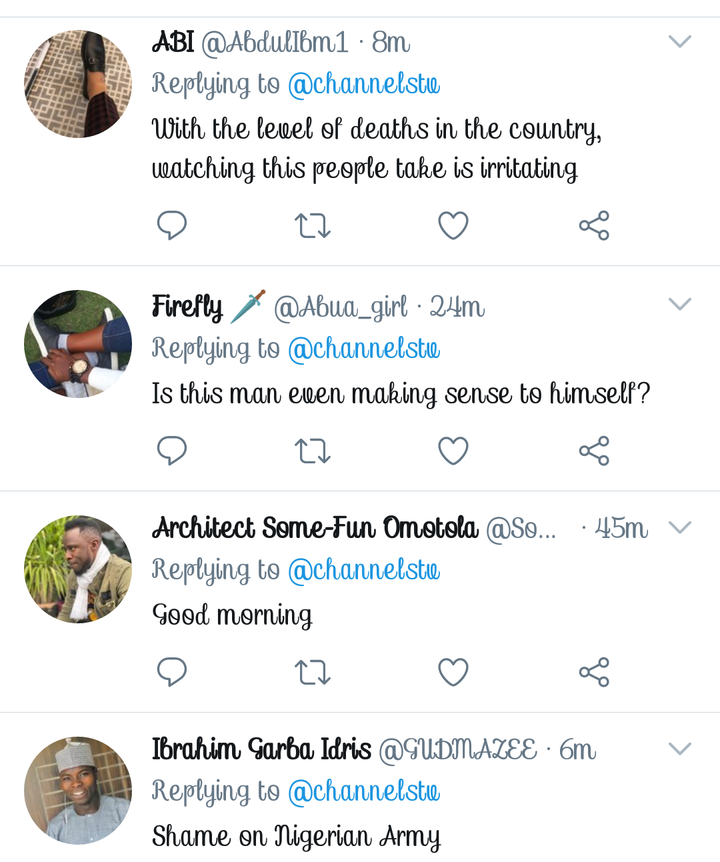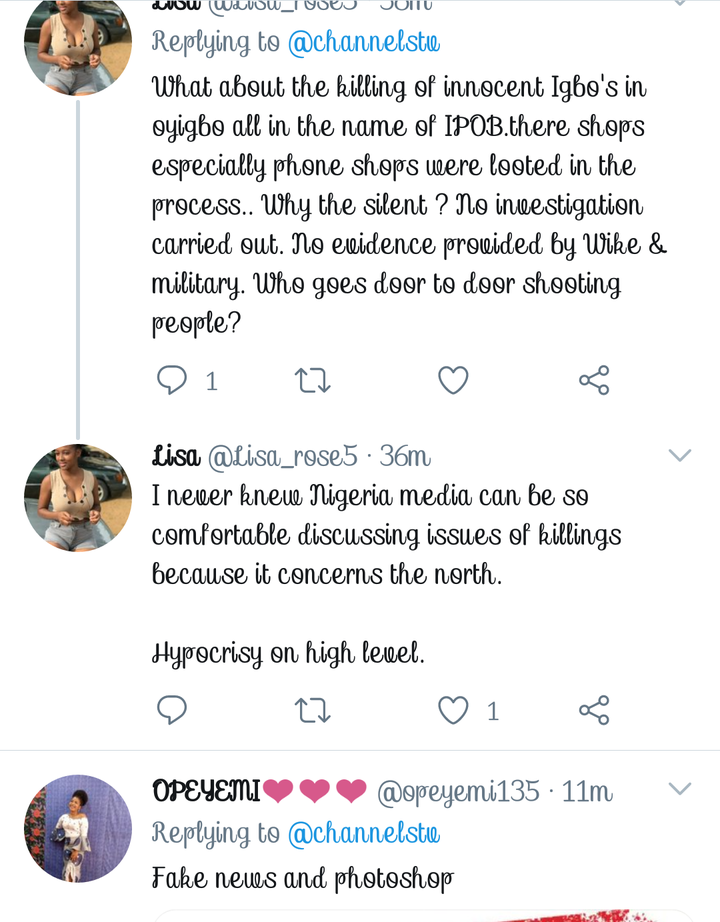 What do you think
Content created and supplied by: Izzymessi (via Opera News )