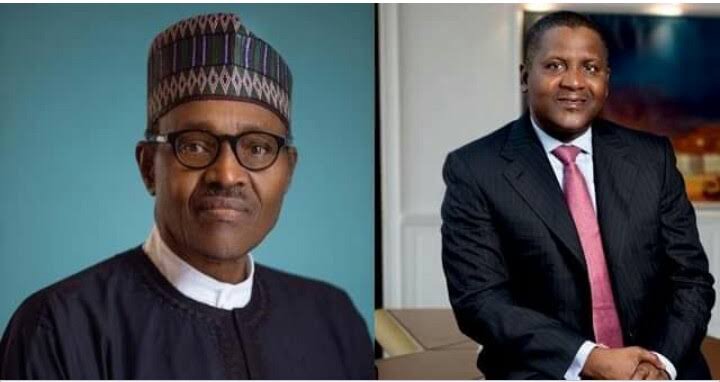 Recently, there are a lot of fake empowerment grants online and claiming to give out huge amounts of money to eligible beneficiaries. Many of these grants are not true and people must be aware of this. Many of these websites are designed by hungry Nigerian youths who are looking for a way to milk people of their money. They lie against the federal government, Dangote, Otedola and other prominent people in the country. A lot of people have fallen into their hands and many have leaked out their details to scammers. 
How do you spot these fake websites? 
These websites are very easy to spot and avoid if you can take your time to look at some things. 
1. From the website address 
The way the website addresses are written will show you that the website is not real. Before the government will give out something, the address will have .gov.ng at the back of it. But shortened addresses is hiding something from you and you must be careful in clicking those addresses. 
Examples of those fake addresses are - 
a. https://bit.ly/NIN-Online-Registration
b. https://bit.ly/Dangote-Empowerment-2021
2. The website 
If you are not well convinced that the website li k is fake, you can click on the link to open the address. See how the website looks and compare it to a standard government website. No government or any successful entrepreneur will ask you to forward a message to some WhatsApp groups before you will be eligible for a grant! To get grants, there are procedures to follow and it's not what forwarding messages could do. 
See examples of these fake grands in the pictures below -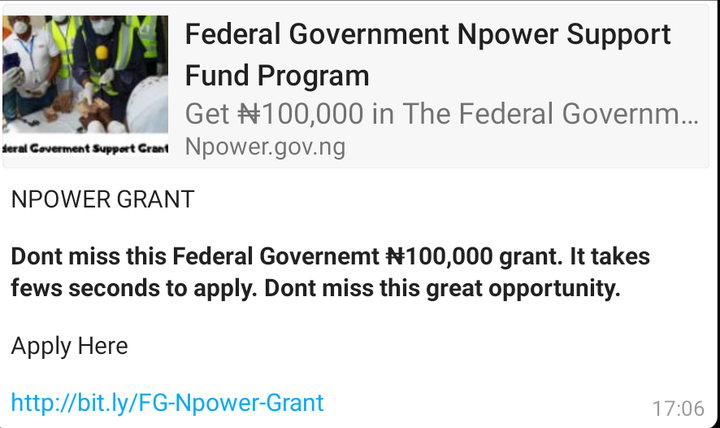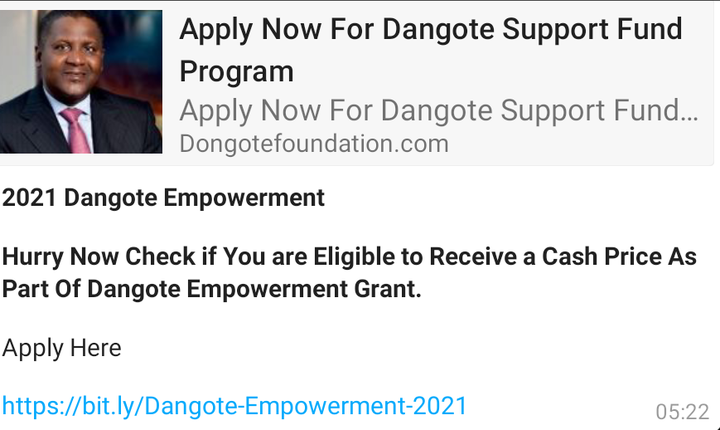 In conclusion, please don't just visit any site that promises to give you some money without performing any tasks really. It's for your safety. Also, avoid entering your details on just any website. If you cannot confirm the authenticity of a website, you can ask Google for directives. Making money is not easy nowadays and losing it to scammers is the most painful thing that can happen to someone. 
Content created and supplied by: Health_Info (via Opera News )