The way some people take away the life of their fellow human beings is painful. At times you begin to wonder whether they know the resultant effect of their actions.
How I wish that this artisan Chukwuemeka Obijiofor knew what will follow after his wicked act, he would not have been in regrets as he is doing now.
Another ugly part of evil people is the belief that nobody will do them anything or even if they are caught they can use unseen forces to lie as the cause of their action.
Chukwuemeka Obijiofor is an artisan and a native of Ofufe Nza village in the Ekwusigo LGA of Anambra State.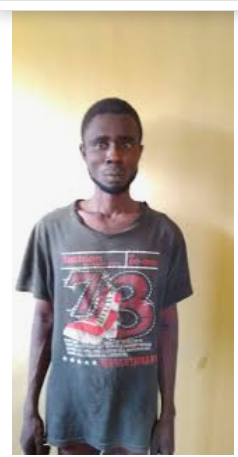 The 28-year-old young man murdered his wife and child on a flimsy excuse.
Narrating how he used his own hands and kill his wife and child with a shovel, he said that he did it because his wife was cheating on him with other men. He also revealed that he killed his child because his wife told him that he is not the biological father of the child.
He added that he was possessed by unseen forces who led him to kill both mother and child.
According to the report gathered from Daily Post, Chukwuemeka Obijiofor said "on that fateful day, I had gone to borrow money from a client to take to her (wife) so that she can cook food early and not wait for me to come back before cooking.
"When I came home to give her the money, I saw two men in my house. When I queried my wife, she took me to the backyard telling me to calm down".
As he continued with a plea for forgiveness, he said, "Please I want you people to forgive me, What happened was a mistake. She was trying to calm me down when I noticed that the men had left. They left without even greeting me. So, I got annoyed and left my wife and child. I told her to leave me and let me go on my own since she has already chosen the people she loves.
"I went on my own and sat somewhere to smoke my hemp, but my wife was still following me about and dragging with me.
"She did not want me to continue my work, so after I had taken my hemp, I found out that it made the matter even worst. That was what happened", says Obijiofor.
He also said that the reason for killing his child was his wife told him that he is not the biological father of the child.
However, Anambra State Police Command has arrested the suspect.
Content created and supplied by: Stormy (via Opera News )