It was sheer grace that saved a driver and two other occupants of a bus on Monday, February 15, when the vehicle they were in somersaulted as a result of excessive speed, landing on its side at the Third Mainland Bridge in Lagos State.
The incident happened around 3:00 p.m. at Ilaje area inwards Oworonsoki part of the state when the bus, which was coming from the Island end of the Third Mainland bridge, lost control and was said to have somersaulted in the process.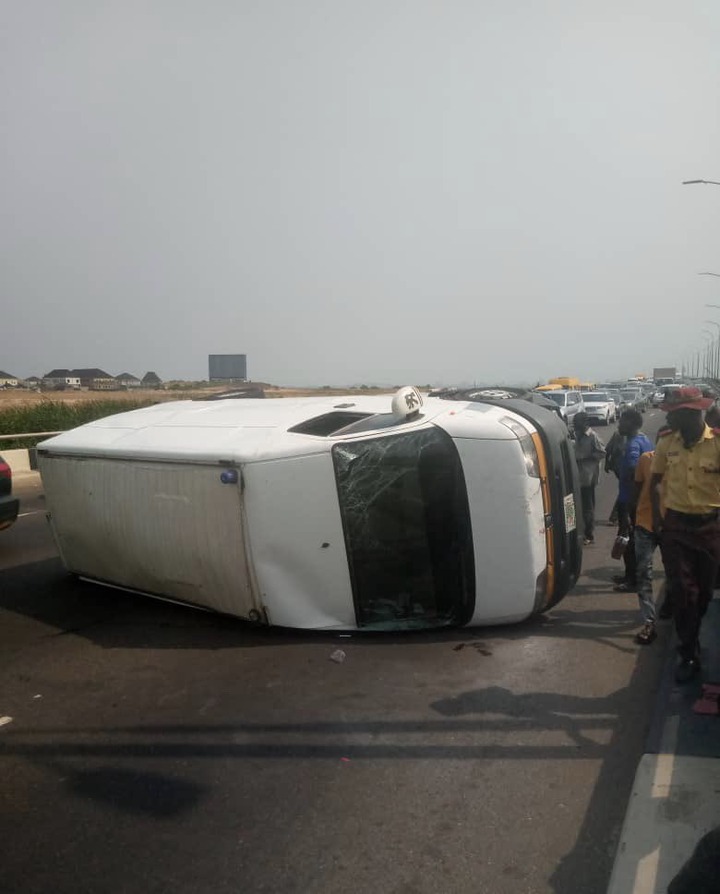 It was gathered that the driver of the vehicle, who was on top speed on the bridge, could no longer control it apparently as a result of tyre burst, making the vehicle to somersault before it eventually landed on its side at the every-busy bridge.
It took intervention of people in the area and rescue officers to bring both the driver and the two occupants of the vehicle out after which rescue officials administered first aid on them and later took them to the hoapital.
According to the Lagos State Traffic Management Authority (LASTMA) which announced the incident on its social media platforms, the accident led to massive gridlock on the highway as it took both officials of the agency and other rescue officials some time to take care of the occupants of the vehicle. 
It was gathered that the LASTMA officials had to put a call to officials of the Lagos State Emergency Management Agency (LASEMA) who arrived the scene on time to give the occupants first aid before moving them to a hospital.
As of the time of this report, both the agency and policemen were doing everything possible to control the traffic while efforts are also being made to move the bus off the road.
According to LASTMA which also posted the report of the incident on its Twitter handle @follolastma: "Report of a lone accident involving a bus which somersaulted on Third Mainland Bridge at Ilaje inward Oworonshoki involving the driver and two other occupants. 
"Officials of LASEMA have has been contacted for evacuation. LASTMA and policemen are managing traffic effectively and are making efforts to move the said bus off the road."
Content created and supplied by: Osfem (via Opera News )